Welcome to the 2021 third quarter Finance Notebook Income Report. This is a humble quarter, but it was done on purpose as I wanted to focus on writing more blog posts for Site #2, which prevented me from working mostly on Uber Eats. However, the income goal of $10,000 for the year 2021 is within reach. More on this below. In this post, I will talk about how much income I have made for the third quarter of 2021 and how I made that income. I will also go over the progress on the strategy to continue boosting income in 2021 and beyond.
A Little Bit of Background
In the summer of 2019, I decided to retire from my main occupation. I have worked in banking for the past 30 years, mostly in audit and compliance roles. Instead of just retiring, I decided to build this website and start earning money as an entrepreneur.
Take a look at the Rules and Goals of Finance Notebook to read about the overall objectives.
You may also want to see how much money I have made from the beginning.
Why I Disclose the Income I Make
I think it was Napoleon Hill, who said, "A goal is a dream with a deadline." Without a deadline, a dream is just a series of thoughts, images, and sensations (Wikipedia). We need to act on those dreams to make them real.
To make my dreams real, I have set annual goals and will document my progress in these quarterly Income Reports.
You may be thinking that I publish these income reports to brag, but that's not the case because I am not making a lot of money yet. I think what is important is not how much money I make, but whether I am accomplishing my goals.
Eventually, I am hoping that with hard work and a lot of determination, I can continue to meet those goals and maybe go above and beyond those goals.
I am hoping that over time this will become a roadmap for people who want to become entrepreneurs and other than want to earn additional money.
Finance Notebook Income for 2021 Third Quarter
The main goal of the third quarter of 2021 was to write as many blog posts as possible for Site #2 (Home & Garden Niche.) I wrote 48 articles in three months, which is a considerable amount, even though I paid to get them written.
You may be thinking: Why did it take you so long if you had writers?
In my experience, I rarely get what I need and always have to go over a lot of revisions and additions. But I am very thankful to get a quality draft from my writers. I guess you can say I hate to start with a blank page.
Although I'm not getting a lot of traffic at the moment; a little over 5000 unique visitors per month, I am hoping it will improve significantly next year. I chose a very competitive and broad niche within home and garden, but I can't see myself writing about very narrow topics.
There are 220 articles written so far and my goal is to write 1 or 2 articles per week going forward and monitor the results.
In the meantime, Uber Eats continues to be my bread and butter activity to meet my income goals for 2021.
The second year of my 6-year plan is totally on target. I have made $8,324 year-to-date and the goal for year two is to make $10,000. You may want to take a look at the details of the plan here.
I also spent significant time planning on another business activity that will hopefully help me get to my $20,000 goal for 2022. That business activity is eBay. More on that below.
The breakdown for the second quarter by sources of revenue is in the table below. You can also see the earnings for the prior quarters here.
Income Sources
You can read individual reviews by clicking each link within the source of income column below.
The Observa and Field Agent amounts are affiliate sales from links on this site (Finance Notebook). In case you are not familiar, when people click on affiliate links on this site, I may get small commissions.
More on the eBay amount below.
To clarify, the figures above represent income earned, but not all cash has been received, for two reasons:
1) For some of the new apps I have tested, I have not reached the minimum to get paid, and
2) For other apps, I may have requested the money at the end of the quarter and have not received it yet.
Cash Received Year-To-Date
Below is the income overview showing cash already in my business account. This is a screenshot from my Hurdlr app.
The Hurdlr app is an automatic business expense and mileage tracker app that keeps tabs of all of your income streams, expenses, and tax deductions in real-time, on the go. I am enjoying this app so far and recommend it to any entrepreneur.
As I mentioned above, the amount shown on the Hurdtr app (amount collected) will always be slightly different from the amount earned.

Blogging Strategy
Blogging continues to be the big hope of my business but it's not looking great at the moment. I have been working very hard on Site #2 (Home & Garden Niche).
The content of Site #2 revolves around the new house my wife and I built in Lewes, Delaware. I can easily come out with 1,000 articles for this site, which means I will be able to produce content for a long time if it is successful.
I have completed a total of 220 articles since I started in May 2020. The goal for 2021 is to reach about 230 and continue to write one or two articles per week going forward.
I keep a review and income report of Site #2 here.
Finance Notebook (Site #1) Progress
Finance Notebook continues to be the site where I record my progress mainly to keep me accountable and perhaps to motivate others.
Because of that, I have not added much content yet. I am planning on writing more articles starting in 2022. Mostly side hustles that may be of interest to me and hopefully to you.
Below is the Google Analytics Chart for the 2021 year to date. There is very little traffic, but that is to be expected. I am practically not adding any content at the moment and this site is in the making money niche, which is very competitive. As I said before, I am in no hurry as long as I keep meeting my income goals.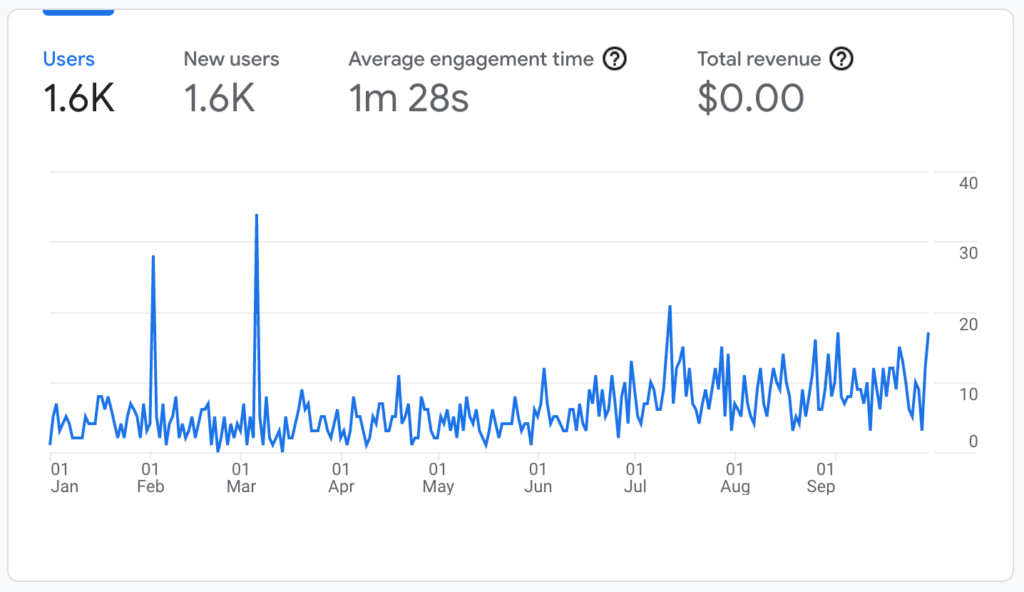 eBay Strategy
Since blogging is not helping me meet my income goals, I have decided to work on another option, in addition to continuing with Uber Eats to meet my 2022 goals.
I have started to work on eBay and as you can see above, I have earned $53.42 from 7 sales (5 books and 2 DVDs).
I am still refining my eBay strategy, but my goal is to earn at least $10,000 from eBay in 2022. I will have more details on the strategy by the end of the year.
Final Thoughts
The focus for the rest of 2021 will be to ensure that I meet my income goal for 2021, which is $10,000, and define the eBay strategy.
I continue to be very excited and work every day towards my goals.
Thank you for reading.
Please leave a comment below and let me know what you think.
---

My #1 recommendation is Wealthy Affiliate. I joined Wealthy Affiliate in September 2019, and I'm thrilled that I made that decision.
As a beginner entrepreneur, it is hard not to get distracted with multiple priorities. The Online Entrepreneur Certification offered by Wealthy Affiliate makes you stay focus by taking you step by step through a total of 50 lessons as you complete your website within your chosen niche.
Let me assure you that Wealthy Affiliate is not a shady online program. I would not be a member of a scam and would not recommend it if I thought it was not legit.