CafePress is a company focusing on selling a variety of products, including t-shirts, mugs, and various clothing items decorated with unique user-generated designs.
To make money with CafePress, you start by creating appealing but not necessarily professional designs. Then, to be successful, you need to promote your products to a receptive audience.
Is CafePress Legit?
CafePress is a legit company founded by Fred Durham in 1999 with Maheesh Jain in a garage in California; Maheesh left the company in 2016. In 2012 the company went public, and headquarters was moved to Louisville.
I can validate that the company pays. Although I am not currently running a store with Cafepress, I have made over $600 with CafePress in the past.
Since November 2018, CafePress is a subsidiary of Snapfish, LLC, when it was purchased for a little over $21 million. Reportedly, the sale came after many years of ups and downs for CafePress.
This unique video shows Fred Durham having a Reese's Peanut Butter cup moment, which led to the largest retail catalog online (all of it user-generated).
How does CafePress work?
Once you sign-up, the first thing you will do is to create a CafePress shop. This is essentially your online store where you can start selling the designs you have created for a profit.
The designs you create will seamlessly be added to T-shirts, cups, clocks, cases and covers, and many other items.
You create the design and promote your merchandise and CafePress takes care of the rest. It provides the merchandise, prints the designs, and ships products to customers.
There are three basic settings you will work on your shop: set up a profile of the shop, chose and maintain a template, add, edit and remove products within your shop.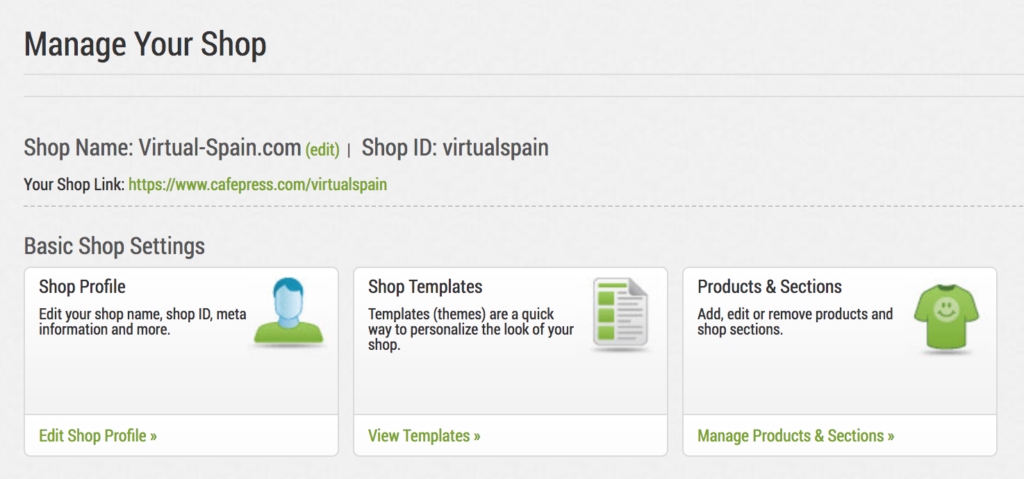 Additional settings are also available for you:
Customize text colors and fonts
Display features and custom HTML
Add and remove products in various ways
Change store-wide prices
Select a payment plan
Adding tracking information and view Sales Reports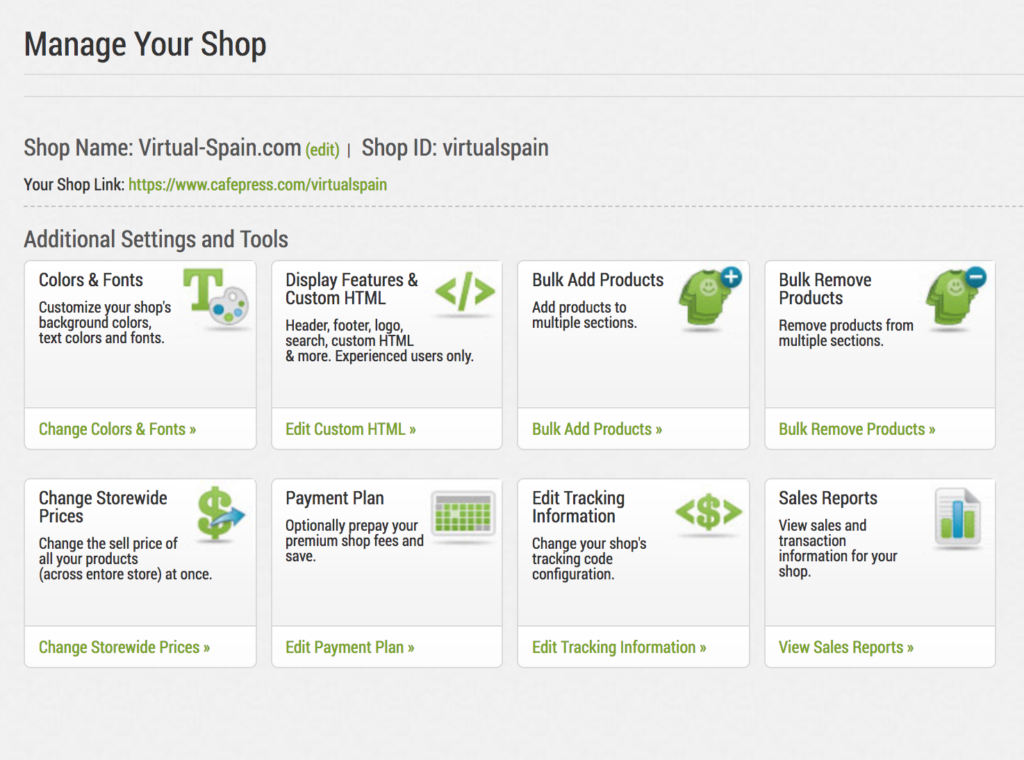 Is Setting Up a CafePress Shop Free?
As of this writing, CafePress offers three types of shops: Basic, Premium, and CafePress shops. The Basic and CafePress shops are free. So, you can start selling on CafePress without any expenses.
If you want to sell your products, you need to choose either a basic or premium shop. Products from CafePress Shops can not be sold in the CafePress Marketplace.
Premium Shops offer more features and products for a fee. Premium Shop service fees are automatically billed one month from the date of opening your Premium Shop.
There are two Premium Shop Service Plans:
No Up-Front Fee Plan: Account holders that do not have a valid credit card on file will pay Premium Shop fees in the amount of 10% of cleared royalties for the current month (not to exceed $10 per month). If you select the No Up-Front Fee Plan, your Premium Shop fees will be deducted from CafeCash that you accrue in your account.
Pre-Paid Fee Plan: Account holders that have a credit card on file* will pay Premium Shop fees at the following rates:

$6.95 per month
$18.45 for 3 months
$34.95 for 6 months
$59.95 for 1 year (only $5 per month!)
If you think you are going to sell a significant number of items every month, the Pre-Paid Fee Plan may be your best option because you will pay a fixed amount regardless of how much you sell.
On the other hand, the no Up-Front Fee Plan is the safer option if you think you may have months without sales. Since you only pay if you sell.
Can People Outside The US Sell On CafePress?
Based on CafePress website help section, CafePress will only send royalty payments to the following countries. So, I think it is safe to say that you shouldn't create a shop unless you live in one of these countries.

How Difficult Is It To Create Your Designs?
You don't have to be an artist to create your own logos. There are many free logo makers you can use. And remember that you can also use pictures, as long as you own the copyright or have permission for commercial use.
Below is one of my logos I created a long time ago. It only took me a few minutes to create. I sold several products with this logo. How easy is to sell products is a different story and I'll talk about it next.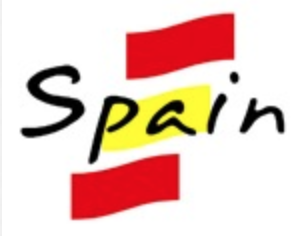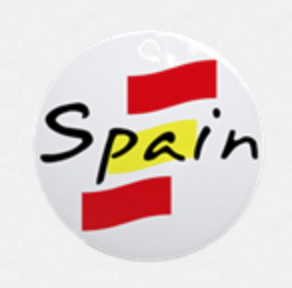 How Difficult Is To Sell Products In CafePress?
The CafePress marketplace is crowded with many designs for most topics you can think of. As an example, I entered the term Spain and received over 61,000 items!

But entrepreneurs should not be afraid of competition. Otherwise, they shouldn't start a business to begin with. I just want to make a point that whatever you create will not sell on its own.
Your online store will be a subdomain of CafePress. For example, my store is at www.cafepress.com/virtualspain.
Without obtaining your own domain and writing good content for search engine optimization (SEO) you will not rank in search engines like Google. Alternatively, you can use social media to promote your products.
How Much Can You Make With CafePress?
So, how much money you can make with CafePress depends on how much time you put into it and how good you are at promoting your products. I know you've heard this before.
I don't think the quality of the design is that important.
I have sold hundreds of products over several years and earned over $600, which is not a lot of money, but I only promoted my designs on a couple of pages and my heart wasn't in it.
I think that if you are really passionate about your designs and want to work hard at promoting them, you can make significant money.
I haven't found recent information from CafePress shop owners sharing how much money they make.
I have found many blogs telling you how to make or not make money with CafePress from bloggers who have never sold one shirt. I wish Google stopped ranking blogs from people talking out of their a$$es.
How To Get Paid
You have 2 options to get your royalty payments:
By Paypal-minimum payment amount is $25
By check-minimum payment amount is $100
Does CafePress Have An Affiliate Program?
CafePress has an affiliate program through Commission Junction, CJ.com.
Based on CafePress FAQ, You can earn up to 15% Affiliate commission from all products purchased through the CafePress Marketplace from your affiliate link in the 7-day cookie period.
My Experience with CafePress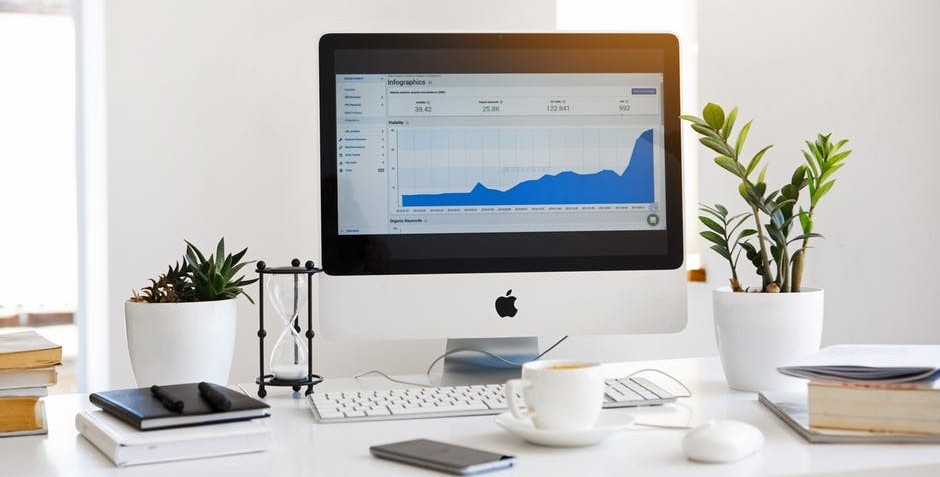 How Much Money Have I Made With CafePress?
I had a CafePress store back in 2005 and made $610.35 from 2005 through 2013 with CafePress. I have not earned any money since 2013. This screenshot below is proof of my earnings. [Updated April 21, 2020]
Every blog post I write is based on many hours of research. I also like to test every side hustle I review when possible. You may also want to see how much money I have made from the beginning. And may also want to take a look at the quarterly income reports.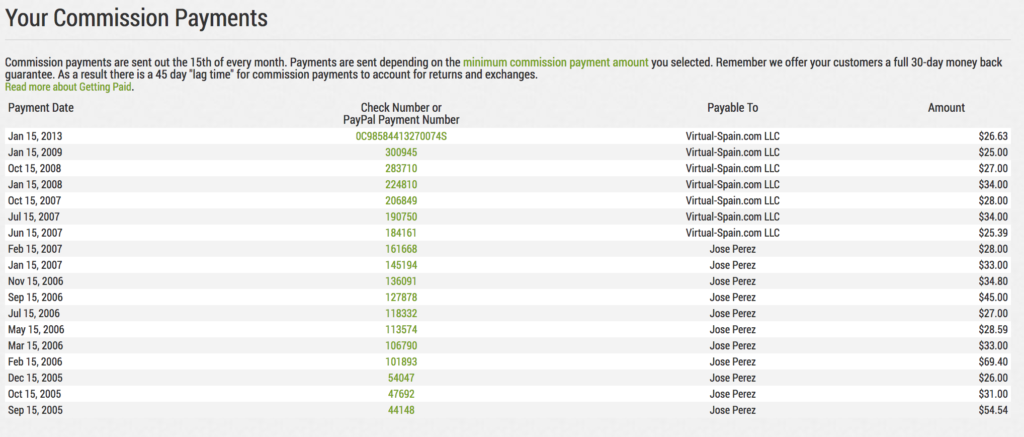 Video Summary of CafePress
Let's wrap up with a quick summary video I have created. If you like this video, consider subscribing to the Finance Notebook Youtube Channel.
Ratings and Conclusion
| | | | | | |
| --- | --- | --- | --- | --- | --- |
| Overall Rating for CafePress | ★ | ★ | – | – | – |
CafePress may be the right money-making opportunity for a creative entrepreneur who is willing to spend significant time promoting his/her products.
I don't think you need to be a designer to be successful with CafePress. A simple, witty sentence could turn out to be the most successful design.
On the other hand, without the required skill to promote the products, either by writing a blog related to the products or seriously engaging in social media, it will be hard to succeed.
Ultimately, like most ventures, if your heart is in it, you'll have the best chance to succeed. Because of the heavy dependency on promotion, my overall rating for CafePress is 2 stars out of 5.
👍 PROS
➤ Cash payments available
➤ Significant money may be earned by determined individuals
➤ Referral program available (subject to approval)
👎 CONS
➤ Relatively high cash-out amount of $25 (Paypal) and $100 (Check)
➤ Success is mostly dependent on promotional efforts
➤ Certain creativity is required
---

My #1 recommendation is Wealthy Affiliate. I joined Wealthy Affiliate in September 2019, and I'm thrilled that I made that decision.
As a beginner entrepreneur, it is hard not to get distracted with multiple priorities. The Online Entrepreneur Certification offered by Wealthy Affiliate makes you stay focus by taking you step by step through a total of 50 lessons as you complete your website within your chosen niche.
Let me assure you that Wealthy Affiliate is not a shady online program. I would not be a member of a scam and would not recommend it if I thought it was not legit.
---
📖 Please leave a comment below and let me know what you think.