This Clickworker review shows that Clickworker is a legitimate company where you can make extra income with no experience required. Just like Mturk, you can set your own schedule and mostly work from home and potentially earn from $6 to $12 per hour.
Unfortunately, at least in my experience, there haven't been as many enjoyable tasks available as with MTurk. In my case, I prefer completing surveys to other tasks, such as transcribing or data entry type of assignments.
I have only seen a handful of decent surveys at Clickworker so far.
About Clickworker
Clickworker was founded in 2005. The current entity is divided into two companies, a German company, clickworker GmbH, and an American company, clickworker.com Inc.
The Clickworker website's about us page notes that the company has access to an international crowd of over 1.9 million workers. The company utilizes the knowledge of that crowd as needed to complete clients' projects.
This is a company overview video of how crowdsourcing is utilized from a client perspective.
This is a company overview video of how crowdsourcing is utilized from a worker perspective.
Is Clickworker Legit?
Clickworker, as an entity, has been in business for 15 years. I have no doubts that the company is legit. I have received a payment from them into my Paypal account without any problems.
Typical Clickworker Assignments
Some assignments you may be involved with include:
Categorizing websites data
Copy editing and proofreading
Online web research
Completing surveys
Mystery shopping (most often by taking pictures of products and answering questions)
App testing
Other various photo capturing assignments
Without being to specific and violating Clickworker's confidentiality agreement, I can say that I have been involved with:
One mystery shopping that involved taking pictures of products and answering questions.
Two surveys. Only two because I haven't seen others available. One of them paid $1.50 but took at least 30 minutes to complete. So, not very good compensation per hour. The other one was fair.
Two photo capturing assignments, not related to mystery shopping.
One assignment where I had to record sentences in Spanish (I'm from Spain –It was easy and fun!)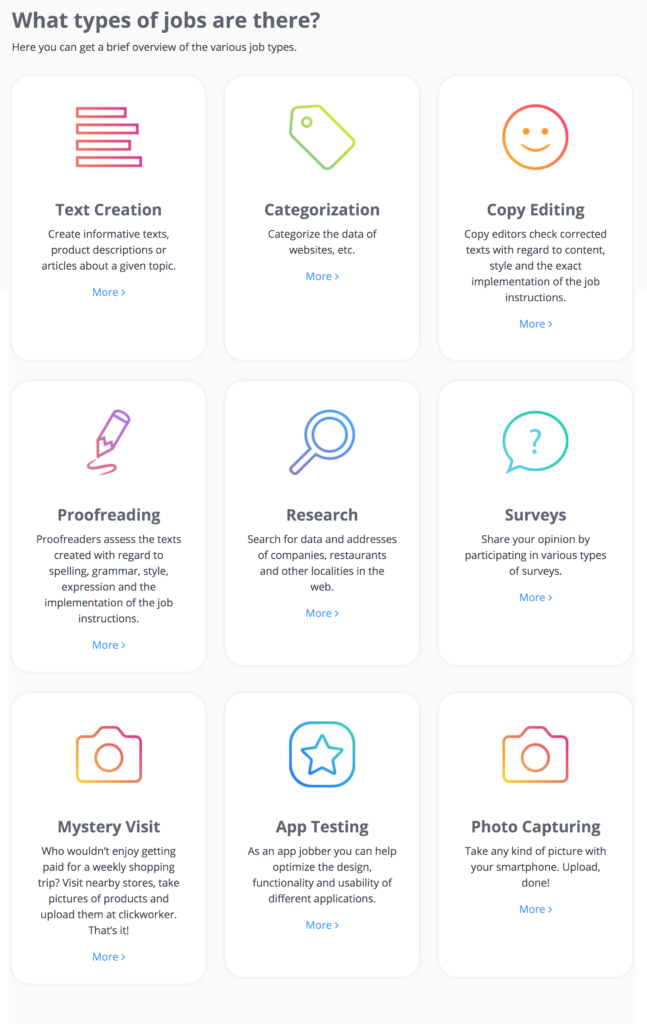 What is UHRS?
Per Clickworker FAQ, "UHRS stands for "Universal Human Relevant System" and is a separate website that offers, similar to clickworker, micro-jobs.
Cooperation between UHRS and clickworker has made it possible for our registered users to access UHRS jobs. Invoicing and payment will be made to the Clickworker account."
Jobs usually deal with the categorization of internet data and web pages. There may also be some more particular tasks, such as a comparison of voice recordings or checking texts for specific contents.
UHRS is not available for all Clickworkers. You have to qualify for UHRS by completing assessments, "UHRS I" and "UHRS II." If it is available in your country, these assessments will appear in the assessments section of your Clickworker dashboard.
Detailed instructions about the data needed are available in the work instructions of the assessment (See screenshot below).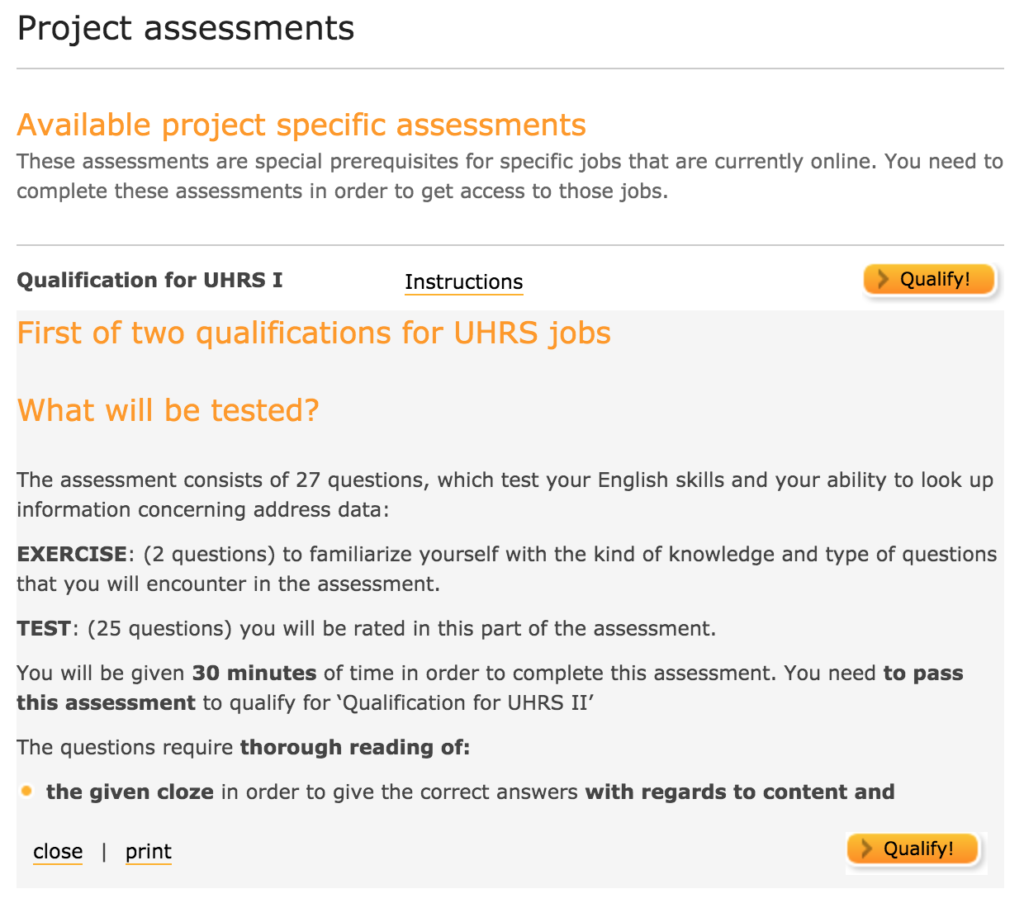 I am not planning on taking these assessments. I think these are similar tasks you see in MTurk, which I usually don't enjoy doing. I like the surveys in MTurk, and there are plenty to complete, especially when you reach the 1,000 HITs approved level.
I haven't seen surveys in Clickworker, but let me know what you think. Leave a comment below.
Mobile vs. Desktop or Laptop Task Completion
Clickworker has a app available for iOS or Android Device. Requirements:
– iPhone oder iPad with iOS 11.1 and up
– Android Device with Android 5.0 and up
Some tasks may be completed with your mobile phone, but some other tasks require you to use a Desktop or Laptop computer. Mystery shopping type of jobs will more than likely required a smartphone.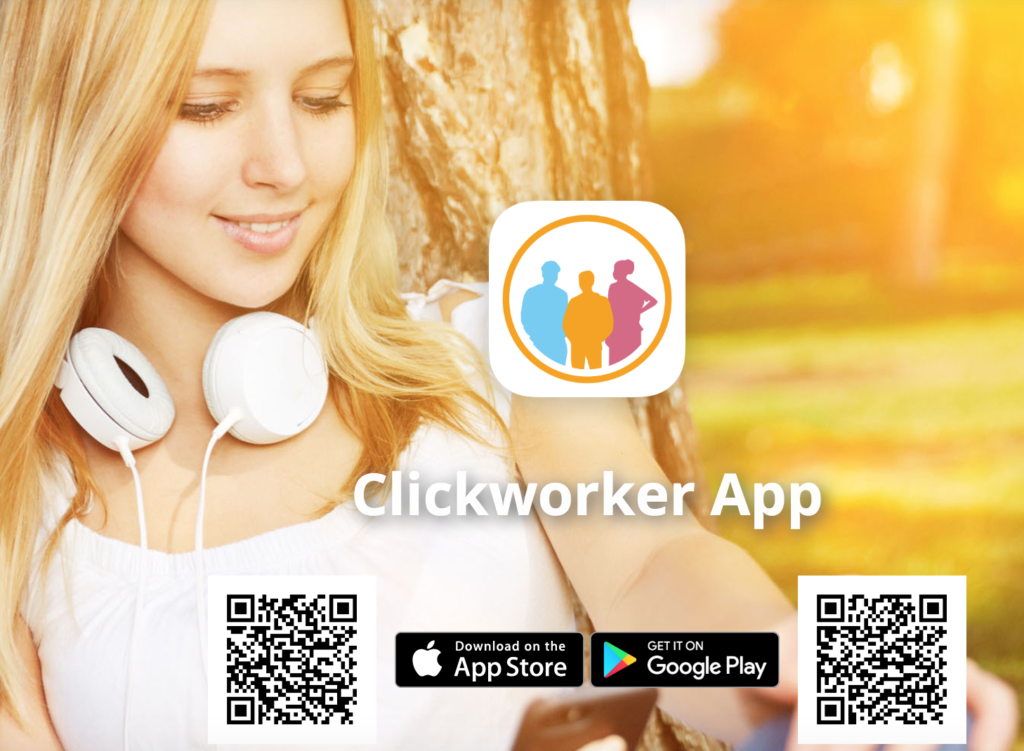 How Can You Sign Up For Clickworker?
You must be at least 18 years old to register for an account. In general, Clickworkers can work from many different countries. However, you need to make sure you can get paid first before you sign up.
Clickworker FAQ notes that before starting, you need to check whether you can receive payment in your country.
Clickworker's standard payment method is PayPal.
For countries where PayPal is not available, they try to offer Transferwise as an alternative, if possible.
Direct payment to your bank account is only available in countries that are part of SEPA (Single Euro Payment Area). If you cannot be paid PayPal/Transferwise or SEPA payment, you should not register because Clickworker will not be able to pay you for your services.
Ideally, you should first determine if you can get paid and then start the registration process.
Click Register as a worker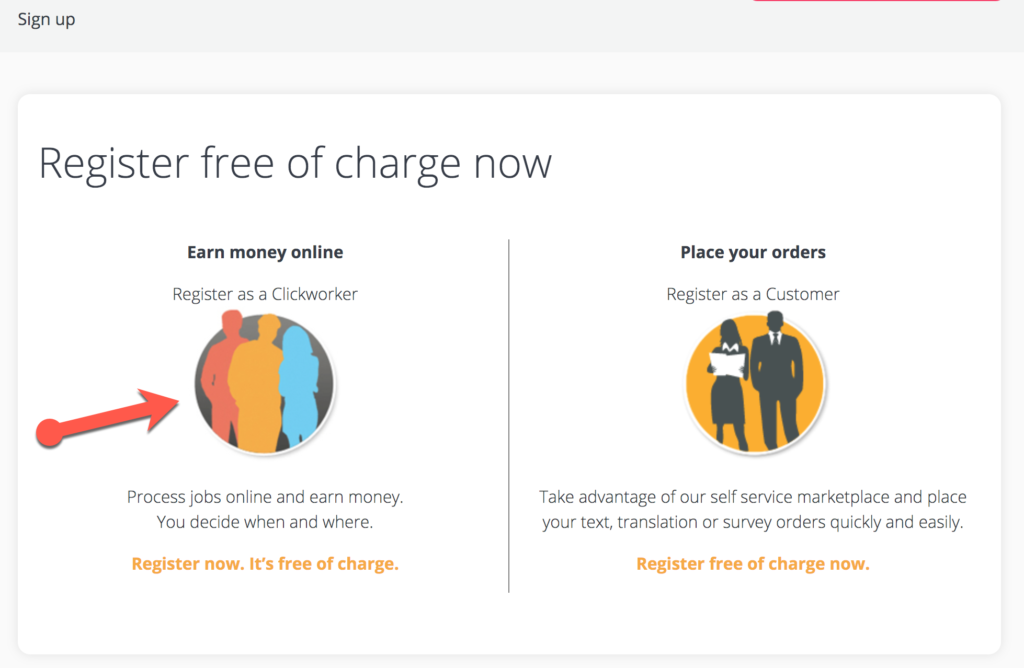 2. Choose your country of residence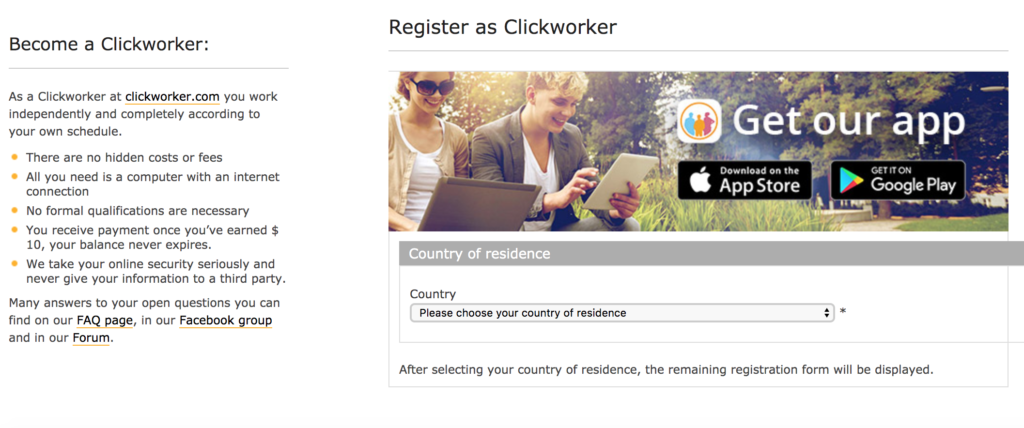 How Many Available Jobs Are There?
In my experience, there have been not too many available jobs. The ones I have seen lately ask to take pictures or take videos of yourself/your family doing various activities and very low-paying surveys.
But your experience may be different. Please let me know in the comments.
As I mentioned above, I have not try to qualify for the UHRS. I am sure more opportunities will be available when you qualify for UHRS. I'm just not quite interested in those types of tasks at the moment.
Please let me know in the comments section below what your experience has been so far.
How Much Can You Make With Clickworker?
Based on the few jobs I have completed, I would say that you can make up $6 to $12 per hour of work. Close to $6 for some of the online jobs and potentially $12 or more for the mystery shops or similar jobs that need to be completed outside your home.
But it is hard to tell because I have not completed enough jobs to have a good compensation per hour estimate.
How Do You Get Paid?
You can either get paid via Paypal or payment to your bank account or in exceptional countries Transferwise.
The minimum amount for the necessary method of payment must be reached, i.e. 5 euro for PayPal users and 10 euro for payment to your bank account or Transferwise.
Before you get paid, you will have to provide the W-9 MISC tax form. IRS regulations require companies to send a 1099-MISC tax form to any worker earning $600 or more per year.
There is nothing illegal or fraudulent about this request. It is unusual though, that they ask upfront instead of waiting until you are near the $600 threshold. Clickworker has noted that they do this "to avoid having to suspend payments once $600 has been earned and then chase the worker for this information."
In my experience, it was easy to complete the form online within the "payment details" of your account.
This is my proof of payment from Paypal for the job I completed.
When Will You Get Paid?
Clickworker FAQ notes that "the fees for jobs processed will be credited to your Clickworker account balance immediately after the job has been completed.
Jobs that are processed on clickworker.com are usually payable after 7 days unless otherwise stated, jobs that are processed on UHRS are payable after 28 days.
The payable sums of all user accounts are checked once a week, every two weeks or once a month (depending on the payment method selected). "
"The accounts in which this sum exceeds 5 euro (in the case of PayPal payment) or 10 euro (in the case of payment to a bank account or Transferwise) will receive a payment."
Does Clickworker Have an Affiliate Program?
Yes, Clickworker has an affiliate program they call "Clickworkers recruit Clickworkers." For each new Clickworker, you get to join, you'll get a referral bonus of $5.00, as soon as that new Clickworker earns $10.00.
My Experience with Clickworker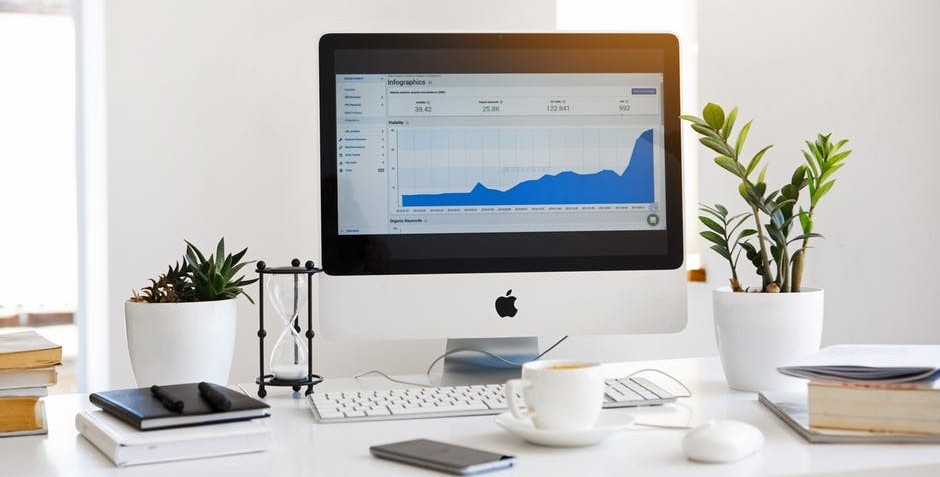 How Much Money Have I Made With Clickworker?
I have made $16.60 so far with Clickworker. This is the combination of the Paypal transfer ($14.30) and the pending $2.30 shown below. This screenshot below is proof of my current earnings. I will update this section as earnings increase. [Updated March 4, 2020]
Every blog post I write is based on many hours of research. I also like to test every side hustle I review when possible. You may also want to see how much money I have made from the beginning. And may also want to take a look at the quarterly income reports.
Ratings and Conclusion
| | | | | | |
| --- | --- | --- | --- | --- | --- |
| Overall Rating for Clickworker | ★ | ★ | ★ | – | – |
Clickworker has not have enough opportunities for me. Just like MTurk, it's supposed to offer ways to make money from home, but it has been difficult for me to get it going.
Occasionally, Clickworker also has opportunities to work outside of the home, like Gigwalk and Field Agent, but I was able to complete only one of those jobs in my area.
My overall rating for Gigwalk is 3 stars out of 5.
👍 PROS
➤ Fair compensation (from $6 to $12 per hour)
➤ Cash payments available
➤ Low cash out amount

👎 CONS
➤ It takes a while to get approved and paid
➤ There are not enough jobs available
➤ It will not generate significant money for my 2020 income goals
---

My #1 recommendation is Wealthy Affiliate. I joined Wealthy Affiliate in September 2019, and I'm thrilled that I made that decision.
As a beginner entrepreneur, it is hard not to get distracted with multiple priorities. The Online Entrepreneur Certification offered by Wealthy Affiliate makes you stay focus by taking you step by step through a total of 50 lessons as you complete your website within your chosen niche.
Let me assure you that Wealthy Affiliate is not a shady online program. I would not be a member of a scam and would not recommend it if I thought it was not legit.
---
📖 Please leave a comment below and let me know what you think.