I am always on the lookout for ways of making money in autopilot. CoinOut is one of those apps that will not generate too much money but is virtually effortless.
In this CoinOut App Review, I will go over the most important features of the app, including how to quickly scan your receipts and your options to cash out your earnings.
About CoinOut
In this Forbes interview, CoinOut co-founder and CEO, Jeffrey Witten, is asked to give his 30-second pitch on what CoinOut is. This is how he defined the app:
It looks like the initial idea of a digital change wallet never materialized. Below is the company's CoinOut video overview showing the current features.
Steve Blank, a retired Silicon Valley serial entrepreneur turned educator, remembers how Jeff Witten started CoinOut in 2014 in his Columbia University five-day Lean LaunchPad class. Jeff's original CoinOut presentation after five days is here.
Below is the company's timeline shown on CoinOut's website.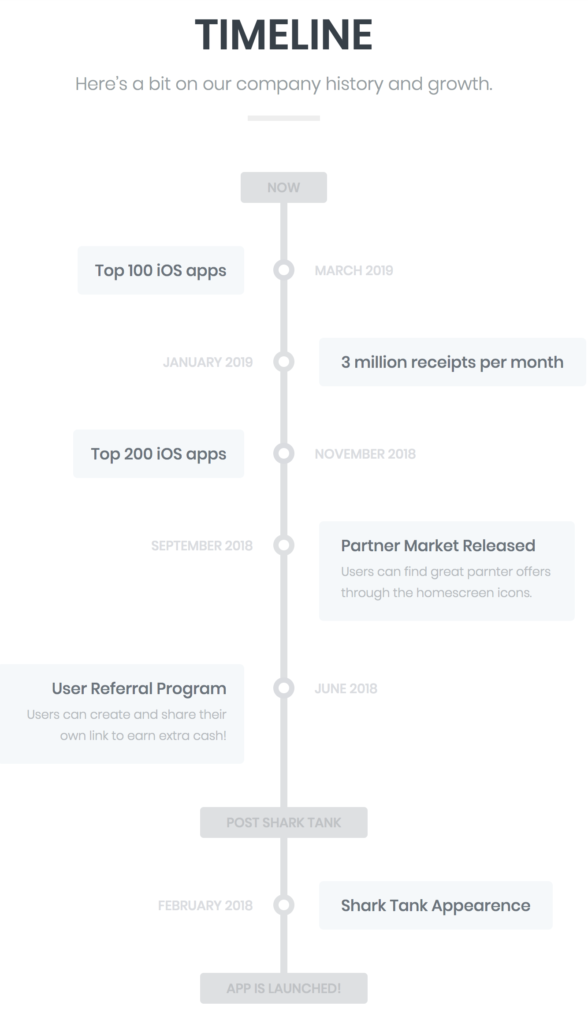 In February 2018, Co-founder and CEO, Jeffrey Witten appears in Shark Tank. He shows Kevin O'Leary his place and makes a deal with Robert Herjavec.
Is CoinOut Legit?
The fact that Robert Herjavec invested $250,000 for a 15% equity on the company is sufficient validation for me to call CoinOut legit. I have not got paid yet because I haven't reached the payment threshold of $10.00 to get paid via PayPal.
But many online reviews show that Paid Viewpoint pays with no problems. Also, the Apple app store shows a rating of 4.7 based on 51,000 reviews. But I will update this post with my experience when I get paid.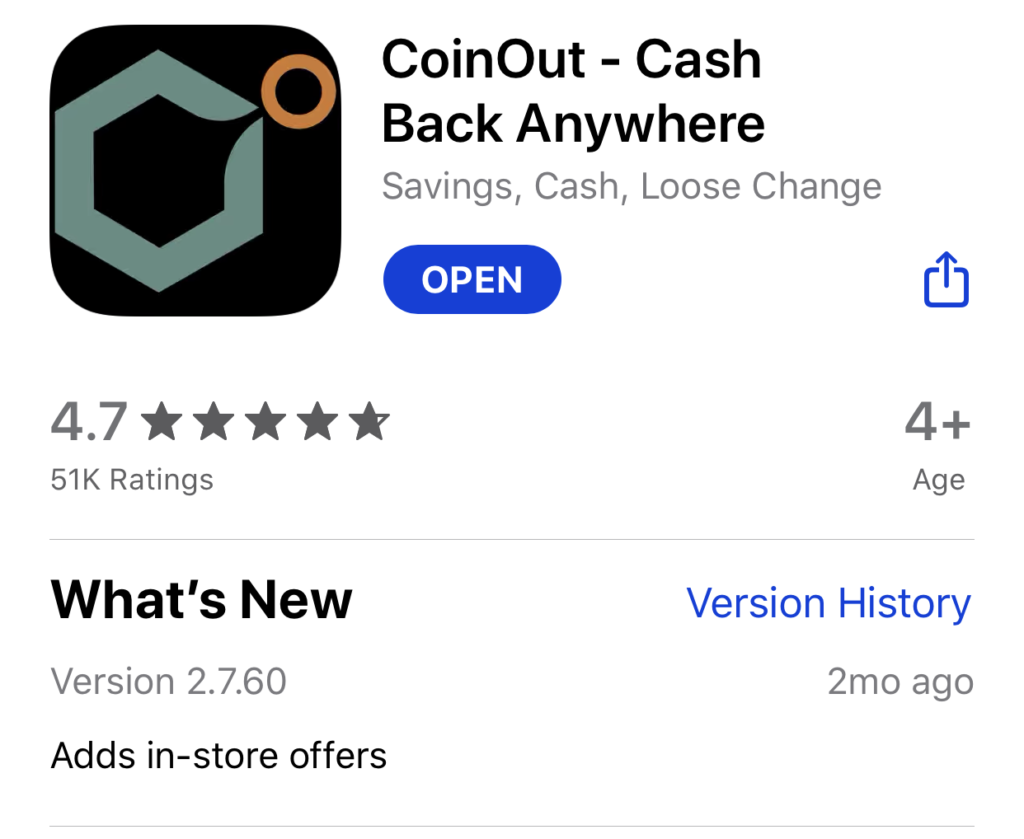 How Do You Sign Up For CoinOut?
To be able to sign up, you need to be at least 18 years of age. It can only be used in the USA as they require a US mobile number to start using the app.
You can signup by downloading the CoinOut app from the Apple app store or Google Play app store.
You will be asked to input your mobile phone number. You'll receive a six-digit pin through an SMS text to confirm the device. Then you need to provide an email address to verify the account.
What Receipts Are Accepted and Not Accepted?
The website's FAQ page states that you will receive cashback from all receipts from any retailer with the below information:
Date of Transaction (must be within 2 weeks from upload date and shown on the receipt)
Store Name
Total Bill Amount
Receipt line items with prices
The receipt cannot have been uploaded by your account previously or another account.
You will not receive cashback from the following:
ATM Receipts
Lotto Tickets
Credit Card Slips
Money Orders
Pictures of just barcodes or QR codes
Coupons
Receipts not in English
Receipts that do not have products included
Receipts not from your own purchase
IMPORTANT: If a receipt is uploaded more than once, the system may block your account.
This seems extreme, especially if it was done accidentally. There are some negative reviews referring to this topic.
How Do You Scan Receipts?
For in-store receipts, place your receipt on any available surface, press "SCAN" on the app, and align the receipt within the rectangular box. Then, simply press the button to capture the receipt. You'll receive a random amount of coins.
Remember that you can only take one picture for each receipt regardless of how long they are.
Here's a short video demonstrating the app for a small receipt:

This is a video demonstrating how to scan a long receipt:
Other Ways To Earn Money With CoinOut?
In addition to receiving cashback from scanning receipts, you can also use the CoinOut app to get cash back from online purchases.
Online Stores – To use the CoinOut app online, press one of the merchant buttons on the homepage or "all stores" button to see the full list of merchants.
Click on the merchant you are interested in to get automatically directed to the app or mobile website of the store and complete your purchase. You should receive a text message notification from CoinOut after that.
I haven't tried this because I am only interested in the receipts, but this is an option with many other apps that offer online cashback from top merchants such as Walmart, Groupon, eBay, and others.
Badges – The badges on the home screen of the app shows various offers you can take, anything from increasing your receipt limit, trivia, partner offers, etc.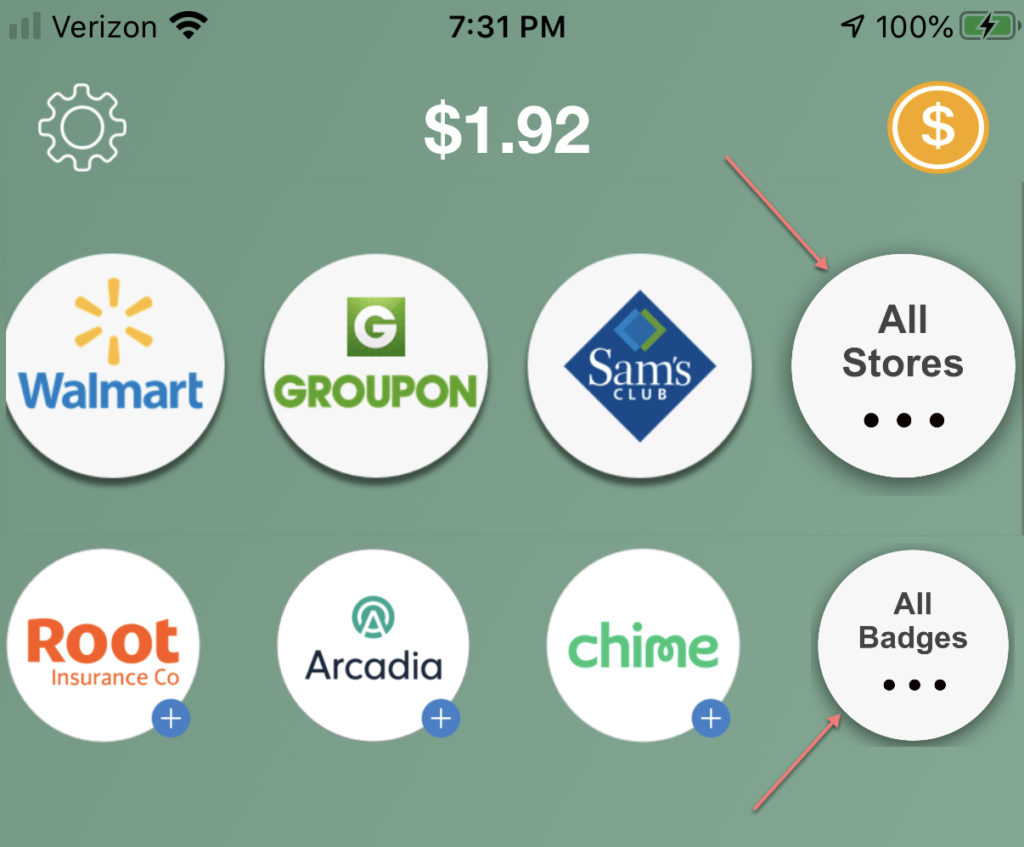 How Much Can You Make With CoinOut?
Don't get too excited. You will not get rich scanning receipts, but it takes so little time that it is worth considering.
If you have read my other reviews, you know that I am very interested in how much I make per hour. Well, these receipts take seconds to scan.
I have uploaded 38 receipts so far and have a balance of $1.90. So, on average, I have made 5 cents per receipt. In our household, we average a couple of receipts per day. So, I could expect about $35 per year.
This is not too much money, but you can use the same receipts with other apps, such as Receipt Pal and Fetch Rewards. Together you can make around $100 a year or 35 free Starbucks cappuccinos! Why not?
These are an example of recent receipts I scanned.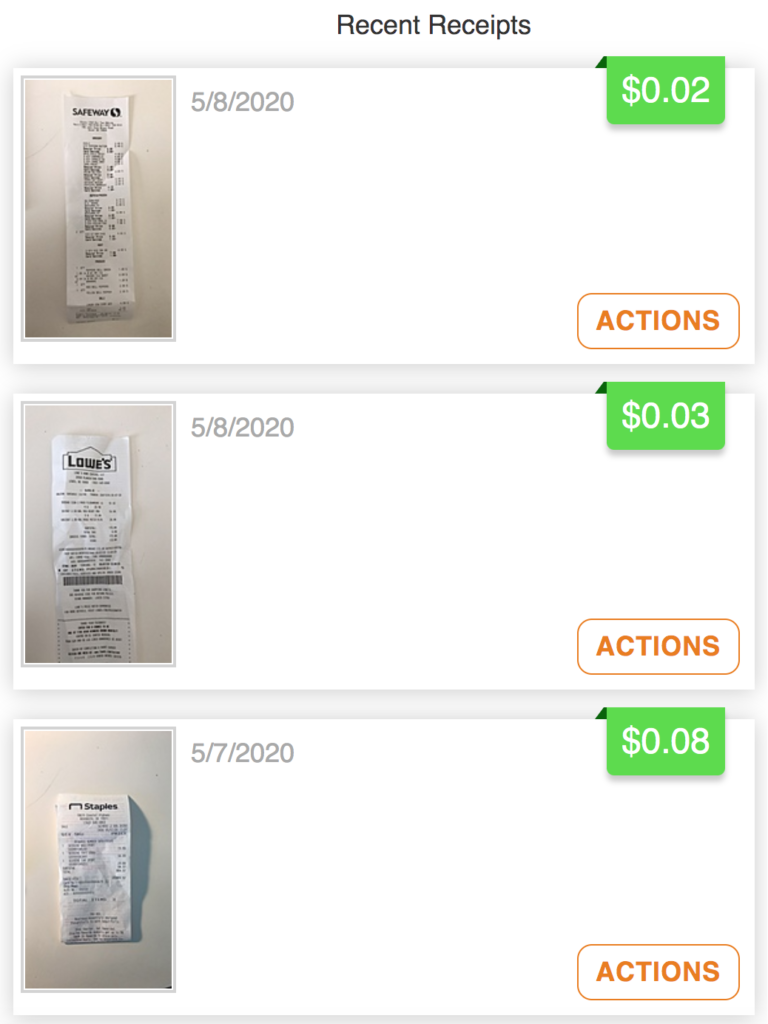 How Do You Get Paid?
Press the orange "$" on the top right area of the home screen of the app. From there, you can choose to get paid through bank transfer, gift card, or PayPal. There's no minimum for bank and gift card and a $10 minimum for PayPal.
To cash out via bank transfer, you need to get a Platinum Badge. As of this writing, to reach platinum status, you need to complete at least one of the following partners offers: Varo, Arcadia, Greenlight, Stash, or Instacart. The Platinum Badge has other benefits, such as early access to deals and offers and other exclusive offers.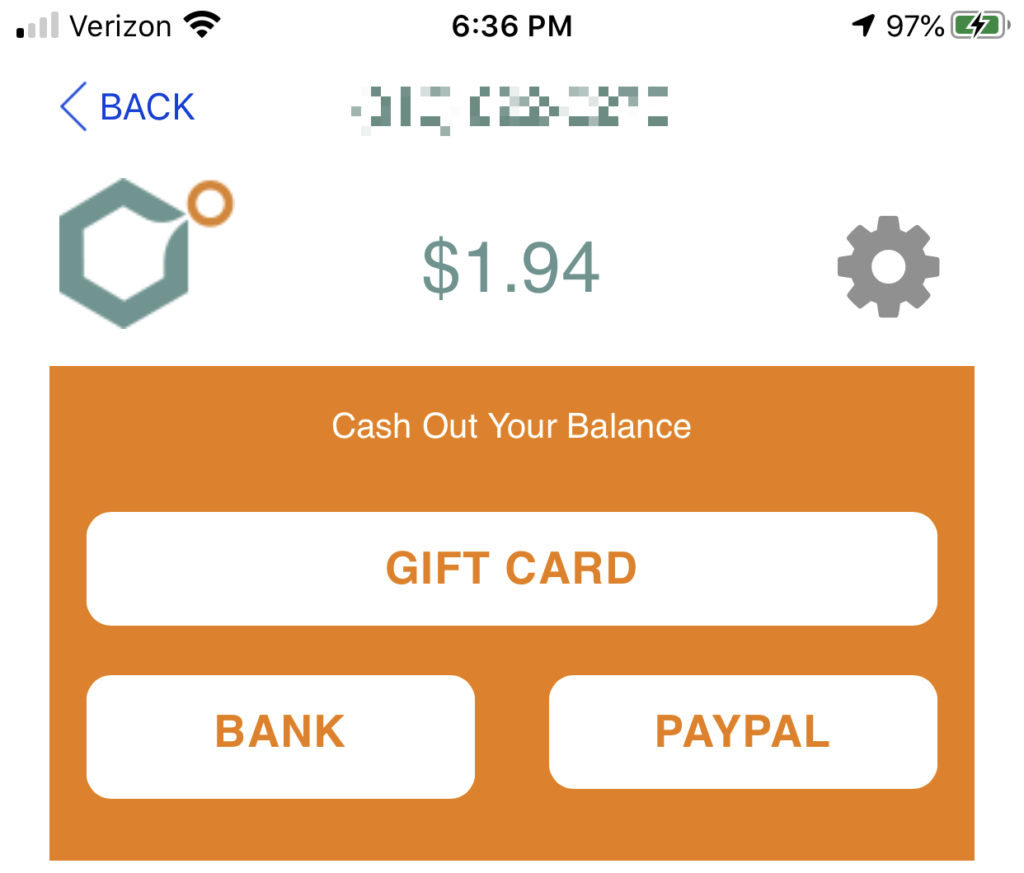 Does CoinOut Have an Affiliate Program?
Yes, CoinOut has an affiliate program. You can earn additional money by referring anyone to the app by using your unique referral link you will find by clicking the "Share & Earn" button on the main app page (see the screenshot below).
CoinOut doesn't disclose the amount you will receive, but some references on the internet are saying that they pay $1.75 per referral. I haven't been able to validate this.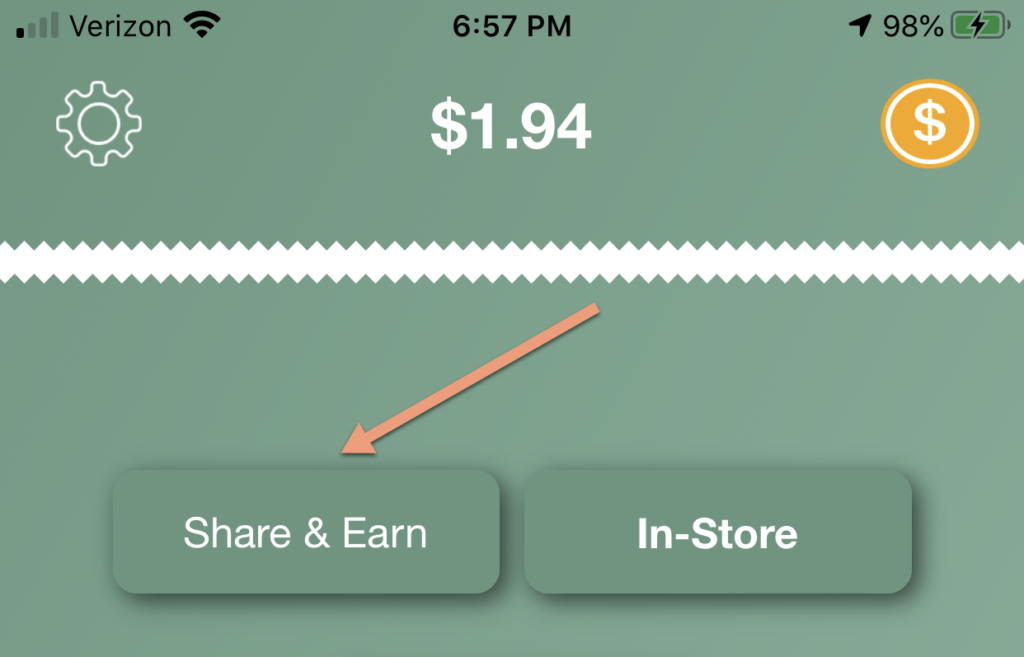 My Experience with CoinOut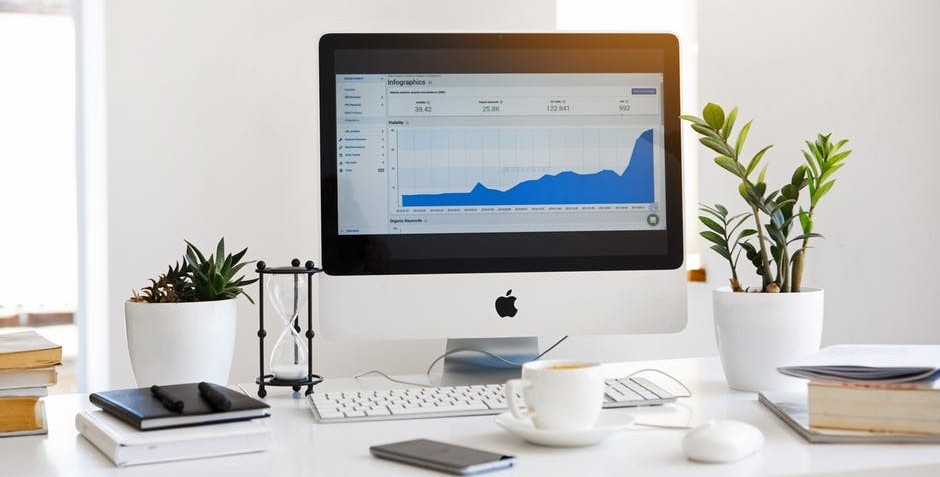 How Much Money Have I Made With CoinOut?
I have made $10.92 so far with CoinOut. This screenshot below is proof of my current earnings. I will update this section as earnings increase. [Updated March 31, 2021]
Every blog post I write is based on many hours of research. I also like to test every side hustle I review when possible. You may also want to see how much money I have made from the beginning. And may also want to take a look at the quarterly income reports.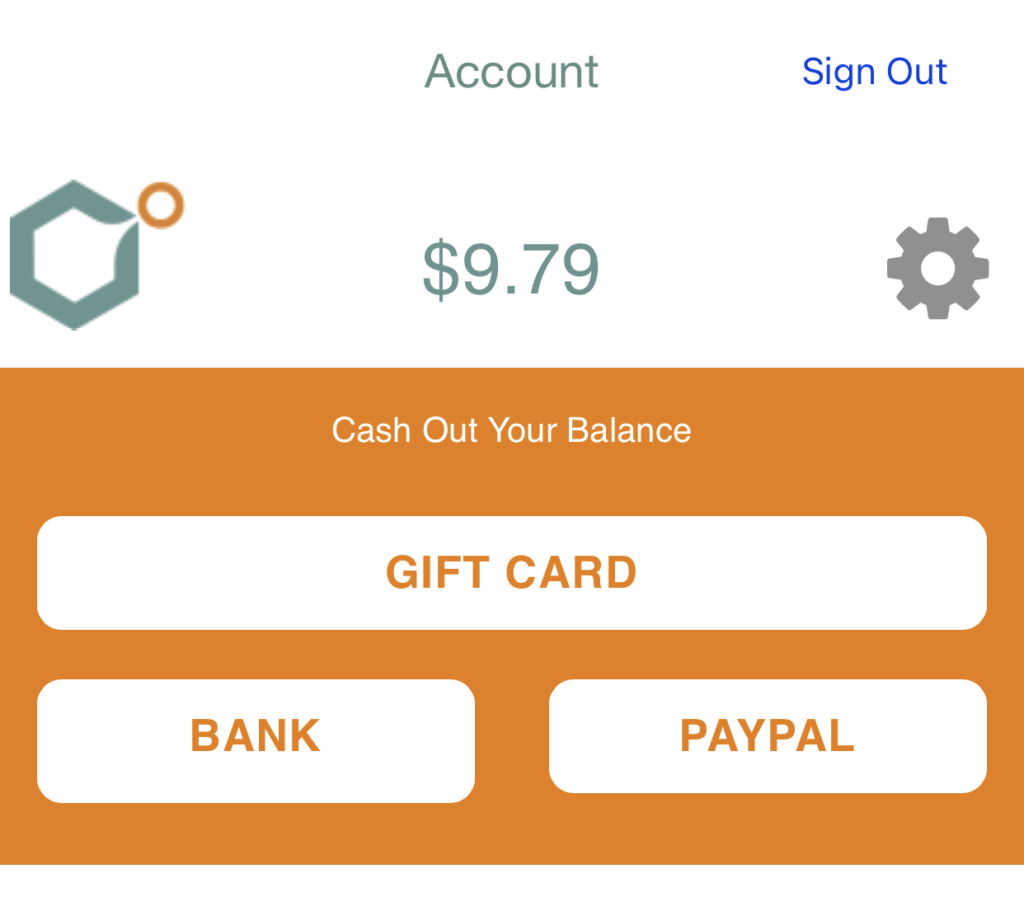 Video Summary of CoinOut
Let's wrap up with a quick summary video I have created. If you like this video, consider subscribing to the Finance Notebook Youtube Channel.
Ratings and Conclusion
| | | | | | |
| --- | --- | --- | --- | --- | --- |
| Overall Rating for CoinOut | ★ | ★ | – | – | – |
Although you can't make a lot of money with this app, it takes very little time. You only have to get into the habit of scanning the receipts before you toss them, and easily make a few dollars per month.
If you combine this app with other receipt apps you'll earn even more with the same receipts. My overall rating for CoinOut is 2 stars out of 5.
👍 PROS
➤ You can scan any receipt
➤ The scanning process is easy
➤ Relatively low cash out amount ($10 for Paypal)

👎 CONS
➤ Average cashback per receipt is low
➤ Sometimes the app asks to log on again
➤ It will not generate significant money for my 2020 income goals
---

My #1 recommendation is Wealthy Affiliate. I joined Wealthy Affiliate in September 2019, and I'm thrilled that I made that decision.
As a beginner entrepreneur, it is hard not to get distracted with multiple priorities. The Online Entrepreneur Certification offered by Wealthy Affiliate makes you stay focus by taking you step by step through a total of 50 lessons as you complete your website within your chosen niche.
Let me assure you that Wealthy Affiliate is not a shady online program. I would not be a member of a scam and would not recommend it if I thought it was not legit.
---
📖 Please leave a comment below and let me know what you think.