If you are looking for a way to make extra money while you shop and you own a smartphone, Field Agent may be the app for you. Depending on which area you live, chances are Field Agent has jobs available for shops you visit frequently.

In my experience, you can make up to $15 per hour most of the time when you are already in the store shopping.
What is Field Agent?
Field Agent is an on-demand platform that mobilizes smartphone users called "agents." Agents use the Field Agent app to complete retail audits, mystery shops, market research, and digital product demonstrations.
According to the Company's website Field Agent has over one million agents across the United States and two million around the globe. The Company started in 2009 with the goal of solving a common business problem: real-time access to in-store conditions and shopper insights.
When Field Agent's mobile app hit the App Store in 2010, it received 3,000 downloads in the first 20 minutes and became the first app to pay users real money for completing assignments.
We Are Field Agent-Company Overview Video
Is Field Agent Legit?
The company has a history of over 10-year in the industry, and the IOS app has a 5-star rating.
I am a Field Agent myself, and I can attest that Field Agent is, without a doubt, a legit company. I have earned over $200 with them in one month and made two transfers to my bank account.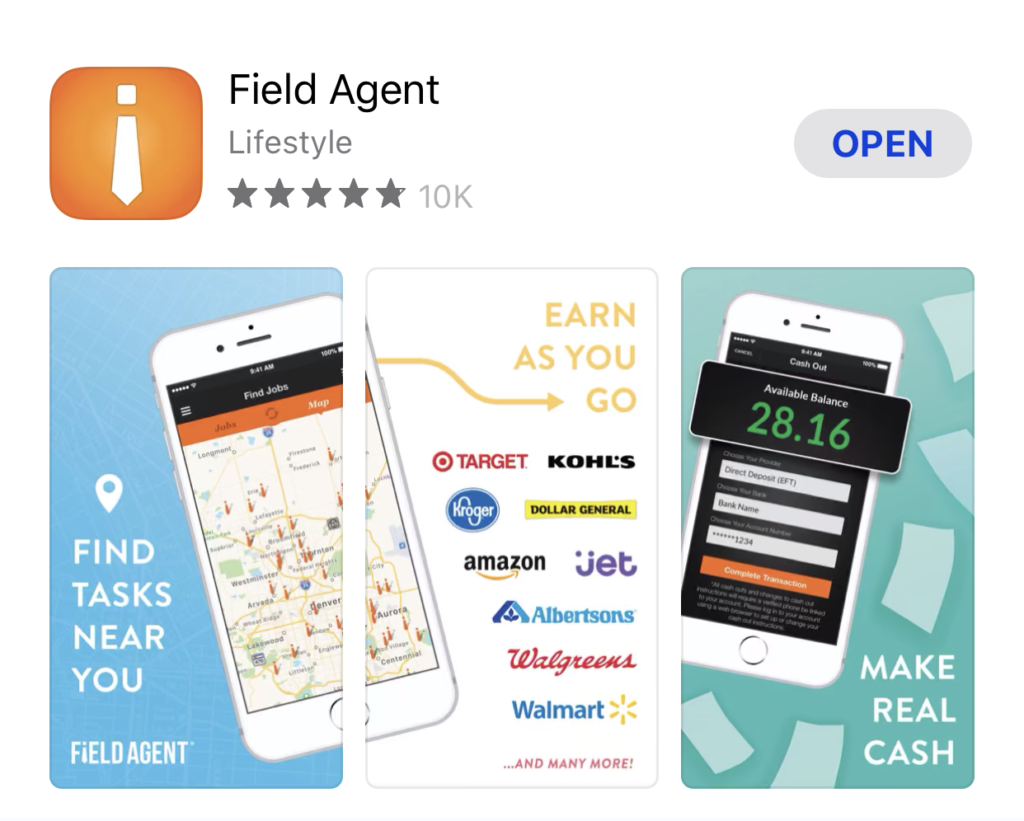 Ways to Get Money with Field Agent
There are two main types of assignments you can complete as a field agent: Mobile audits and mystery shopping. Let's go over two videos on the general concept of mobile audits and mystery shopping.
Then I'll go over more details, including my own experience.
Mobile Audits Video From Field Agent
This video provides a general idea of what you may do in a typical audit. As a field agent, you will use your smartphone as you shop or visit a particular location and provide pictures and opinions on what you see.
Typical Mobile Audits and How Much They Pay
I have completed 52 audits in about a month. Depending on the type of audit, you typically get from $3 to $6. It usually takes me an average of 10-15 minutes to complete each audit once I am in the store.
That amounts to about $15 per hour, which is not bad for this type of hustle job.
These are the type of audits I have completed:
Self-Checkout Host Study (at Walmart): You typically are asked to take a picture of the self-checkout area, including the self-checkout employee and then comment on what the self-checkout employee is doing at the time of your visit.
You will also ask to take a picture of the customer service area, and comment on what you see. You usually get $3 for this audit. It typically takes me 10-15 minutes to complete it.
Store demo checks (at Walmart): You may be asked to take a picture of an individual store demo display and answer questions and may be asked to interact with the demo display employee quickly.
You usually get $4 or $5 for this audit. It typically takes me 10-15 minutes to complete it.
Products checks (at various stores): You may be asked to validate availability, looks, prices, expiration dates, etc. and take multiple pictures. You usually get between $4 and $6 for this audit. It typically takes me 15-20 minutes to complete it.
Recycling Bales Audit (at Walmart or Sam's Club): You will be asked to locate, count, and take pictures of large recycling bales (cardboard and mixed recycling). See the video below for keys to success with the recycling bales audit.
It may sound complicated, but this is a straightforward task. I have completed 14 recycling bales audits. You usually get $3 for this audit. It typically takes me 10-15 minutes to complete it.
The recycling bales audits are available every Sunday. I usually get $9 within an hour by going to 3 locations that are within 10 miles of my house. I know it is not a lot of money, but when you get used to these audits, they are very easy to complete.
Product Testing: You may be asked to purchase a product, test it and provide your opinion. For example, I was asked to buy yogurt of a well know brand, taste it, and provide my opinion on the taste.
I got $3 for the task and received a refund for the price of the yogurt.

Note: When possible, try to combine more than one audit in the same location to maximize your earnings.
Update February 2020: Field Agent communicated through its app that as of February 2020, "the following audit programs will be suspended indefinitely: Walmart Customer Service Audits, Self Checkout Host Study, and Walmart Pickup & Delivery Audits".
Below is the notification.
So far this update hasn't affected me personally. I have had as many or more job opportunities as before the update. Hopefully they can continue finding more opportunities.
What is Mystery Shopping According to Field Agent
In this video, Field Agent highlights how mystery shopping can help businesses.
Field Agent has radically reimagined conventional mystery shopping, offering retailers of all kinds a smarter, faster, more affordable link to customer experience insights.
By crowdsourcing your customers' smartphones, Field Agent gauge their attitudes toward online experience, store experience, staff engagement, store conditions, and product usage.
With mobile mystery shopping, companies get real experiences from real shoppers.
Typical Mystery Shopping Assignments and How Much They Pay
The main mystery shopping assignment I have been involved with so far is called "Customer Service Job," which is a little bit mystery shop and a little bit audit. I have completed 5 customer service Jobs, all of them at Walmart.
You usually get $5-$6 for this job. It typically takes me 20-30 minutes to complete. To learn more about what to expect with this job, you can watch this Walmart Customer Service Audit Guidelines video.
I have also completed a couple of other simple mystery shopping with very little interaction with employees.
If you want to do Customer Service Audits, you should also watch this video on key Tips for Success.
What if I am Approached by an Employee?
Field Agent FAQ notes that "It is not illegal to take pictures in stores. It might be against a store's policy, so they can ask you to leave. Also, no one can touch or take your personal property without your permission."

Some Agents like to wear headphones while doing photo audits, so it looks like they are just listening to music.
This is actually my strategy.
I typically wear my headphones and pretend that I am listing to music or having a conversation with someone. It works very well for me. Just make sure you mute your phone so that there is no sound when you take a picture.
The easiest way to look suspicious is to sound like a paparazzi taking pictures all over the store.
Mobile vs. Desktop or Laptop Task Completion
The only way you can make money with Field Agent is by using your smartphone app. You will capture all the pictures and information requested and submit the job, all with your smartphone. You can get the app on Google Play or download it on the Apple App Store.

While you can't complete jobs with your desktop or laptop computer, you can log on to your account on your desktop or laptop computer to access your transaction history and change/edit your account setup.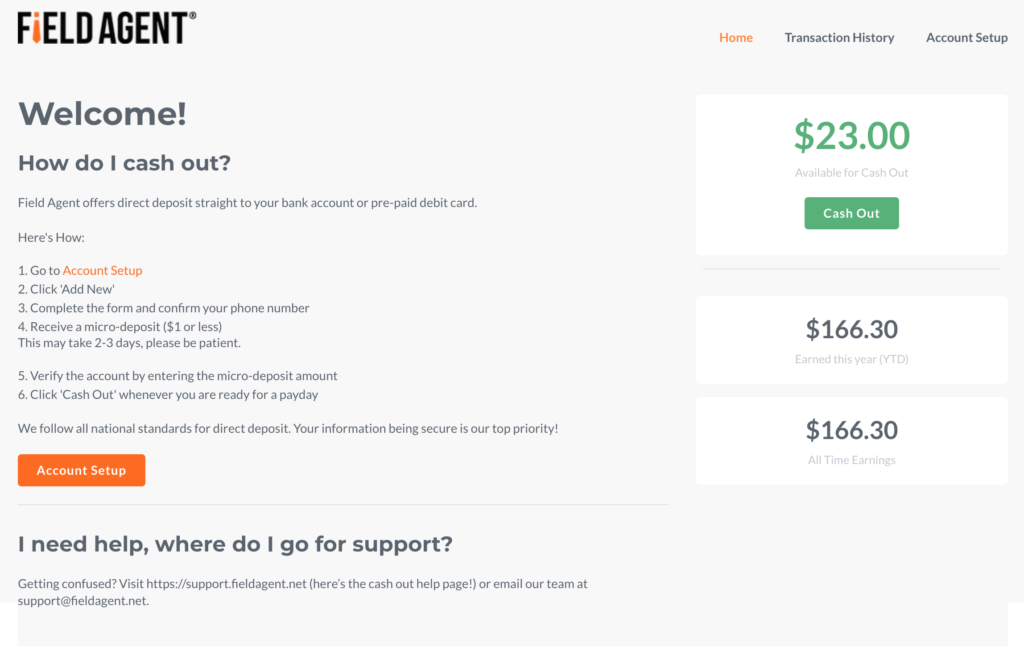 How Can You Sign Up For Field Agent?
Based on my research, Field Agent currently operates in seven countries. Each country seems to have a different domain name. You may want to go to the domain address for your country to start the signup process.
I am familiar with the signup process in the USA. For the USA, you want to go to https://my.fieldagent.net/sign-up/ where you will be asked to provide profile information.
Field Agent notes that "answering profile questions can give you access to more jobs. Your information is used for job selection only. It is not shared or sold to third parties."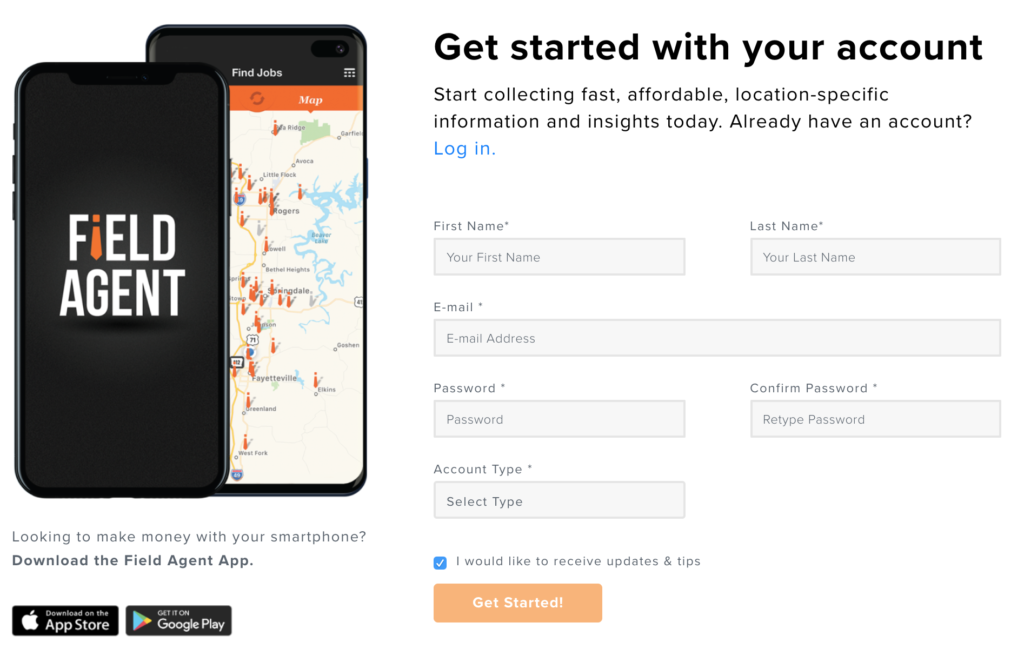 How Much Can You Make With Field Agent?
In my experience, you can make up to $15 per hour of work. This assumes you are already in the store when you accept the assignment.
The typical audit, as I mentioned above, will pay from $3 to $5 and can be completed in 10 to 20 minutes.
The customer service jobs pay $5 or $6 and it takes from 20 to 30 minutes to complete.
If you count travel time from your home to the store, these amounts will be different. All in all, it is not bad pay for this type of gig.
What is the Agent Score and How Does it Work?
Every agent starts with a score of 85. This score goes increases/decreases based on the following formula shown on Field Agent's FAQ.
85 + Completed Jobs – (Accepted – Completed) = Agent Score
OR
85 + Completed Jobs – Denied Jobs = Agent Score
Note that you can cancel a reservation within 5 minutes and will not count against your score in Field Agent's system. The 5 minutes are helpful because it gives you some time to read about the task, and lets you change your mind without affecting your score.
I have seen some internet sources saying that if your score gets below 75, you will have no jobs available. I haven't been able to validate this with Field Agent.
In general, it looks like the higher the score, the better, although I don't know what this means. Do you get to see more jobs? Do you get to see better-paying jobs?
I haven't been able to figure this out. Please let me know in the comments section below if you understand how higher scores affect the type or number of jobs you get.
My current score as of Feb 25, 2020 is 222.
How Do You Get Paid?
With Field Agent, you get paid by setting up a direct deposit. You would go to 1) Your account setup page and 2) Add New, as shown on the screen below from my account.
Here is a video showing how to setup a direct deposit.
To cash out, 1) click on the cash out green button, 2) Choose your cash out option 3) Success, wait up to 48 hours for your money to appear in your bank account.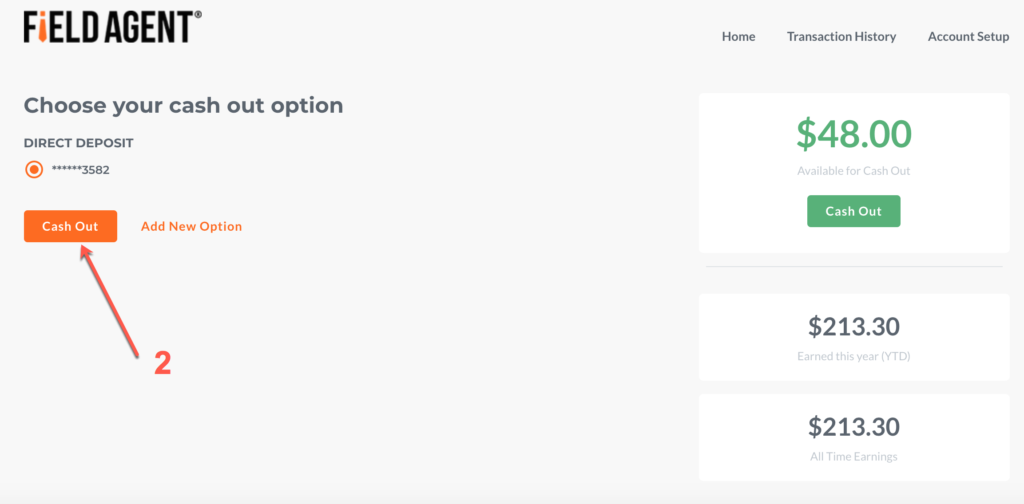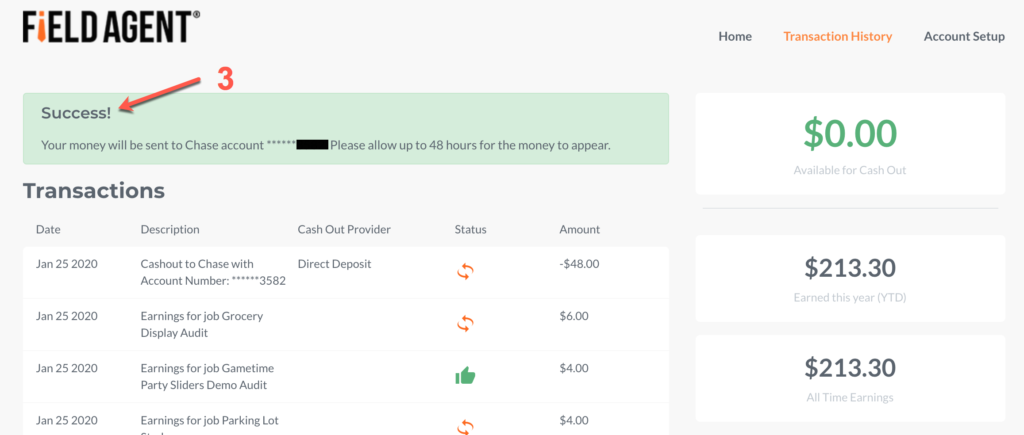 Does Field Agent Have an Affiliate Program?
Field Agent has a referral program where you can earn up to $10 per referral. Share your invite code with friends & family via the platform of your choice (text, email, social media).
These are examples provided on their FAQ page of how you accumulate money from your referrals :
Your friend is just getting started: When your invited friend earns their first $3 bounty, you get paid $0.30!
Your friend is on a role: When your invited friend has earned their first $50 in total bounty, you will have made $5.00 from that friend!
Your friend is legit: When your invited friend has earned $100 in total bounty, you will have earned your full potential $10.00 from that friend!
To start earning money by referring friends, simply go to the account section of the app and click on Invite.
Then, share your code by pressing the "Invite Friends" button and select your preferred method of sharing.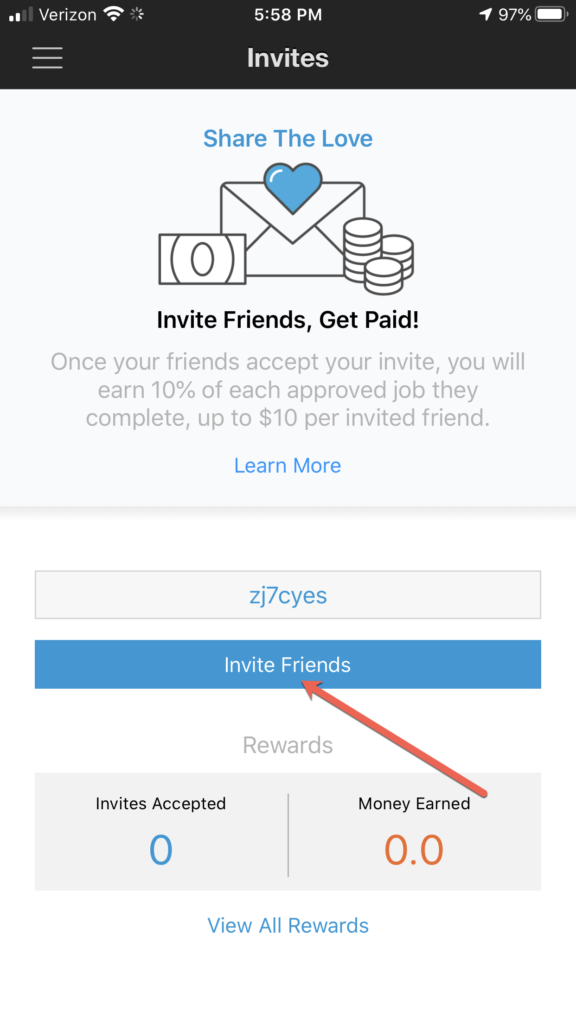 My Experience with Field Agent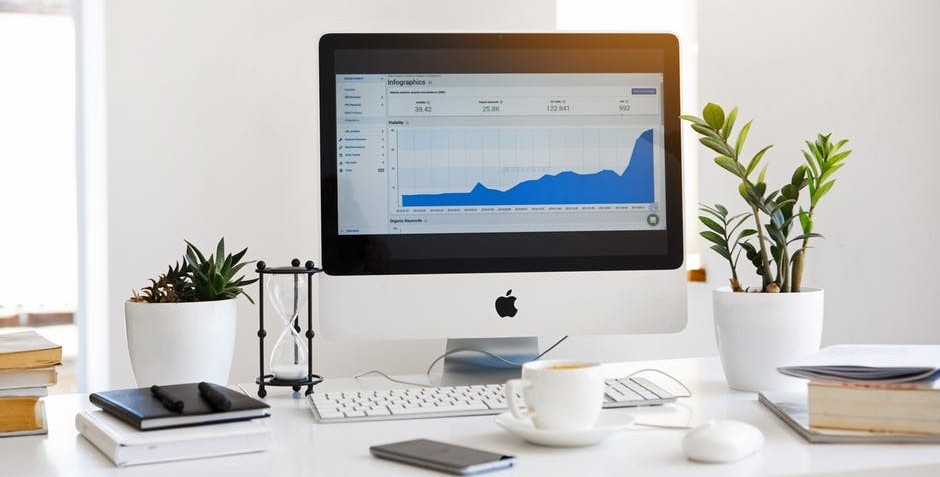 How Much Money Have I Made With Field Agent?
I have made $2,607.55 so far with Field Agent. I haven't worked on Field Agent gigs for a while because I am focusing on other business activities. But I have continued to make some money through the affiliate links on this page.  The screenshot below is proof of my current earnings. I will update this section as earnings increase.  [Updated September 30, 2021].
Every blog post I write is based on many hours of research. I also like to test every side hustle I review when possible. You may also want to see how much money I have made from the beginning. And may also want to take a look at the quarterly income reports.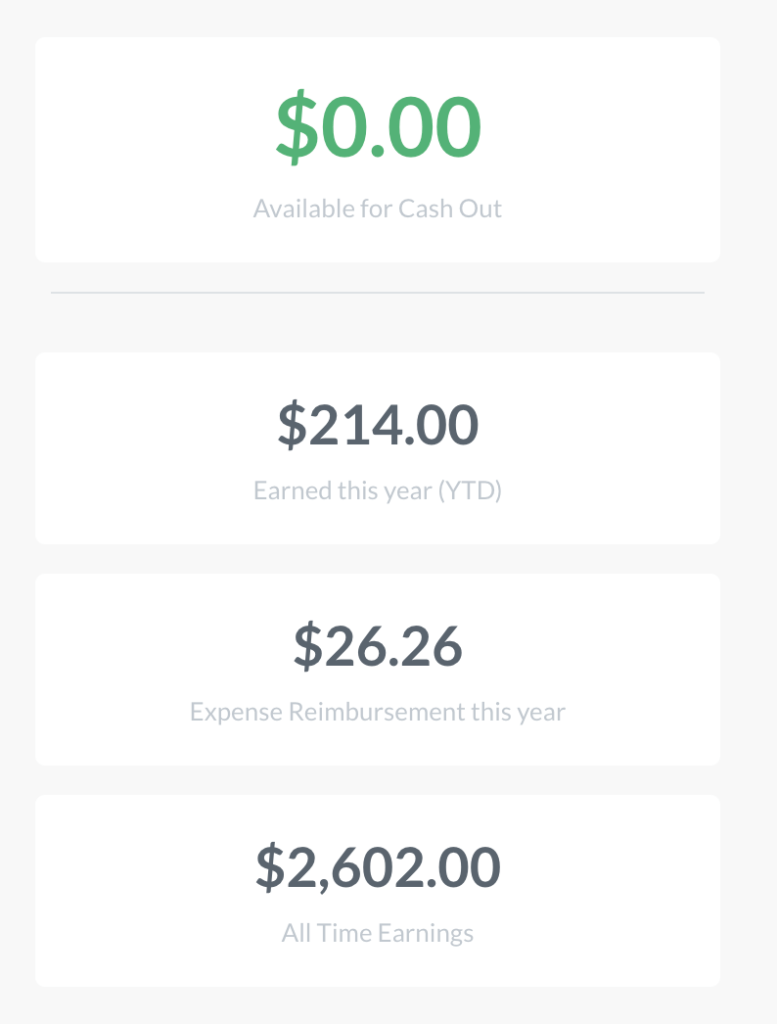 Video Summary of Field Agent
Let's wrap up with a quick summary video I have created. If you like this video, consider subscribing to the Finance Notebook Youtube Channel.
Ratings and Conclusion
| | | | | | |
| --- | --- | --- | --- | --- | --- |
| Overall Rating for Field Agent | ★ | ★ | ★ | ★ | – |
Field Agent is a convenient way to make extra cash when you are shopping or near a store where there is a job.
If you can accept jobs when you are actually shopping in the store or are near the store, then you can expect to make up to $15 per hour of actual work completed.
It will take a little practice at the beginning, but most job assignments are not complicated. My overall rating for Field Agent is 4 stars out of 5.
👍 PROS
➤ Fair compensation (up to $15 per hour)
➤ Cash payments available
➤ Low cash out amount
➤ Referral program available
➤ It will generate significant money for my 2020 income goals
👎 CONS
➤ Some assignments may be intimidating for some people
➤ The earnings per hour are lower if you choose to drive far only to complete the job
➤ Some geographic locations may not have enough jobs available
---

My #1 recommendation is Wealthy Affiliate. I joined Wealthy Affiliate in September 2019, and I'm thrilled that I made that decision.
As a beginner entrepreneur, it is hard not to get distracted with multiple priorities. The Online Entrepreneur Certification offered by Wealthy Affiliate makes you stay focus by taking you step by step through a total of 50 lessons as you complete your website within your chosen niche.
Let me assure you that Wealthy Affiliate is not a shady online program. I would not be a member of a scam and would not recommend it if I thought it was not legit.
---
📖 Please leave a comment below and let me know what you think.