If you have a smartphone, you can use the Job Spotter app to earn extra money in the form of Amazon gift cards. When you spot a hiring sign, you only have to take two pictures and submit them to Job Spotter within the app.
In this Job Spotter review, I show how easy and convenient it is to complete these jobs. I will also go over how much you can expect to make per hiring sign you submit and my overall experience using the Job Spotter app.
About Job Spotter
The Job Spotter overview of the Indeed support webpage notes that Job Spotter is developed and maintained by Indeed, a worldwide job-related search engine, which launched in November 2004.
Its primary mission is to add local small business jobs to the Indeed search engine.
The app gives you an opportunity to explore your community and make some extra money while at the same time, you are helping local businesses reach more job seekers.
Per Indeed, "the job sign photos you submit with the Job Spotter app, if approved, go on to become job listings on the Indeed.com website, connecting local businesses with job seekers in the community."
Is Job Spotter Legit?
Job Spotter is owned by Indeed, which is considered the #1 job site in the world, based on Indeed's about page. I have already received one payment in the form of an Amazon gift card. So, I have no doubts that Job Spotter is legit.

How to Create a Job Spotter Account
Per Job Spotter Terms of Service, you must be at least 18 years of age to open an account. To sign up, start by downloading the app in Google Play or Apple Store.

How to Make Money with Job Spotter
The basic job is to spot a hiring sign. You will use the Job Spotter app to take a picture of it and the storefront, and submit it to through the app. Job Spotter then will send you an Amazon gift card in exchange for your submissions.
You can submit as many hiring signs as you want.
Photo Tutorial
The Job Spotter app has a helpful Field Guide, which includes a photo tutorial.
The following recommendations come from the tutorial. Ensure that:
The Help Wanted sign is in focus, and the details can be easily read.
The picture is on the storefront, and the store name is clearly visible.
There are no people in the picture.
You have exited your car before you take the picture.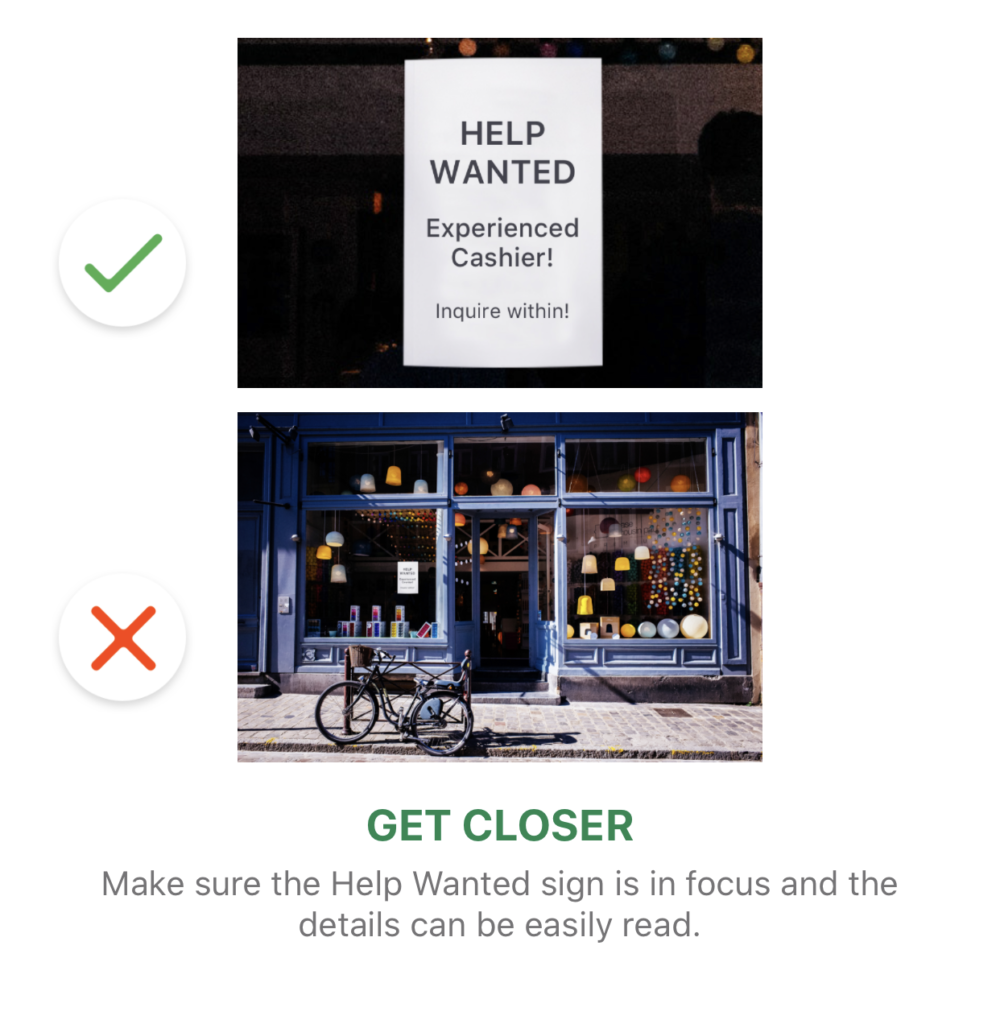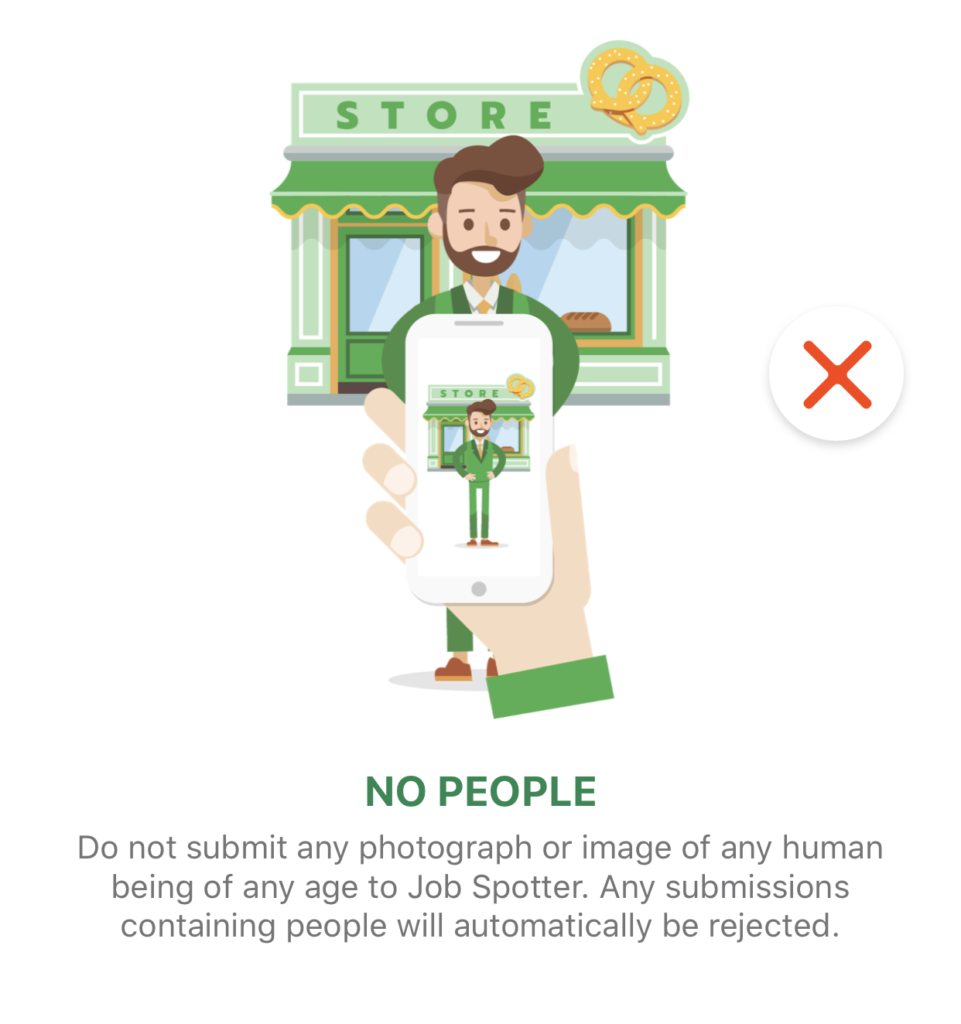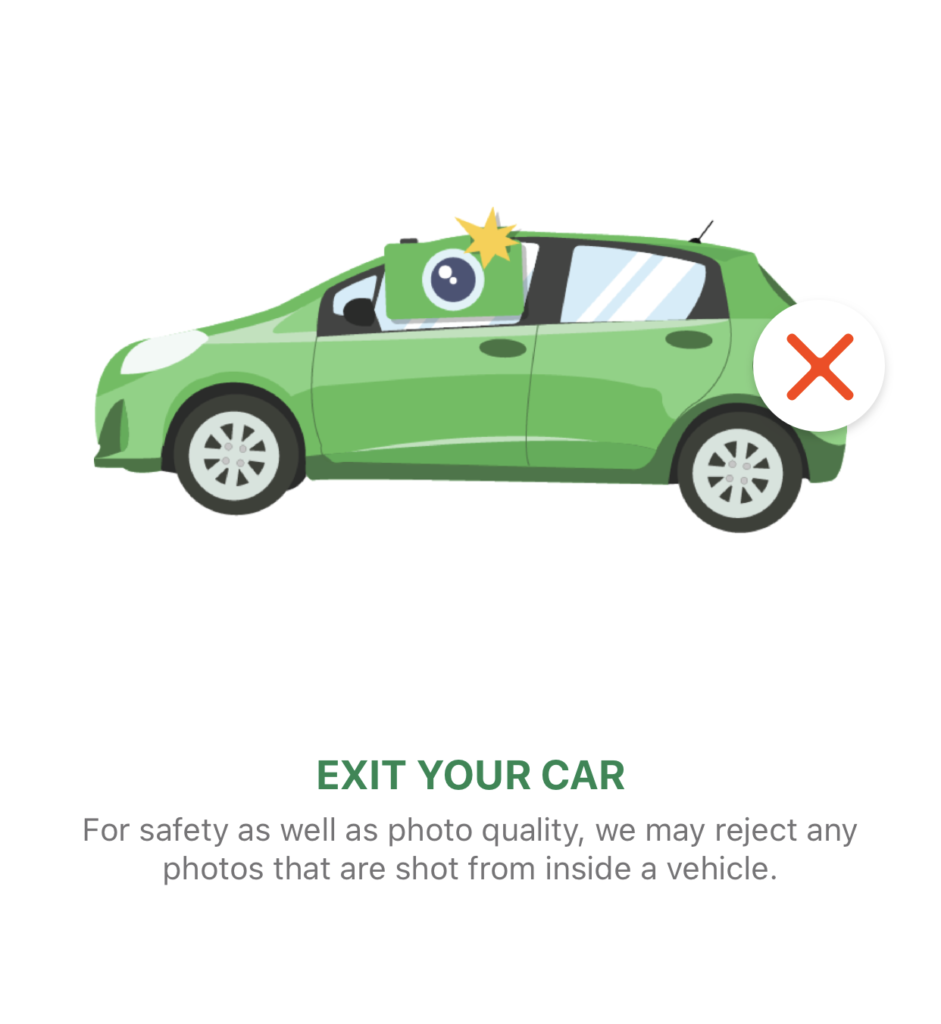 How Much Can You Make With Job Spotter?
The app has a useful Points guide.
Per the guide, how many points you get per help wanted add depends on whether it is from a large or small business, mentions the job title on the sign, accepts applications in person, whether the help wanted has already been submitted, the quality of the photo, etc.
Below are a couple of typical job examples shown on the Points guide. You can see more examples in the app.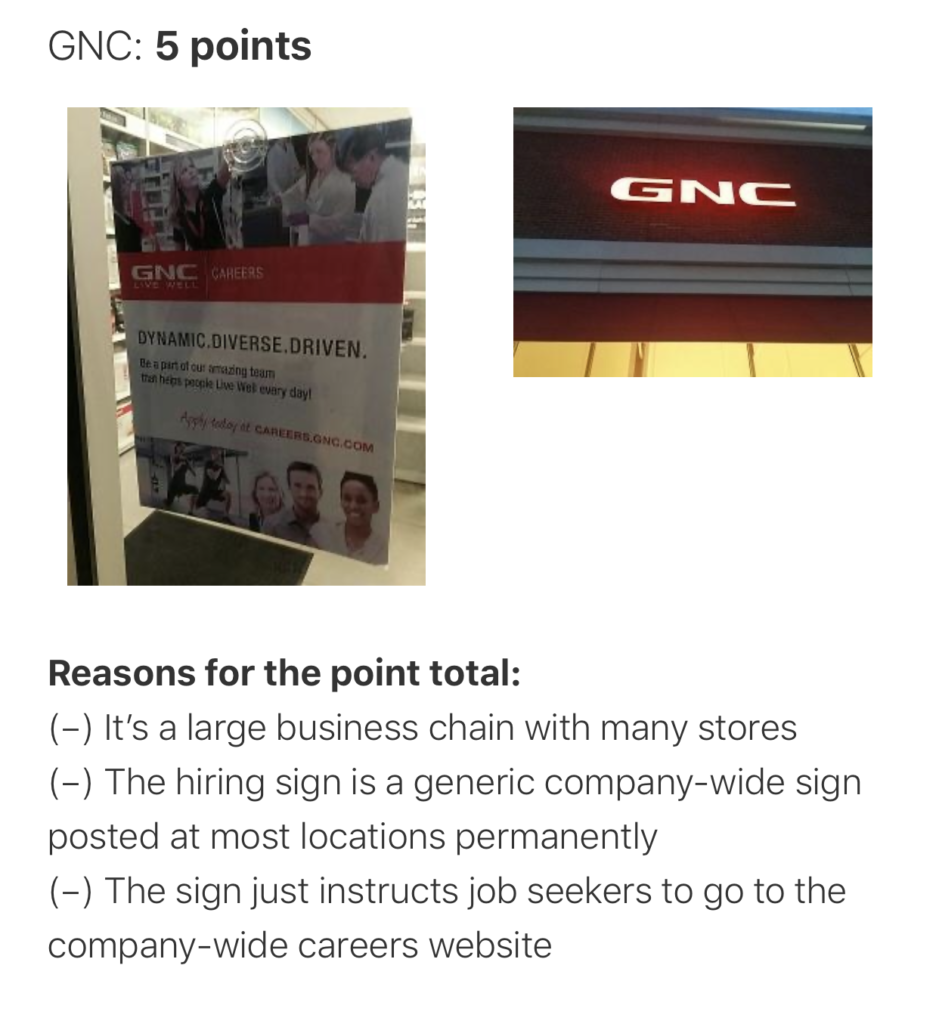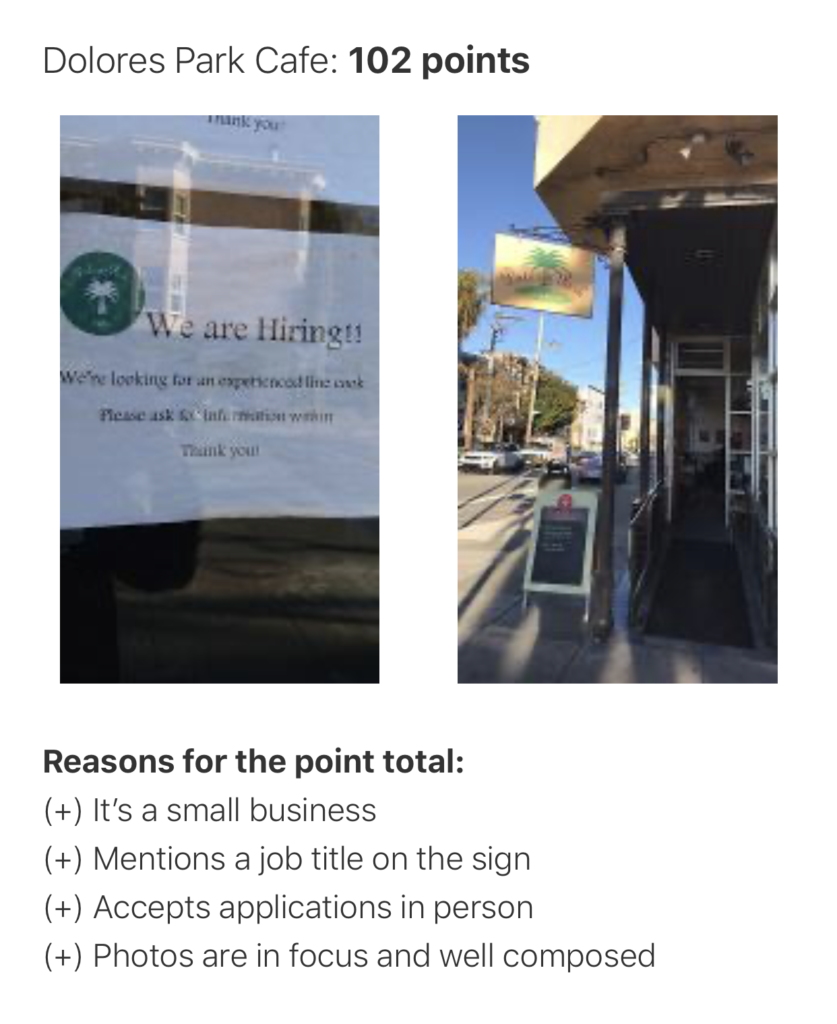 Below are some examples of my submissions. If you average them, I made approximately 15 cents per submission.
This is not a lot of money, but each submission takes probably 2 minutes, once you are at the location. Assuming it took me 2 minutes per submission on average, I made $5.58 per hour.
You may have better results if you happen to be in an area where there are many help wanted ads that pay well or are very good at locating these help wanted ads. I think my experience with this app is that of an average individual.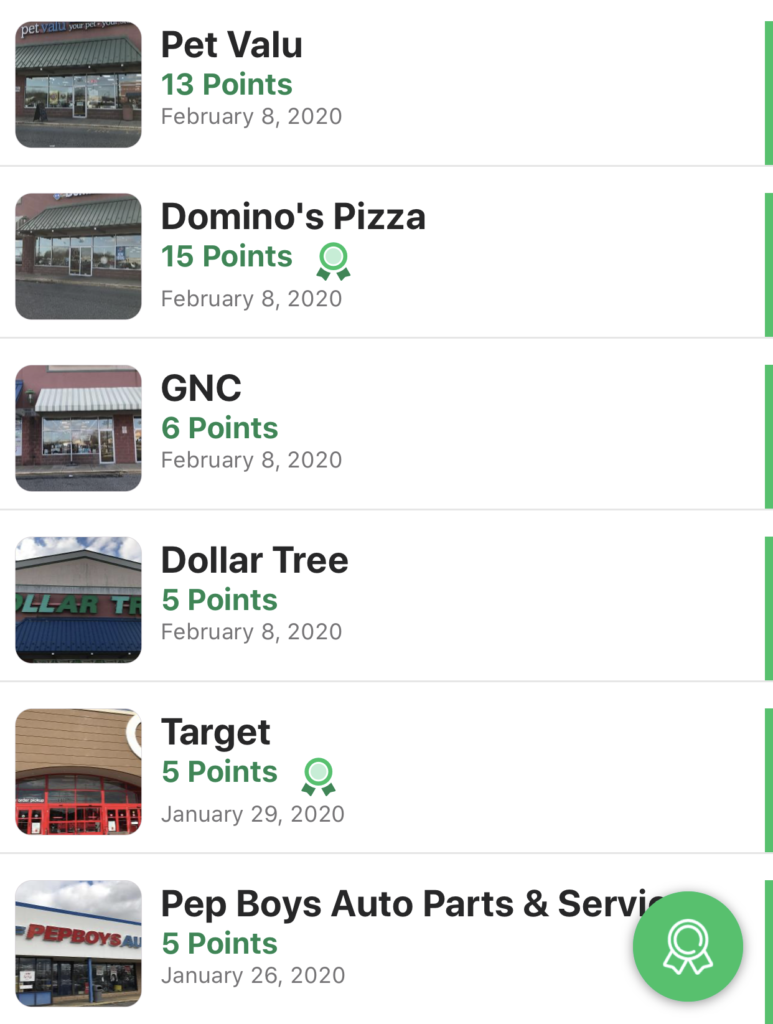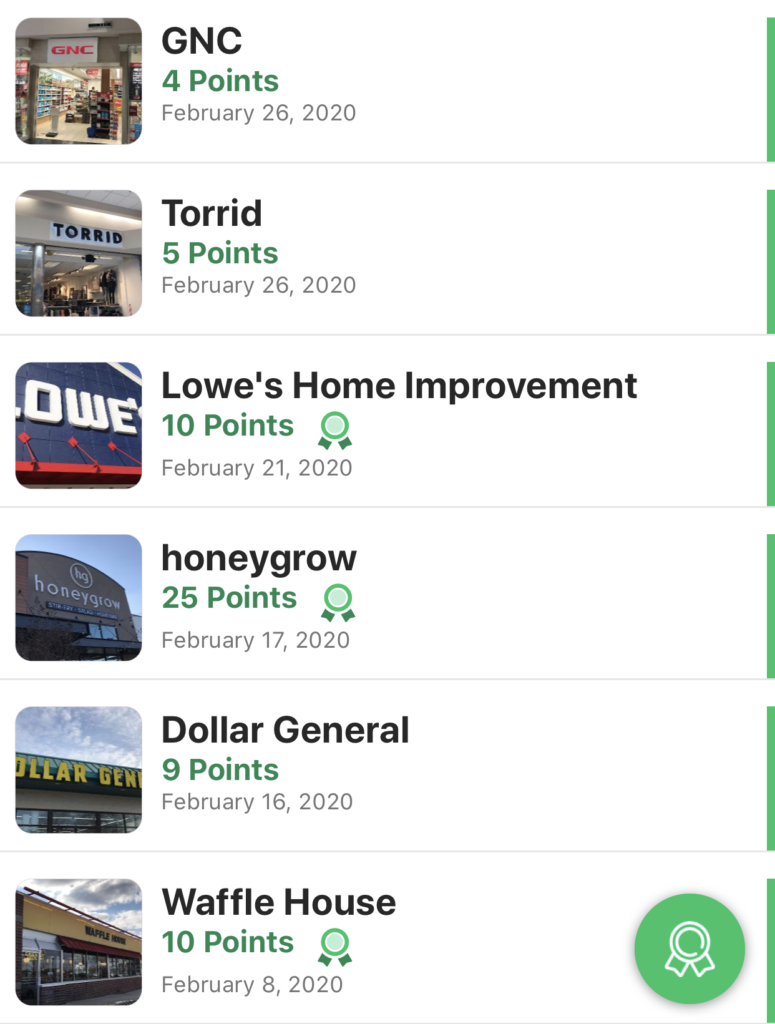 The Job Spotter App Map
The Job Spotter app has a map that may be helpful if you are serious about getting the most money for your time. The map shows all the hiring signs that have been submitted shown with pins. Below is an example of the map view of the Philadelphia area.
A grey pin is a hiring sing that someone else has submitted today. Any submission of a sign with a grey pin will be rejected as duplicates.
A green pin that has been submitted 2 days or longer ago. You can walk to and photograph that sign. The more recently they've seen a hiring sign, the less you'll earn. Light green pins have a low estimated point value. Dark pins have a high estimated point value.
Although the map is useful to go to existing help wanted signs, it may also be frustrated because you may go to a pin hoping to find one, but the hiring sign may no longer be there.
On the other hand, the map could be used as a strategy to go after the pins with high estimated point values. I haven't used this strategy yet. Please leave a comment below if you have used this strategy and let us know how it works.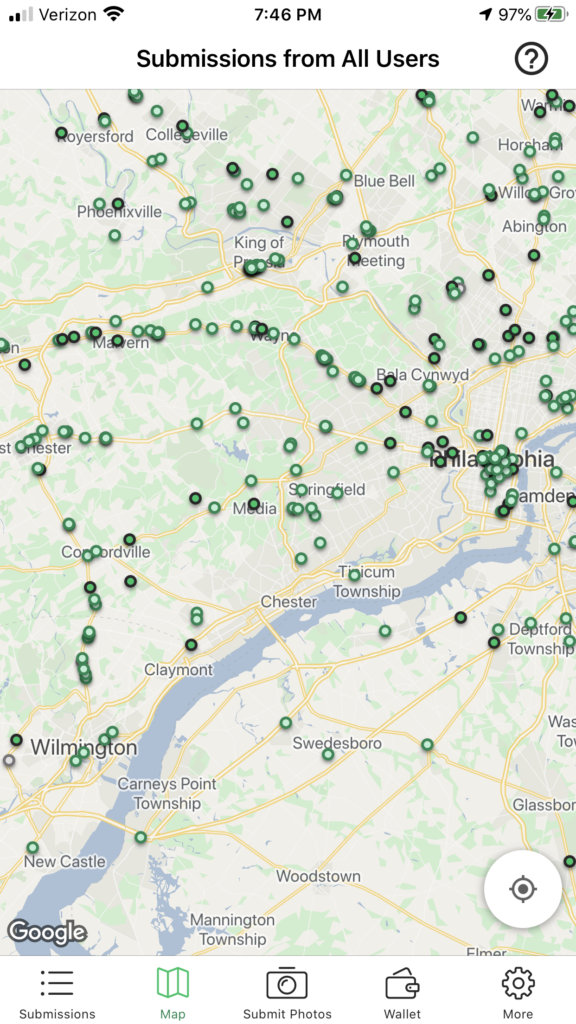 How Do You Get Paid?
Per Job Spotter FAQ, once your photos are approved, you can redeem your points for Amazon gift cards by visiting the 'Wallet' tab in the bottom right-hand corner of the app. This is not a physical card, but an e-gift card you can manage with a code.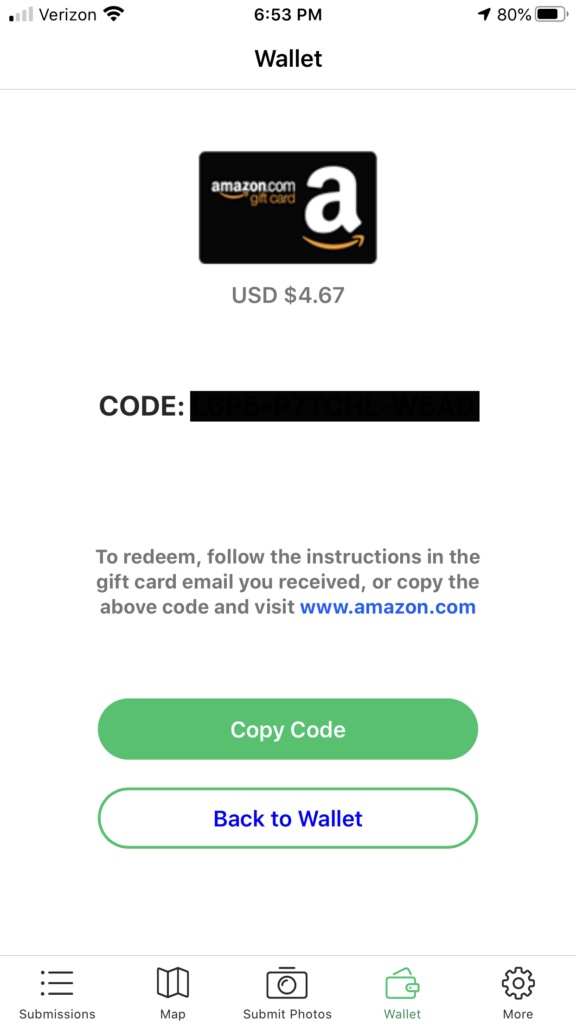 The FAQ notes that "the Job Spotter point system is based on US Dollars where every point earned is equal to $0.01 USD. If you are outside the US, the balance in your home country's currency is subject to change with currency exchange rates, so you may notice small fluctuations in your wallet."
When Will You Get Paid?
You get paid fast. My Amazon gift card was in my app wallet within hours of requesting it.
Does Job Spotter Have an Affiliate Program?
As of my review, Job Spotter does not offer an affiliate program. Please let me know in the comments below if you believe they have an affiliate program.
Job Spotter is Suspending Operations
On April 13, 2020, Job Spotters, like me, received this email from Job Spotter communicating the suspension of operations due to the current Coronavirus pandemic. The email hints that the suspension may not be permanent, but does not offer a date of a possible return.
This is the entire email:
Dear Job Spotters,
In light of the global health crisis brought about by COVID-19, Indeed has made the decision to cease the operation of Job Spotter  for the time being. It is our intention to reward you for  qualifying submissions you have submitted, and honor all points we've awarded you.
Rest assured we will process any and all pending submissions normally, awarding points in accordance with our policy. If you do not redeem your qualifying points by April 20, 2020, they will be automatically redeemed for you, and you will receive an email with your gift card information shortly after.
But soon after you receive this message, you will find that you will no longer be able to use the camera within the app and we will stop accepting new submissions. Even though you won't be able to send us new job photos, we will continue moderating and scoring submissions you've sent us prior to that. Once we've scored and moderated all final submissions, we will issue gift cards to qualifying users who have outstanding points, in accordance with our policy.
On May 15, 2020, the Job Spotter app will cease operations. From this date forward, you will no longer be able to access information in the app, including information about your past submissions. If you need that information, or other information that may be important for you in the app, be sure to capture that information from the app before May 15, 2020.
It has been our privilege to have you as part of Job Spotter these past years. Together, we have helped many people get jobs in their local areas. For the moment, we want to encourage all of our users to comply with any local shelter-in-place orders and other health guidelines, and to please stay safe during this challenging time. Unfortunately, due to rapidly changing circumstances, we cannot offer any information about a possible return of Job Spotter in the immediate future.
Thank you for being a part of this adventure, and for all you've done to help people get jobs.
Contact us at jobspotterhelp@indeed.com with any questions or comments.
The Job Spotter Team
My Experience with Job Spotter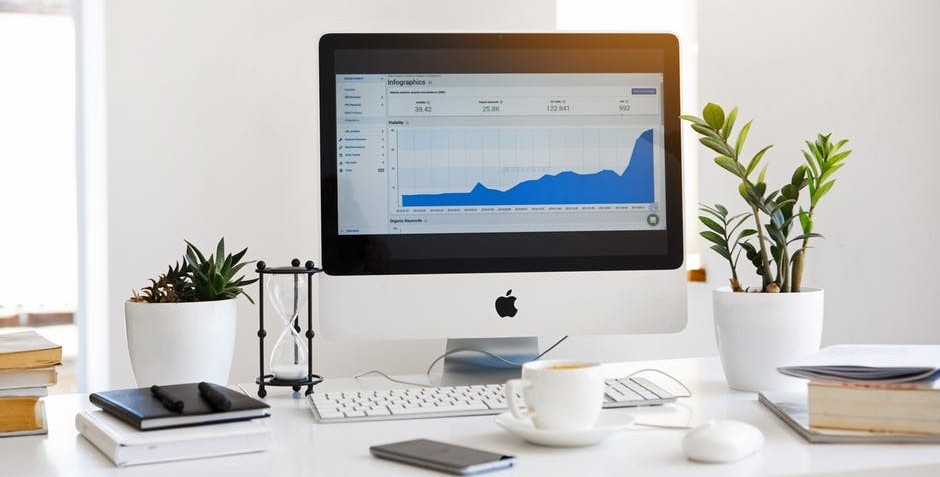 How Much Money Have I Made With Job Spotter?
I have made $4.67 so far with Job Spotter. This screenshot below is proof of my current earnings. I will update this section as earnings increase. [Updated March 18, 2020]
Every blog post I write is based on many hours of research. I also like to test every side hustle I review when possible. You may also want to see how much money I have made from the beginning. And may also want to take a look at the quarterly income reports.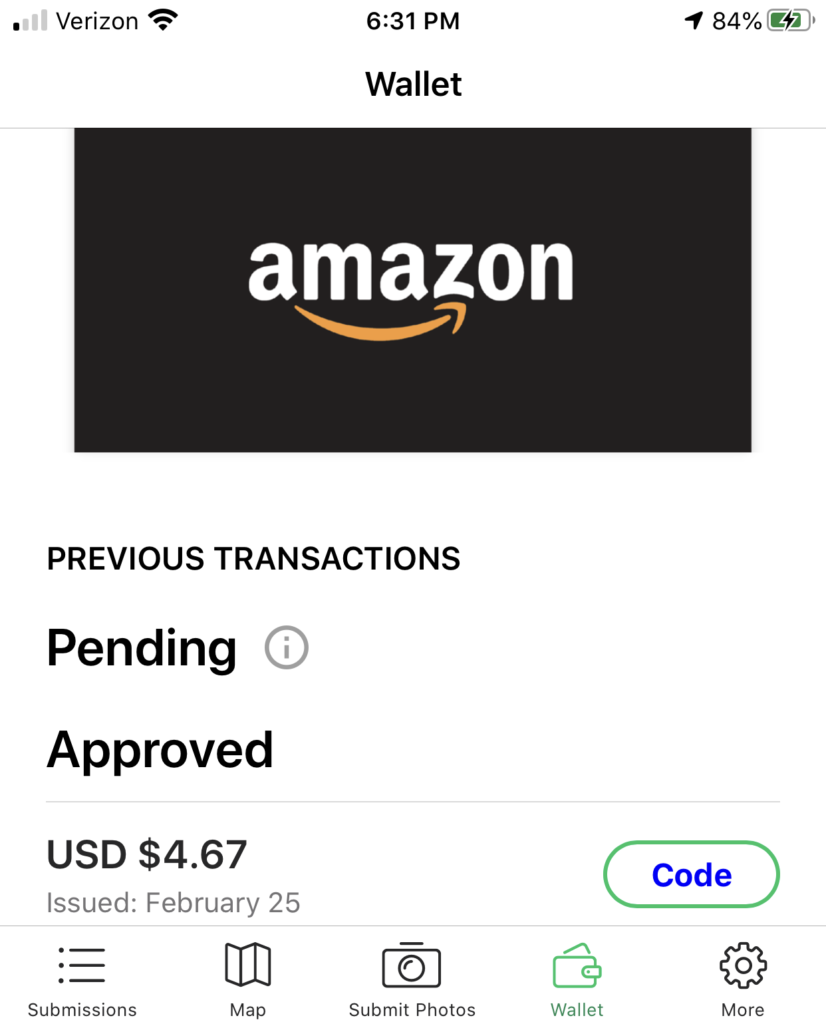 Video Summary of Job Spotter
Let's wrap up with a quick summary video I have created. If you like this video, consider subscribing to the Finance Notebook Youtube Channel.
Ratings and Conclusion
| | | | | | |
| --- | --- | --- | --- | --- | --- |
| Overall Rating for Job Spotter | ★ | ★ | – | – | – |
The Job Spotter app is an effortless and fun way to make some quick money while you are out and about.
What I like most about it is that you can use this app when you use other apps, such as Field Agent. For example, let's say that you are going to complete a Field Agent job in a store within a shopping center. You may want to look around for help wanted ads at the same time.
One thing I don't like is that based on my experience, on average, you will make about 15 cents per submission. I also don't like to work for gift cards; I prefer cash (Paypal or bank transfer).
My overall rating for Job Spotter is 2 stars out of 5.
👍 PROS
➤ Very easy completion task
➤ Low cash out amount
👎 CONS
➤ No cash payments available (only Amazon gift card)
➤ There may not be enough help wanted signs available in your area
➤ It will not generate significant money for my 2020 income goals
---

My #1 recommendation is Wealthy Affiliate. I joined Wealthy Affiliate in September 2019, and I'm thrilled that I made that decision.
As a beginner entrepreneur, it is hard not to get distracted with multiple priorities. The Online Entrepreneur Certification offered by Wealthy Affiliate makes you stay focus by taking you step by step through a total of 50 lessons as you complete your website within your chosen niche.
Let me assure you that Wealthy Affiliate is not a shady online program. I would not be a member of a scam and would not recommend it if I thought it was not legit.
---
📖 Please leave a comment below and let me know what you think.