What is Finance Notebook?
In July 2019, I left a career in banking to become an entrepreneur. Beginning a new business is not an easy task. It is simply hard to know where to start. First, I needed to determine whether I wanted to have a company with a physical presence, brick and mortar store, or online. This decision was straightforward. I want to be able to work from home, and I don't want to start my business with the burden of rental expenses. So, an online presence is, without a doubt, the way to go for me.
After I determined that I was going to have an online business, I needed to decide the name of the website. I chose Finance Notebook (financenotebook.com). Now that I have the domain, I need to answer the question, what is Finance Notebook? Ideally, you want to answer that question before you purchase the domain. I didn't do a good job there. I bought another domain, entrepreneurdiary.net that I won't be using. I learned after I bought it that it is hard to develop domains with extensions other than ".com." We'll go over this in another post. Back to the question. What is the main objective of this blog? And what do I mean by Finance Notebook?
I need to be realistic; I won't be able to define that in my first post. It is going to take some time to know the purpose of this blog. I know from personal experience that you often plan to go in one direction, and with a twist of fate, find yourself changing course. At this point, I see this blog as the diary of an entrepreneur, my diary, a log of my experiences, thoughts, feelings, ideas, and questions I encounter in my journey to become an entrepreneur. Topics may include training, motivation, small business basics, business opportunities, finance, marketing, side jobs, entrepreneur news, etc.
The Niche
Although it is early in the process, at a minimum, I need to determine who my audience is. In the online world, this is called a niche. Here is a simple definition of niche: "group of people looking for something." So, who is this group of people for Finance Notebook? Finance Notebook's primary audience are people who left the corporate world either on purpose or by accident to become entrepreneurs. Mainly, Finance Notebook's audience is anyone who is no longer on payroll or wants to get out of a 9-to-5 job. The specific target is an individual who is interested or may become involved in the world of affiliate marketing. However, because the site will also tackle topics related to entrepreneurs in general, a significant number of blog posts will also be of interest to new entrepreneurs within any niche.
A quick definition of affiliate marketing, according to Wikipedia: "Affiliate marketing is a type of performance-based marketing in which a business rewards one or more affiliates for each visitor or customer brought by the affiliate's own marketing efforts."
The Market
According to the US Small Business Administration, in the third quarter of 2017, 241,000 small businesses started up. Based on this, we can then project that in any given year, there are approximately 1,000,000 new startups. If you add to this everyone who is thinking of becoming an entrepreneur, you can see the market is significant. But as Mark Cuban would say on Shark Tank, it doesn't matter how big the market is, what matters is how you can reach the people in that market.
My Approach
Many blogs deal with entrepreneurship-related topics. So, what will my angle be? How will I be different from other blogs and provide value to my readers?
One common theme I see in the online world is that the primary goal of most blogs is to sell products. Don't get me wrong; Finance Notebook will be a for-profit blog. The main goal, however, will not be to make money, but rather to deliver useful information and tools. Another theme that I have noticed is that a lot of people in the online world consider themselves business experts. I get it; people are not going to listen to someone who doesn't know anything about the topic. But I think most people prefer to listen to someone who has an honest and humble approach and doesn't use superlatives to impress the audience. I will not pretend to be an expert; I am and probably will always be an apprentice entrepreneur.
With this first blog post, I am officially starting my journey to become an entrepreneur. As I learn through my day-to-day, I hope that my readers can relate to my experiences and continue reading.
Online Entrepreneur Certification
Learning to become an entrepreneur will be an ongoing dynamic process. Too many websites deal with online business training. After a lot of research, I'm convinced that I have found a robust platform to get a strong foundation, get my online business started and bring it to the next level. This platform is Wealthyaffiliate.com
I have already spent a couple of weeks on the platform, and I know it will be very beneficial for me. So, I pulled the trigger and got an annual subscription, which cost me $359, less than $1 per day. It costs $49 if you choose the monthly option. You are welcome to start this journey with me by signing up for the free subscription.
Wealthyaffiliate.com is the starting roadmap I need. As a beginner entrepreneur, it is hard not to get distracted with multiple priorities. The Online Entrepreneur Certification makes you stay focus by taking you step by step through a total of 50 lessons as you complete your website. But it is also possible to get distracted within Wealthy Affiliate, but that's because there is a lot of useful information and an awesome community. So, you will have to manage inside and outside distractions to achieve your goal. And let me make one thing clear, this is not a get-rich-quick scheme. You'll have to work hard to earn money. I am ready to work hard. If you want to start this journey with me and learn together, you are welcome to come and visit my profile.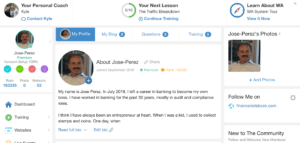 As I complete each lesson, I'd like to blog about my impressions and personal progress.
You can get training for Level 1 for free through WA's Starter membership.
Currently, the free available lessons are:
Lesson 1-Getting Rolling!
Lesson 2-Understanding how to Make Money Online
Lesson 3-Choose A Niche
Lesson 4-Building Your Own Website
Lesson 5-Setting Up Your Website
Lesson 6-Getting Your site ready for Search Engines
Lesson 7-Creating Your Initial Website Content
Lesson 8-Creating Custom Menus on Your Website
Lesson 9-Understanding Keywords
Lesson 10-Congratulations and Your Next Steps
I'm excited! Let's start!!