Based on my experience, you can realistically make from $40 to $50 per month with Prolific if you spend about 6 to 8 hours of actual survey time. To reach these amounts, you need to fit the right profile for requesters and be available on weekdays.
Prolific prides itself in offering fair rewards. Unlike other survey platforms, with Prolific, you are almost guaranteed to make at least the USA federal minimum wage of $7.25. This is because Prolific has established a minimum price per hour of $6.50.
Most requesters offer more than the minimum.
What is Prolific?
Prolific is a crowdsourcing platform for researchers (requesters) and participants that was founded in 2014 by Ekaterina Damer and Phelim Bradley, who were doctoral students at the time.
The typical studies completed are behavioral, user, and market research most of the time in the form of surveys and games.

Based on the prolific.co website, the values that guide the company are open, thoughtful, trustworthy and improving human knowledge. Their website shows that they have access to more than 70,000 participants from around the world.

The Prolific team seems to be on the way up. In December 2019, TechCrunch reported that the Oxford-based company has raised $1.2 million in a seed funding round in an effort to challenge Amazon's Mechanical Turk sourcing online participants for research.

This is their mission statement: "Prolific empowers great research. We enable fast, reliable, and high-quality data collection by connecting diverse people around the world. Our mission is to make trustworthy data more accessible in order to help improve human knowledge and decision-making."
How It Works For Requesters
Prolific allows requesters to integrate Qualtrics, SurveyMonkey, Gorilla, Typeform, or any other software using just a link.
The requester finds the target audience based on 100+ demographic screeners. Finally, the requester reviews the surveys and approves or rejects and then publishes the study instantly.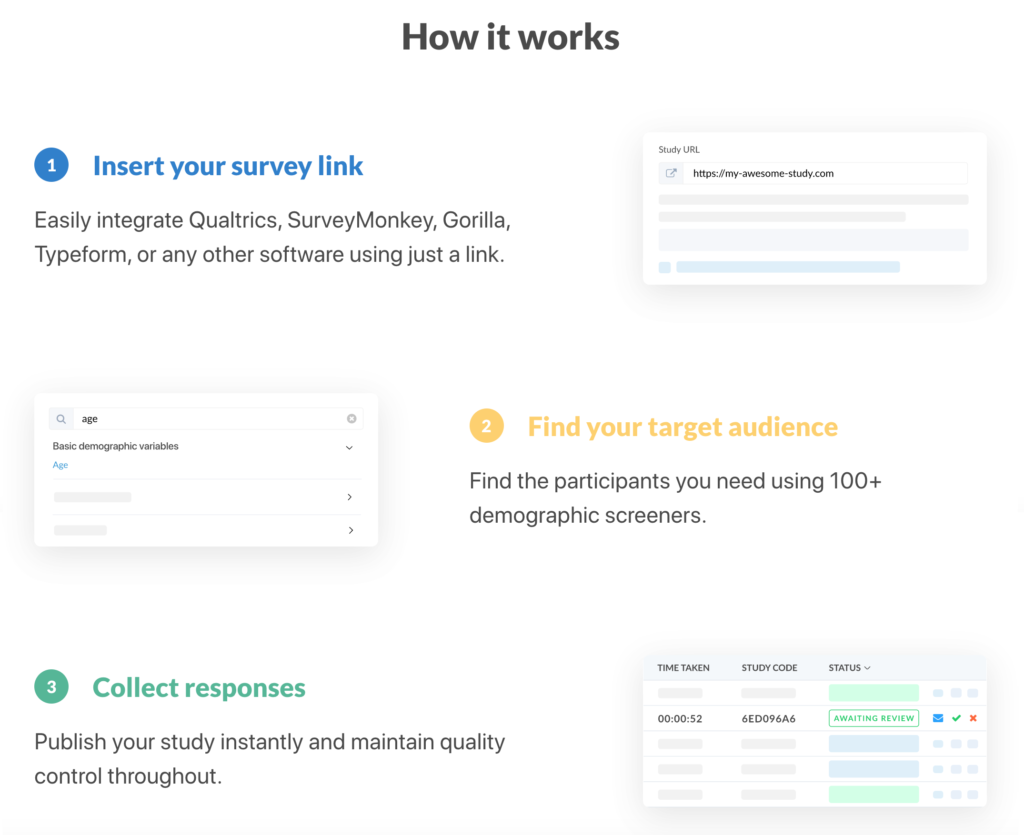 How It Works For Participants
Prolific encourages participants to join and help to improve human knowledge in addition to earn some cash. Participants may be asked to complete surveys, games, or other types of studies about scientific research, new products, or public opinion.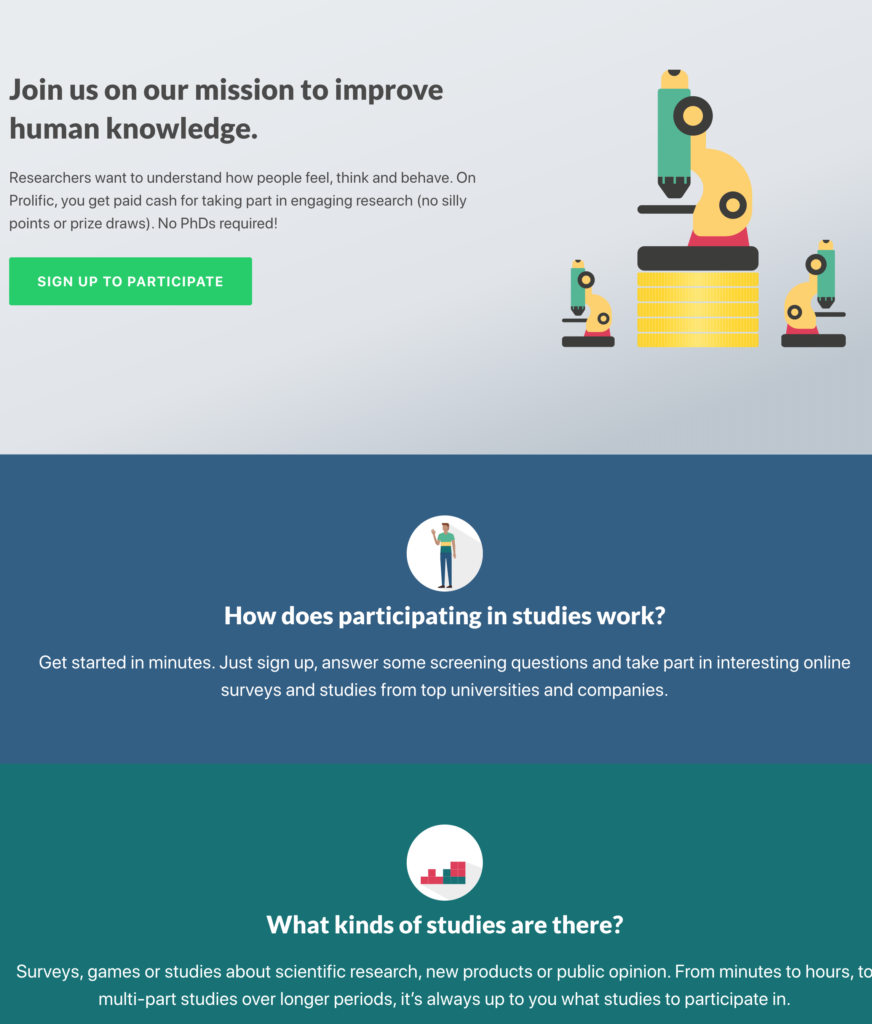 Is Prolific Legit?
Some of you may be hesitant to join Prolific because you may think it is a scam. Let's quickly answer this question to move on with the rest. Based on my several hours as a participant in Prolific studies, I can say that Prolific is 100% legit, and it is not a scam.
Ways to get Money with Prolific
On Prolific, the only way to make money is by participating in studies, usually surveys.
Mobile vs. Desktop or Laptop Task Completion
Some Prolific surveys can be taken on mobile devices. The requester will indicate on the survey description whether you can take the survey on a mobile device or tablet or you have to take it on a desktop or laptop computer.
Most surveys I have received could not be completed on a mobile device. See screenshots below for examples of how the requester will show the supported devices.
The is an example of a survey that can be completed with all devices.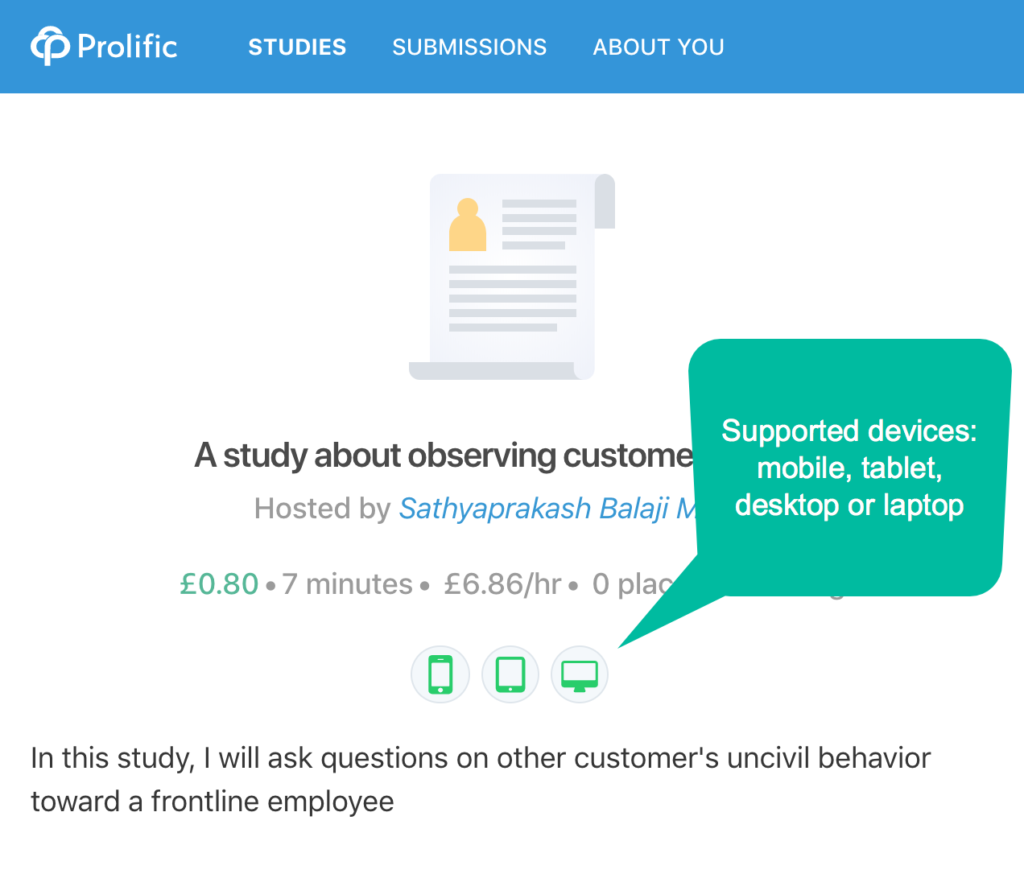 The is an example of a survey that can be completed with tablet, desktop or laptop.
The is an example of a survey that can be completed with desktop or laptop only.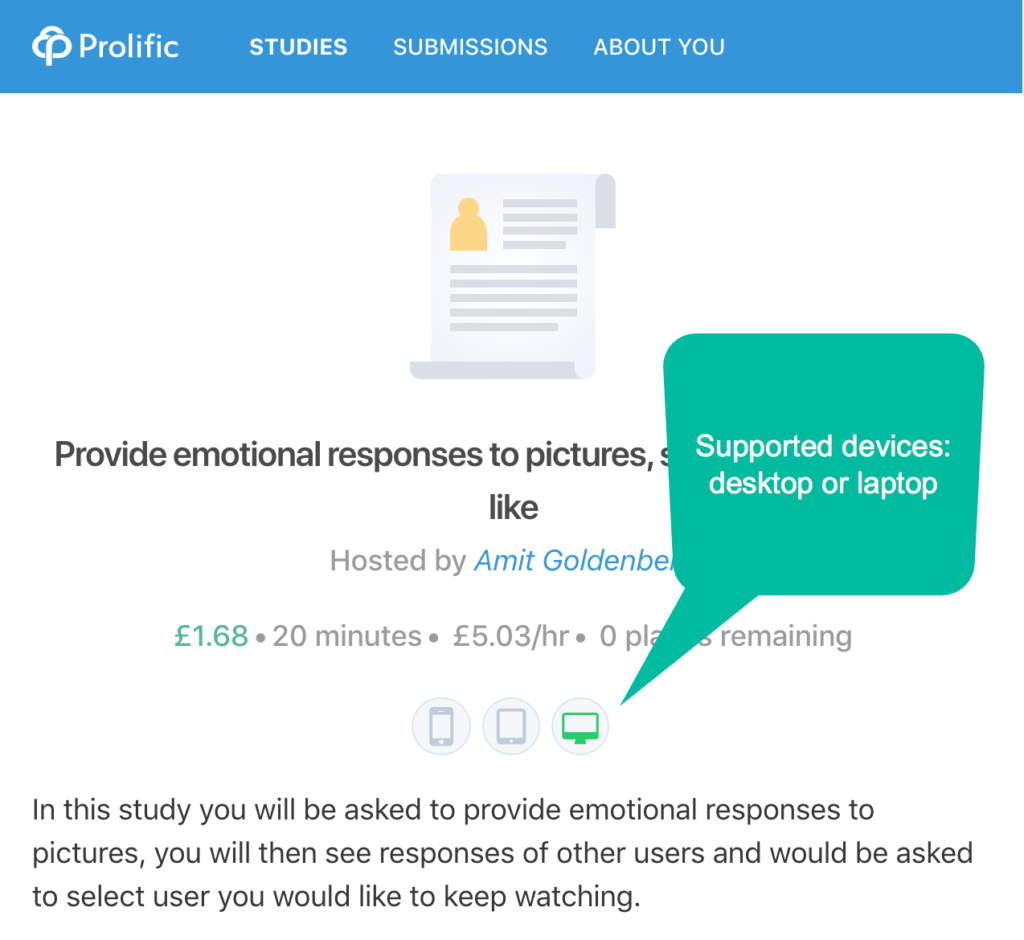 Who Can Sign Up For Prolific?
The Prolific participant help center notes that in principle anyone can sign up and participate.

Users from the following (OECD) countries should be able to participate: AT, AU, BE, CA, CH, CL, CZ, DE, DK, EE, ES, FI, FR, GB, GR, HU, IE, IL, IS, IT, JP, KR, LU, LV, MX, NL, NO, NZ, PL, PT, SE, SI, and US.

You will need to verify your email address and phone number before you can take part in the studies.
How Can You Sign Up For A Prolific Account?
To get started, go to https://app.prolific.co/register/participant and enter the information requested. You will be asked to verify your email and phone number.

It may take a few days to verify your account. This is normal. Make sure you complete your screening questionnaire (see below) as soon as possible to increase your chances to get more studies.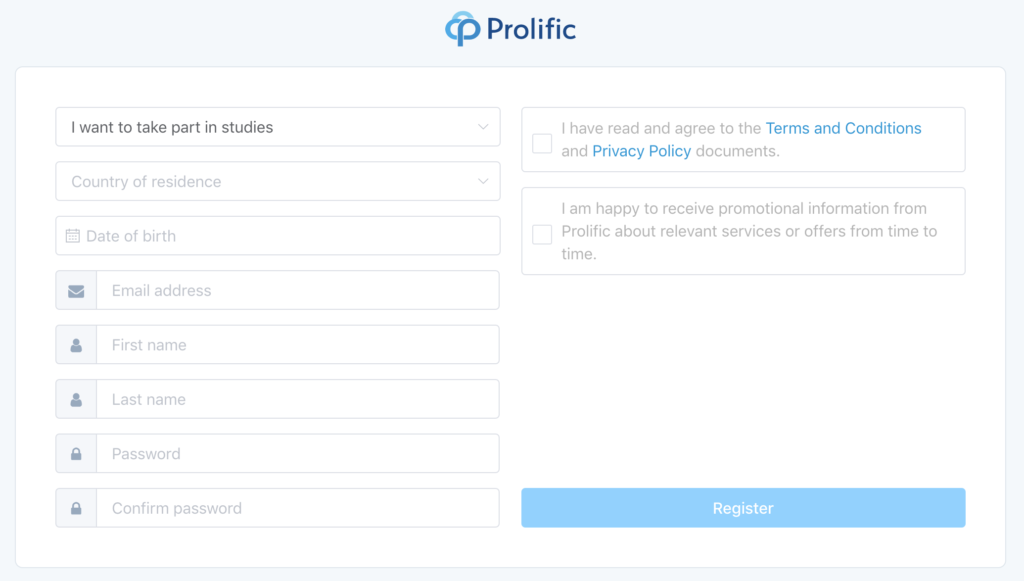 Screening Questionnaire
After signing up, you will be asked to answer 148 screening questions. You only have to do this once, and you don't have to answer questions you don't want to answer.
However, the more questions you answer, the more complete your profile will be, and you should be able to participate in more studies. Don't lie. Provide truthful answers to these questions or don't answer the questions you don't want to answer.
Completing Prolific Surveys
Prolific will not waste your time by screening you out of surveys after spending time answering questions like many other survey sites do. If you aren't eligible for a survey you will not receive it.

When you see a survey available, you'll need to click "reserve my place" and then "start now" before the reservation time runs out, which is typically 10 to 15 minutes (see picture below).
The requester may ask for your Prolific ID (your unique ID number) if it is not already included in the screen. You should make sure the ID is included and that it is correct because that is how you are identified as the recipient of the payment.
How Do You Get Notified Of Surveys?
Prolific FAQ reads that "when a study gets posted, a random subset of eligible participants is emailed." That means, you may or may not be aware of an available survey by checking your email only.

Ideally, when you are able to be by your computer or laptop, you want to log in to the Prolific dashboard and keep the tab open. The page will automatically refresh and you should see a "(1)" on the tab, like the picture below, alerting you of an available survey.
Prolific Assistant-If you use Chrome, I recommend the Prolific Assistant Chrome Extension.
This is an extension designed to monitor https://www.prolific.co/ for new studies and alert you when it finds them. It has been very helpful because it alerts me with a sound or voice every time there is an available survey.
How Much Can You Make With Prolific?
Prolific is an unusual company when it comes to pricing. Prolific truly believes in fair rewards and has established a minimum price per hour of $6.50.
These are two examples of surveys I have completed. The first one had a £6.50/hr rate, and the second one was unusual and had a £44.78/hr rate! That's about $56/hour rate; I wouldn't mind all of them being like that. 😁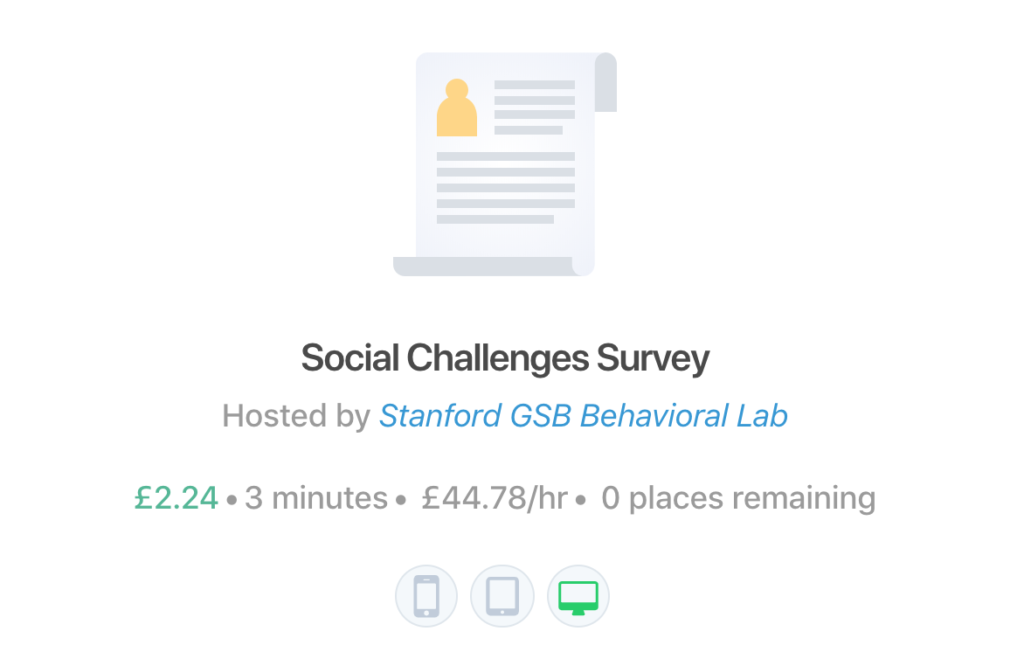 Of course, how much you make per hour of research time depends on two things: One, how well the requester has estimated the completion time, and how fast you are completing each task.
In my experience, overall, you can get approximately $6.50 per hour of your time. And I am not a fast survey taker.
According to Prolific, 75% of the study cost goes directly to the respondents.

How much you make per month depends on your personal profile, your country and how available you are. I believe that on average you may be able to make around $40-$50 per month.
The following Reddit post also seems to support this amount: How much have you earned through Prolific?
How Do You Get Paid?
Log on to your Prolific account. Click on the amount you have available.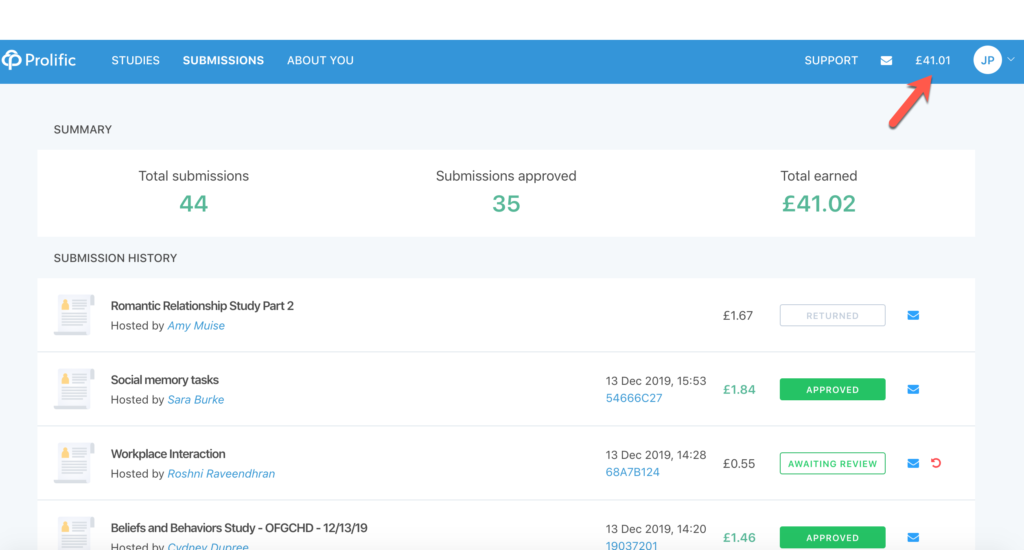 2. Click "Cash out" to be prompted to the confirmation page.
3. Click "Proceed" to transfer the amount to your Paypal account.
The amount transferred to Paypal is in British Pounds. Then it converts into dollars when you transfer it to your account. Assuming you are in the USA. The screenshot below shows the transfer on January 14, 2020, after I accumulated £66.50.

Conversion from: £66.50 GBP–Conversion to: $83.60 USD–Exchange rate: 1.257
Prolific vs MTurk "According To Prolific"
Prolific is in direct competition with Amazon MTurk. Prolific markets itself as a better option than MTurk. In this blog post published at Medium, Prolific notes that the most active 5% of participants completed 20% of the responses on Prolific.
Even though Prolific is not happy with that, they say that it could be worse: on MTurk, the top 5% complete 40% of available HITs (see here).

This is a comparison table Prolific shows in its website: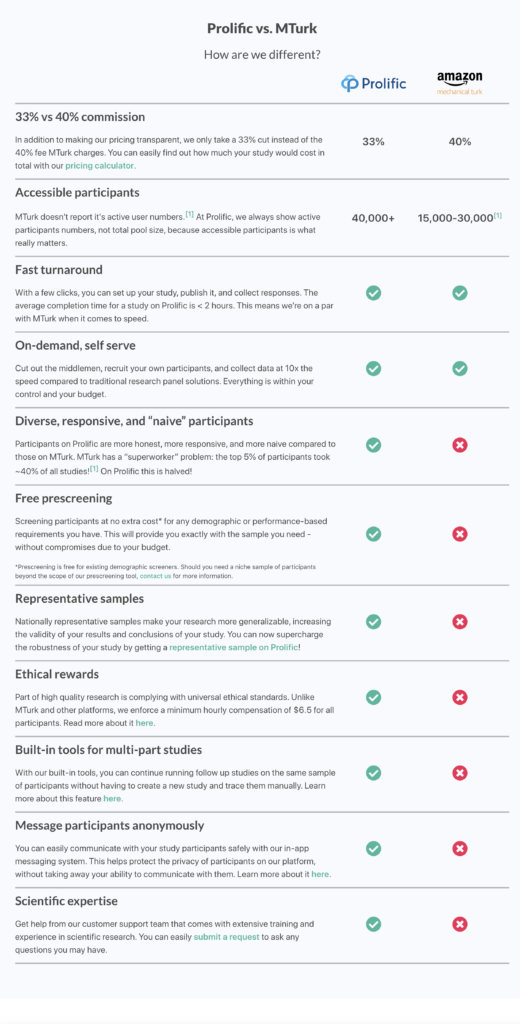 Prolific Resources And Tools
These are resources and tools if you want to learn more about Prolific.

➤ Reddit Prolific Community: A subreddit focused on Prolific. There are currently 2K members. Prolific employees often offer input in this subreddit.
➤ Participant Support Page at Prolific: Knowledgebase area for answers to common questions.
➤ Prolific Blog: This is the official Prolific blog
Does Prolific Have An Affiliate Program?
Unfortunately, Prolific does not have an affiliate program. It looks like Prolific had an affiliate program at one point, but they eliminated it because they thought it would not bring in quality participants. The following is an article from the Prolific website on the topic:

"As of 14 March 2019 the participant referral scheme has been retired. At Prolific, building a high quality pool of participants to take part in world-leading research is one of our biggest priorities. We are keen to grow this pool in as balanced a way as possible, to discourage population biases and maximise diversity. This is a decision we have carefully considered as a team. Analyses performed by our research team indicate that participant referrals can cause problems by reinforcing certain demographics in our participant pool – a tendency we would like to curb in order to improve the diversity of our pool. This change has some upsides for both researchers and participants: It will allow us to distribute studies across our pool more evenly. This should mean that fewer participants will find it hard to get any studies."
My Experience With Prolific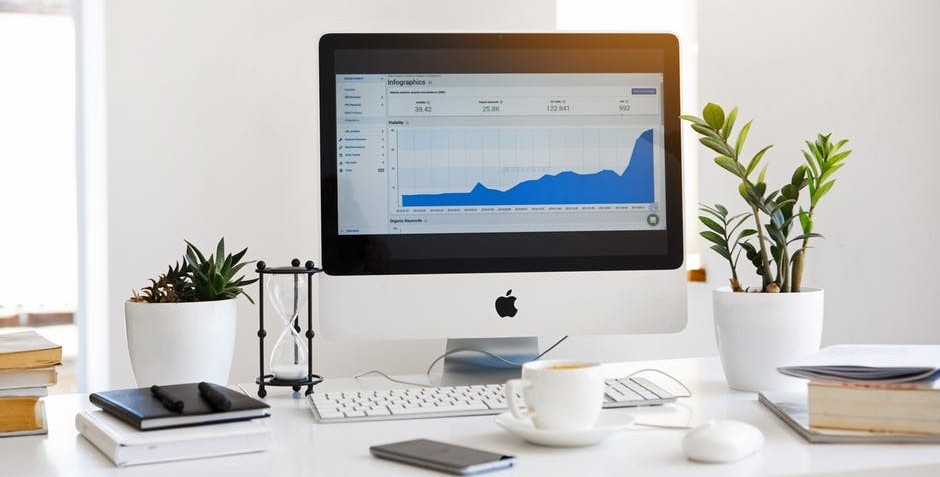 How Much Money Have I Made With Prolific?
I have made $1,032.61 (£835.89) so far with Prolific. That's the total amount in dollars I have received from Paypal. Every time I transfer money from Prolific to Paypal there's a different exchange rate. The average exchange rate I have received is 1.225 $ to £. This screenshot below is proof of my current earnings. I will update this section as earnings increase. [Updated March 31, 2021]
Every blog post I write is based on many hours of research. I also like to test every side hustle I review when possible. You may also want to see how much money I have made from the beginning. And may also want to take a look at the quarterly income reports.

Video Summary of Prolific
Let's wrap up with a quick summary video I have created. If you like this video, consider subscribing to the Finance Notebook Youtube Channel.
Ratings And Conclusion
| | | | | | |
| --- | --- | --- | --- | --- | --- |
| Overall Rating for Prolific | ★ | ★ | ★ | ★ | – |
Just like any other survey platform, Prolific will not solve all your financial problems, but for some people in some situations, it may provide significant money.
All things being equal, you will make more money if you are available on weekdays, and you happen to have a personal profile that is in demand.
My overall rating for Prolific is 4 stars out of 5 and this is why.
👍 PROS
➤ Fair compensation (from $6 to $8 per hour)
➤ Surveys are often interesting
➤ Cash payments available
➤ It will generate significant money for my year 2020 income goals
👎 CONS
➤ Some days there may be few or no surveys available
---

My #1 recommendation is Wealthy Affiliate. I joined Wealthy Affiliate in September 2019, and I'm thrilled that I made that decision.
As a beginner entrepreneur, it is hard not to get distracted with multiple priorities. The Online Entrepreneur Certification offered by Wealthy Affiliate makes you stay focus by taking you step by step through a total of 50 lessons as you complete your website within your chosen niche.
Let me assure you that Wealthy Affiliate is not a shady online program. I would not be a member of a scam and would not recommend it if I thought it was not legit.
---
📖 Please leave a comment below and let me know what you think.