If you have looked at my income goals, you know that I need to start deciding how to earn additional money in 2021. I have found enough side hustles to meet my 2020 goal of $5,000, but I am always searching for opportunities to earn additional money as an entrepreneur to keep meeting my goals.
Today I want to review Wonolo to see if it can work for me. Essentially I'd like to know if it is worth my time, whether jobs are available in my area, and how hard it is to do the jobs.
Let's go over Wonolo and see if we can use it to make extra money in the future.
What is Wonolo?
Headquartered in San Francisco, Wonolo was established in 2013 by Yong Kim (current CEO), Jeremy Burton (current CTO), and AJ Brustein (no longer with the company). The Wonolo app was launched in 2014.
A big part of the company's vision is the belief that there's a better way to connect people and jobs. Their goal is to connect prescreened workers with local jobs quickly. The word Wonolo is an acronym that stands for Work Now Locally.
The company video below describes how Wonolo allows businesses to find vetted talent immediately.
What are the requirements to work with Wonolo?
The basic requirements to work for Wonolo are the following:
Be 18 years or older
Have a valid social security number or your business EIN
Have access to a smartphone to clock in and out of your job
In addition, to register as a "Wonoloer", you must legally be authorized to work in the United States.
Where is Wonolo Available?
The company's website as this writing shows that Wonolo is quickly expanding across the U.S. and currently available in the following cities: Atlanta, Austin, Baltimore, Charlotte, Chicago, Cincinnati, Columbus, Dallas, Denver, Detroit, Fort Worth, Grand Rapids, Greater Los Angeles Area, Houston, Indianapolis, Las Vegas, Louisville, Memphis, Miami, Nashville, New Jersey, New York, Orlando, Philadelphia, Phoenix, Pittsburg, Raleigh / Durham, Reno, Salt Lake City, San Antonio, San Francisco Bay Area, Seattle, Tampa Bay, and Washington DC.
I live in Delaware, and I don't see any city from Delaware listed here. However, I have seen some jobs in the app for my area. So, I think that even if your city is not listed here, you still may have some jobs available. The Wonolo website notes that they are expanding quickly, so more cities may be available soon.
What Type of Jobs Does Wonolo Offer?
You will find mostly entry-level and general labor jobs in various industries. The typical job types you may find in the app are within these categories:
Warehouse operations
Delivery drivers
Food production
Event staffing
Washing & cleaning
Administrative
Merchandising
Will They Complete a Background Check on Me?
Some companies that hire within the Wonolo app may require a background check before you work for them. Apparently, you are not told beforehand if a background check is required for specific jobs. Instead, if a background check is required, you will be notified of this after you have been offered and accepted the job.
If you accept to go through the background check, you will need to provide the following documentation:
Government-issued photo identification (front and back of ID required)
A photo of yourself to verify your identity
How Much Do I Get Paid?
Indeed shows average Wonolo hourly pay ranges from approximately $12.08 per hour for Warehouse Worker to $20.00 per hour for Material Handler.
Glassdoor shows a range from $12 to $16 per hour for warehouse worker/associate.
Below is a job offer I saw this morning in the app about 50 miles from my home. It paid $13 an hour.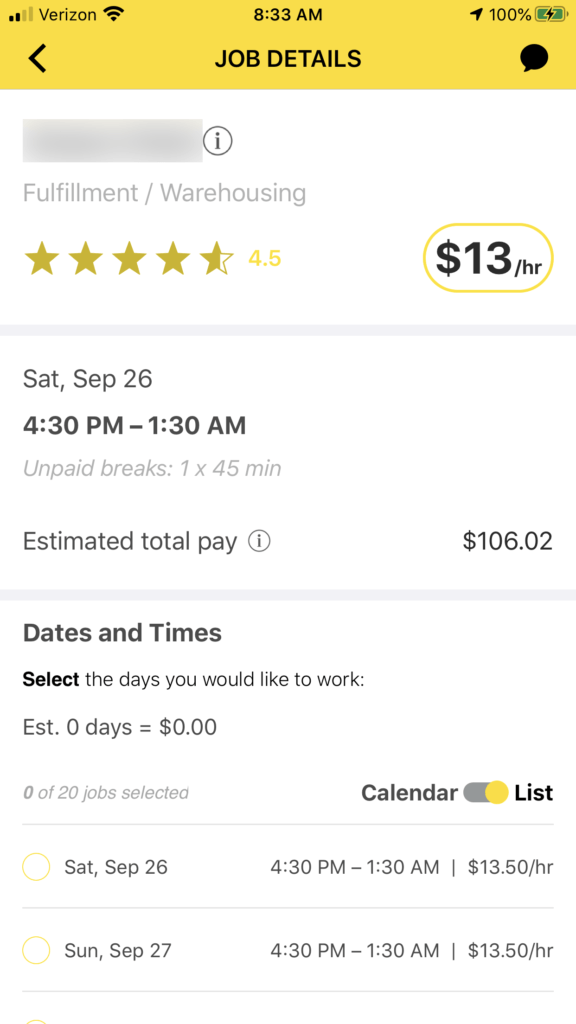 So, you will earn above the 2020 federal minimum wage of $7.25, but may be hardly close to some state minimum wage amounts.
This pay is actually not bad for gig economy type of jobs. I think for most of the gigs I am currently working on, I barely reach the federal minimum wage. But, the plus is that most of them are very easy and convenient. Take a look at what I have done so far.
So, let's try to figure out how hard these jobs are.
How Hard Are the Wonolo Jobs?
The jobs that you may get are various, but most of them are general labor job types. It is important that you carefully read the job description before accepting the job because some may be hard or too "intense" for some people.

I don't have first-hand experience yet, but some of the jobs I have seen listed on the app are sometimes night shift jobs or in cold areas, refrigerated warehouses, etc. So, they may not be too pleasant. But you are there to work, not to have fun. 🙂
How Do I Get Paid?
Payments are made within the Wonolo app. You have two choices to get paid, and you will be asked to select one of them during onboarding:
Directly into a bank account or
Debit card
You are paid per shift after the shift is over and generally receive payment within 5 business days, but it can take longer.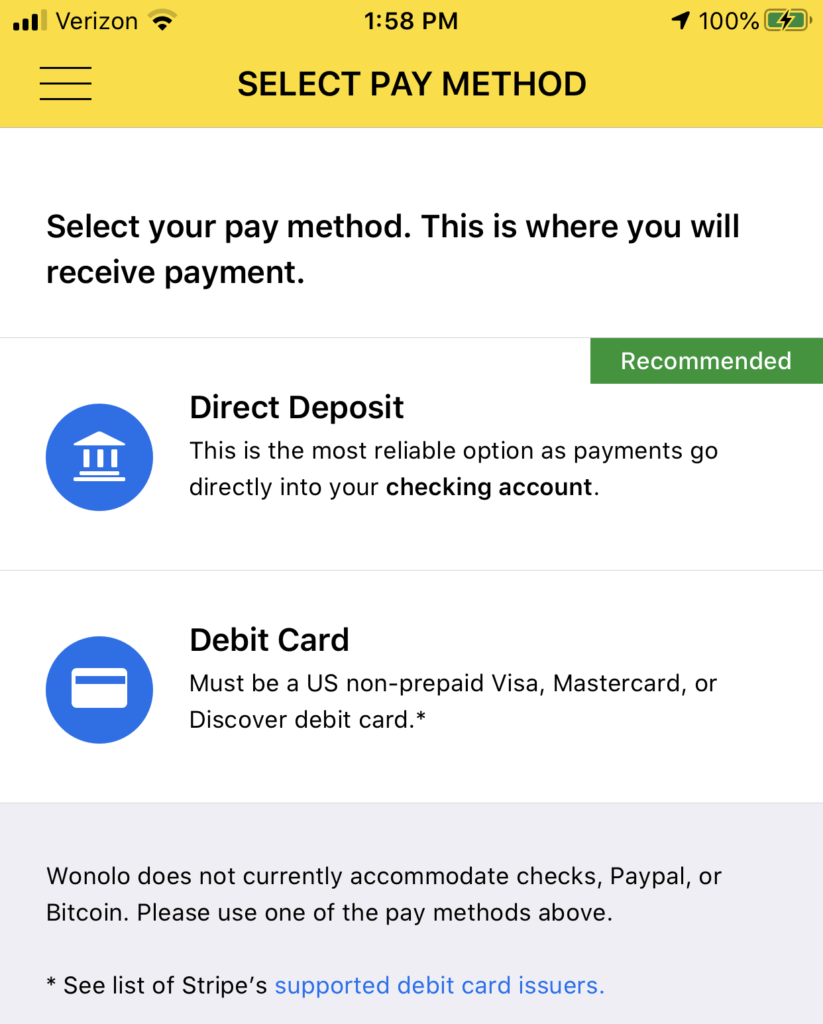 Will You Be an Employee or an Independent Contractor?
Until 2016 every Wonoloer was considered an independent contractor. In May 2016, Wonolo announced that its customers would have access to both 1099 (independent contractors) or W-2 workers.
Therefore now, Wonoloers can accept jobs posted by a business seeking employees or those seeking independent contractors.
As you may know, I have chosen only to accept independent contractors' type of opportunities. If you want to know why you can learn more in my Income Rules & Goals page. So, If I accept any job with Wonolo, I need to make sure it is not as an employee.
What People Think of Wonolo
I haven't had a chance to work for Wonolo yet, but I really would like to give them a try in the future. But before I consider working for them, I'd like to see what other people are saying.
Glassdoor Reviews
The rating showing in Glassdoor for Wonolo is truly impressive, 4.9 stars out of 5 with a 99% approval of the CEO, Yong Kim.
Pros
Out of 154 reviews, 17 mention that the leadership team is accessible and open to feedback. And 14 note that Wonolo is a mission-driven company that puts its actions were its statements are.
Cons
Out of 154 reviews, 15 noted the usual growing pains of a startup. And 6 reviews mentioned issues around work/life balance typical of start-ups.
It looks like most of these opinions came out of full-time staff working directly for Wonolo, rather than Wonoloers completing gigs. Nevertheless, the company seems to be doing something right.
You can see all the Glassdoor reviews here.
Indeed Reviews
The rating showing in Indeed is not as impressive, 3.7 stars out of 5 with 122 reviews. Unlike reviews from Glassdoor, these reviews appear to be mostly from Wonoloers not working for the company.
Ratings by category winner is work-life balance with 3.9. The losers are pay-and-benefits, management, and job security with 3.3.
You can see all the Indeed reviews here.
Yelp Reviews
Yelp reviews are surprisingly bad. It shows 2 stars out of 5 with 68 reviews. You can see all the Yelp reviews here.
App Store Ratings and Reviews
The App Store rating is 4.8 out of 5 with 10.4K ratings. This is a very good rating for an app. You can see all the reviews here.
It is not easy to get a clear conclusion here. The Yelp reviews are certainly concerning. But in my opinion, Wonolo has enough positive reviews and ratings to give it a try. Ultimately you will have to draw your own conclusion.
Ratings and Conclusion
| | | | | | |
| --- | --- | --- | --- | --- | --- |
| Overall Rating for Wonolo | ★ | ★ | ★ | – | – |
The amount of money you can earn per hour seems to be better than other gig economy jobs I have tried so far, but based on my research, the jobs may be hard for some people. However, if you are in an area with many available opportunities, you may be able to choose certain jobs you may like.
Due mainly to the average earnings per hour, together with possibly hard labor jobs, my overall rating for Wonolo is 3 stars out of 5. This is based on research only. If I end up working for them, I will update this post.
👍 PROS
➤ Cash payments available
➤ Flexible schedule
➤ Average compensation per hour of work
👎 CONS
➤ Possibly hard labor in some cases
➤ Odd shifts, such as night shifts sometimes
---

My #1 recommendation is Wealthy Affiliate. I joined Wealthy Affiliate in September 2019, and I'm thrilled that I made that decision.
As a beginner entrepreneur, it is hard not to get distracted with multiple priorities. The Online Entrepreneur Certification offered by Wealthy Affiliate makes you stay focus by taking you step by step through a total of 50 lessons as you complete your website within your chosen niche.
Let me assure you that Wealthy Affiliate is not a shady online program. I would not be a member of a scam and would not recommend it if I thought it was not legit.
---
📖 Please leave a comment below and let me know what you think.