As you may know by now, I am always searching for opportunities to earn additional money as an entrepreneur. I want to review Fancy Hands to see if I can use it to meet my future income goals.
Essentially I'd like to know if it is worth my time. Sometimes gigs pay just above minimum wage, but they are so easy to complete that they may be worth your time now and then. On the other hand, some jobs pay well but are so complicated that in the end, they may not be worth the pain and suffering.
Let's go over Fancy Hands and see if we can use it to make extra money.
What is Fancy Hands?
Founded in 2010 by Ted Roden, Fancy Hands is a New York-based company that provides US-based virtual assistants. The company offers dedicated assistants to individuals and companies and the ability to delegate individual tasks.
According to Owler.com, the company has 176 employees and earn an estimated 1.9 million in annual revenues. I have not been able to validate this with other sources.
Watch the video below to get a perspective of what some companies that use Fancy Hands think. This is the perspective of the requester, not the worker. In the video, Alexis Ohanian, co-founder of Reddit, shares his thoughts on the industry and how Fancy Hands have gotten him out of some sticky situations.
What Are the Requirements to Work for Fancy Hands?
Fancy Hands offers only one type of position: Virtual Assistant.
The basic requirements to work for Fancy Hands are to have a fast internet connection and be able to use common websites and software. You are also expected to be good on the phone, excellent at internet research, and be willing to help others.
What Are the Typical Tasks You Complete With Fancy Hands?
When you apply for the Virtual Assistant position, they list the following tasks as typical for the position:
Making phone calls on behalf of people
Scheduling appointments (doctors, business, etc)
Tracking down the best price for something
Finding hotels that meet certain criteria
Data entry
More phone calls
In case it isn't obvious, these are all virtual requests. You will not get any type of physical request (for example: going to pick up dry-cleaning.)
A virtual assistant working for Fancy Hands and probably most virtual assistants, in general, will take care of things other people don't want to do or don't have time to do.
It makes sense. If I run a small business and think my time is worth $100 an hour, I am better off delegating tasks that are worth or cost $20 an hour.
Ok, you are now interested. I am curious about it myself. Let's see what the application process involves.
How Do You Apply for Fancy Hands?
I want to try and see firsthand if it makes sense to achieve my income goals. Yesterday, On September 14, 2020, I applied for an assistant position, and these are the steps I had to go through.
The only way you can apply for Fancy Hands is online.
Step 1

–Go to the Application Page
You need to first go to the jobs page of Fancy Hands website and click "Apply for an Assistant Position"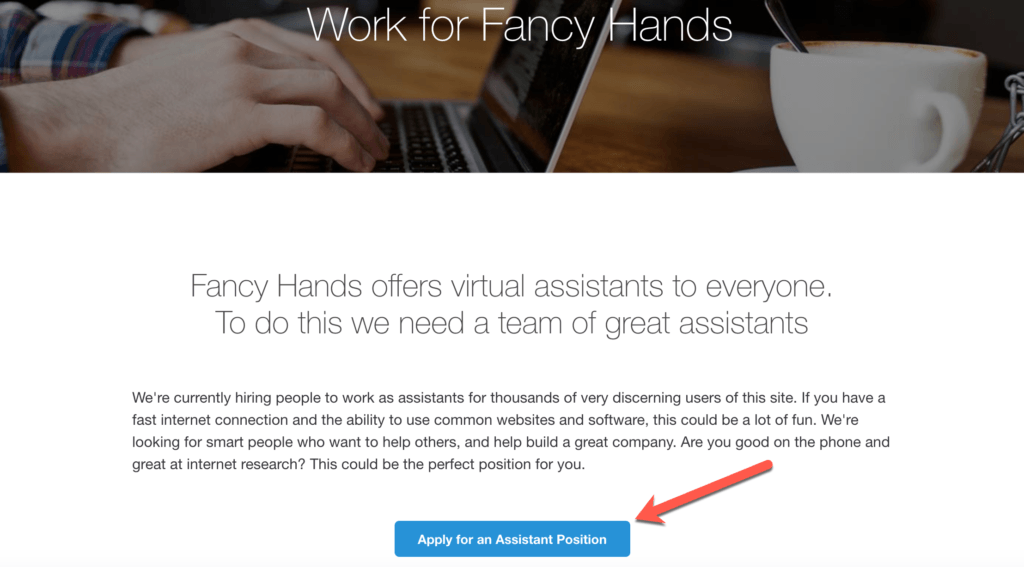 Step 2–Job Description
You will be taken to a job description page showing what the job is about and the type of people they are looking for. On that page, you need to click on "Apply now".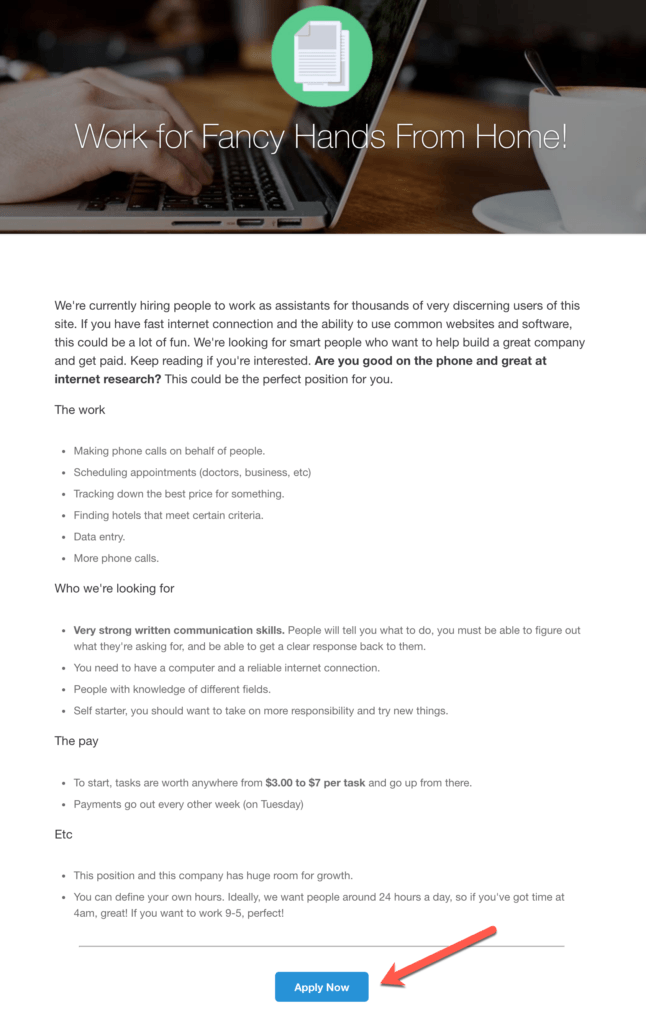 Step 3–Chrome and Gmail Requirements
The next page asks you to download Chrome if you don't have it and sign up for Gmail. Although they don't say it, they both seem to be required if you want to work for Fancy Hands.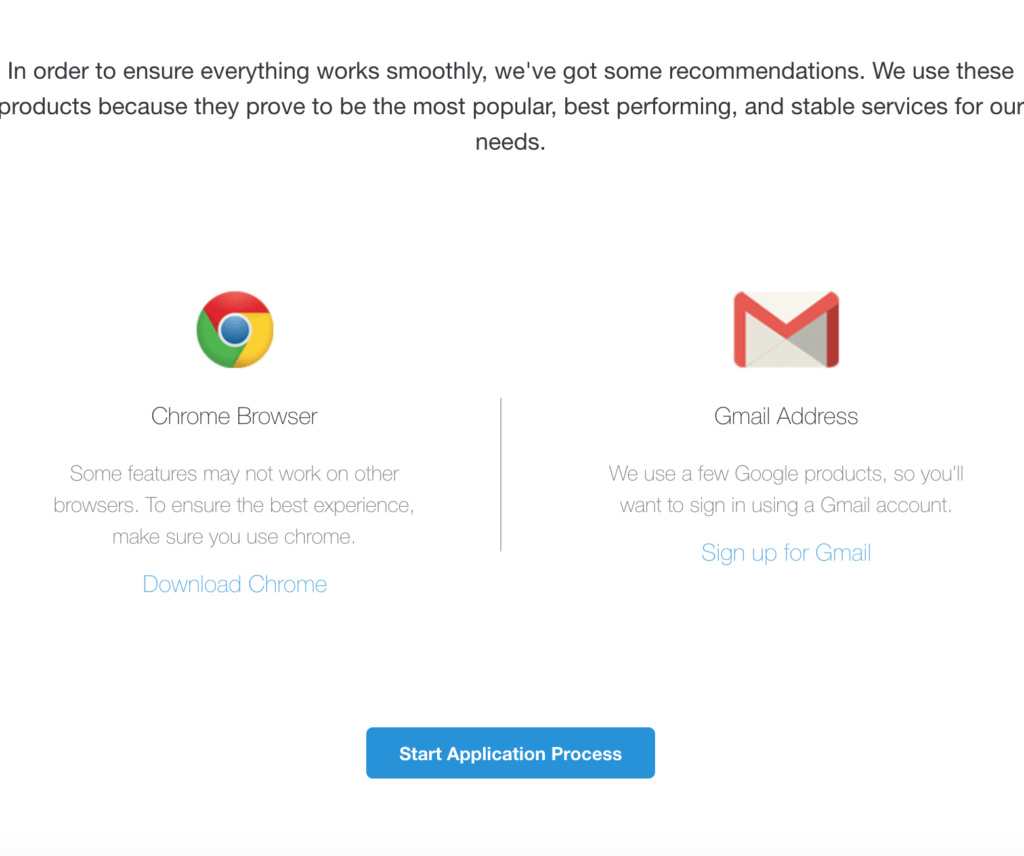 Step 4-Access to Your Google Accounts
After that, you will have to allow access to your Google accounts to continue with the application process.
Step 5-Recording Your Voice
They will record your voice, in my case, I had to pretend I was ordering a pastrami sandwich via the microphone on my computer. I think their goal with the Google Accounts requirement and recording your voice is make sure you have the basic equipment and your voice sound professional enough.
Step 6-Aptitude Test
You will complete what I considered a basic aptitude test. I don't know if they are always the same, but I covered the question because I don't think it is ethical to disclose them. But trust me; they are basic.
Step 7-Sample Task
For the last step, you will have to pick one of two sample tasks and respond the same way you'd respond to a client.
They expect you to be original with this response. You can see the note below the Sample Task form, "Note: We get a lot of applications, if you copy/paste your answer from a forum, we'll probably notice and not be too thrilled."
I spent probably 30 minutes completing sample task #2 to make sure I did a good job to give me a good chance to be accepted by Fancy Hands.
What Other People Think of The Application Process
According to Glassdoor, this is the breakdown of people's opinion on their interview experience:
Positive: 44%
Neutral: 3%
Negative: 53%
How difficult is the application?: In terms of how difficult the application process is, the average rating is 1.6, with 1 being very easy and 5 being very difficult. So, clearly most people, including me think the application process is a piece of cake.
And yet, the majority think the experience was negative. I think those are probably the ones that were not accepted. Although, I think a significant number of them are probably mad because Fancy Hands didn't get back to them after completing the application. See more on this below, what to expect after you apply.
What to Expect After You Apply?
After you complete the sample task, you will receive a confirmation page telling you that they received it and that there is no need to call to check up on your application. According to the message it takes about 1 to 7 days after the application for them to make the decision.
Application Update: September 25, 2020
It has been 11 days since I applied for Fancy Hands and my dashboard still shows the message below.
It has been over 7 days, so either they lied, they are incompetent, or they have no respect for each applicant that probably takes an average of 1 hour applying for the virtual assistant position.
Either way, the lack of response doesn't give me a cozy feeling about this company. If they have enough applicants, they should say so and not accept any more applications, so that they don't waste people's time.
Your application has been received and we have everything we need. The current status is Pending. We have no other information at this time.
Emailing support@fancyhands.com will not help.
What People Think of Fancy Hands
I don't have firsthand experience working for Fancy Hands, but I really would like to give them a try in the future. But before I consider working for them, I'd like to see what other people are saying.
Glassdoor Reviews
The rating showing in Glassdoor is not impressive, 2.3 stars out of 5.
Pros
Out of 185 reviews, 52 mention that they are convenient jobs. And 14 note the flexibility as a plus.
Cons
Out of 185 reviews, 48 have some comments about how bad mentors and managers are. And 35 reviews note that clients are either rude or have unrealistic expectations.
You can read all the Glassdoor reviews here.
Indeed Reviews
The rating showing in Indeed is a little better, 3.4 stars out of 5 with 33 reviews.
Ratings by category winner is work-life balance with 3.9. The loser is pay-and-benefits with 2.4.
It is important to mention that when you are hired by Fancy Hands you get no benefits since you are considered an independent contractor.
You can read all the Glassdoor reviews here.
Reddit Reviews
The couple of reviews I have found on Reddit are pretty negative. Here are two samples:
Fancy Hands – what is the deal with this company!
Anyone working with Fancy Hands?
Forums Reviews
I found this thread in a forum named The Real scoop On Fancy Hands from an actual worker. It is a little old from 2015, but it reveals what it may be like to work for Fancy Hands.
Whenever possible I'd like to get my own opinion if I can get to work for them. I have learned that people who are happy working don't complete comments online. So, it may be better than it looks based on these reviews.
How Much Money Can You Make With Fancy Hands
According to Glassdoor, based on 13 people who submitted salary information, the average pay per hour is $10.
The company says that requests are up to 20 minutes of work and pay from $3 to $7. In theory, if the task takes longer, you may let a manager know and the amount may be adjusted. Apparently this doesn't always work.
How Much Money Have I Made With Fancy Hands?
I have not made any money with Fancy Hands yet. If I am accepted, I will consider working for them, although I'll be honest. I am not too excited based on what I have found out in my research, and besides, they haven't even accepted my application yet. [Updated Sept 25, 2020]
Every blog post I write is based on many hours of research. I also like to test every side hustle I review when possible. You may also want to see how much money I have made from the beginning. And may also want to take a look at the quarterly income reports.
Ratings and Conclusion
| | | | | | |
| --- | --- | --- | --- | --- | --- |
| Overall Rating for Fancy Hands | ★ | – | – | – | – |
The amount of money you can earn per hour seems to be similar to other online gig economy jobs, but based on my research there may be more pain and suffering than doing surveys for Prolific or even MTurk for similar pay.
Due mainly to the average earnings per hour, together with not being the most pleasant experience working with them, based on reviews, my overall rating for Fancy Hands is 1 star out of 5. This is based on research only. If I end up working for them, I will update this post.
👍 PROS
➤ Cash payments available
➤ Flexible schedule
👎 CONS
➤ Application follow-up by the company is poor
➤ Average compensation per hour of work
➤ Payment is every two weeks (Other gigs pay faster)
➤ Management and overall help seems to be bad
---

My #1 recommendation is Wealthy Affiliate. I joined Wealthy Affiliate in September 2019, and I'm thrilled that I made that decision.
As a beginner entrepreneur, it is hard not to get distracted with multiple priorities. The Online Entrepreneur Certification offered by Wealthy Affiliate makes you stay focus by taking you step by step through a total of 50 lessons as you complete your website within your chosen niche.
Let me assure you that Wealthy Affiliate is not a shady online program. I would not be a member of a scam and would not recommend it if I thought it was not legit.
---
📖 Please leave a comment below and let me know what you think.