I am always on the hunt to find side hustles to increase my income. But can you do all that just by using your smartphone all day? In this digital era, you can. In this Shopkick review, we'll show you how you can do that, at least partially.
Using the popular Shopkick app, you can complete specific tasks and earn gift cards or Paypal cash from your favorite brands.
But what's the catch? How can you be sure that this app won't just waste your time? Are you sure that it's not a marketing stunt to trick you into spending more?
Well, your doubts are real. I'd like to know myself as I go on the quest to find the side hustles that can help me meet my income goals for 2021 and beyond.
I have researched and started using the app. With what I have learned, I put together this review covering the nitty-gritty of Shopkick to the final question – is it worth your time?
What is Shopkick?
In a nutshell, Shopkick pays you to frequently visit its partnering shops like Target, Sony, Walmart. In return, you get to earn points called "kicks". Once you achieve a certain amount of points, you are awarded gift cards or Paypal cash for interacting or purchasing your favorite brands.
The app is free to download for iPhone and Android users and is predominantly location-based, where you get kicks for checking in to their partnered stores, buying behaviors, or scanning the barcodes of specific products.
Here is a current video with CEO Dave Fisch going over Shopkick 101.
Is Shopkick Legit?
I have no doubt that Shopkick is legit. From the company about page, we learn that Shopkick was founded in 2009 and is based in Redwood City, California. The company "has grown from five people in a basement to a vibrant community of engineers, designers, product managers, content curators, and partnerships managers."
Trax, who also owns EasyShift among other platforms, acquired Shopkick in 2019. This acquisition makes Shopkick stronger and legitimizes the company even more.
How Do You Make Money With Shopkick?
Shopkick is one of several apps out there that let you get benefits without having to spend a single dollar on the app. You may already be using some of these apps.
However, that doesn't mean it won't cost you anything everytime.
Five ways you can earn kicks without spending a dime:
Watch online video ads
Send referral links to your friends and family
Scan barcodes of specific products from a Shopkick scanner
Simply check in to your (nearest) partnered store of Shopkick
Scroll and look through online products for FREE points laying around in the app
Three ways to earn kicks by spending money:
If you have bought an item from their partnered store, scan and submit your receipt to the app
Shop and make payments through credit card linked to Shopkick
Shop through Shopkick's partnered stores online like Walmart, Starbucks, or Sony.
How Much Money Can You Make With Shopkick?
Now that you are aware of how you can earn points, you should keep realistic expectations on how much the app can help you cut down your expenses.
Generally speaking, once you have earned enough kicks, you can redeem your kicks for gift cards for your selected store. For every 250 points you will get $1; to get a $5 gift card, you need to earn 1,250 kicks.
You can also get paid with Paypal, but that will cost you more kicks. You need 3,055 kicks to get $10 Paypal, which is the minimum required to withdraw the money.
Non-spending Method
Sending referrals – 250 kicks
Watching ad videos – 5 kicks
Visiting online stores – 10 kicks
Checking in to a partnered store – 25+ kicks
Scanning items in the shops – around 10 kicks
Spending Method
Scan receipts of the products bought from participating stores – around 100 kicks
Using a linked credit card from the app – around 100 kicks
Only linking credit card to the app – 200 kicks
How Do You Sign Up for Shopkick?
To sign up for Shopkick, you can download the FREE app either through a referral link you got from a Shopkick user or straight from your App Store or Google Play Store.
The app is available on any iOs (10.0 or later) or Android (6.0 or later) devices. Once it's downloaded, simply add your details and make an account.
You can start experimenting with a wide variety of options and tasks for you to complete from there on.
How Do You Get Paid?
As mentioned earlier, there are two ways you can get paid on Shopkick: the spending method and the non-spending method. When you sign up to the app and link your credit card, you immediately earn 200 kicks.
You can use that card for making online purchases or buy items from this linked credit card for an additional 100 or more kicks (depending on the total amount you spent).
The same rule applies to any other method you would want to go for. To decide which method to choose, scroll up, and take a screenshot of the tasks and their kicks. As soon as you earn enough kicks, redeem them immediately to get gift cards for your desired brands.
Alternatively, you can wait a little longer to get paid through Paypal (minimum $10).
A suggestion would be to immediately link your credit card to the app and send referrals to your contacts. Once you have that done, there's no issue even if you want to earn the majority of your points from non-spending methods.
Does Shopkick Have an Affiliate Program?
Shopkick currently offers 250 kicks for every friend you invite to both you and your friend. You can use my referral code to get 250 free kicks.
My Experience with Shopkick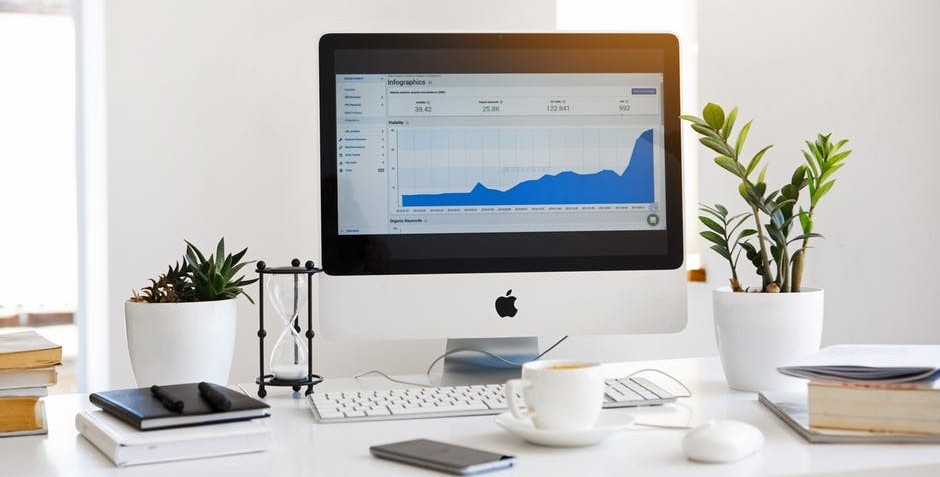 How Much Money Have I Made With Shopkick?
I have made $1.98 (505 kicks) so far with Shopkick. This screenshot below is proof of my current earnings. I will update this section as earnings increase. [Updated January 7, 2021]
Every blog post I write is based on many hours of research. I also like to test every side hustle I review when possible. You may also want to see how much money I have made from the beginning. And may also want to take a look at the quarterly income reports.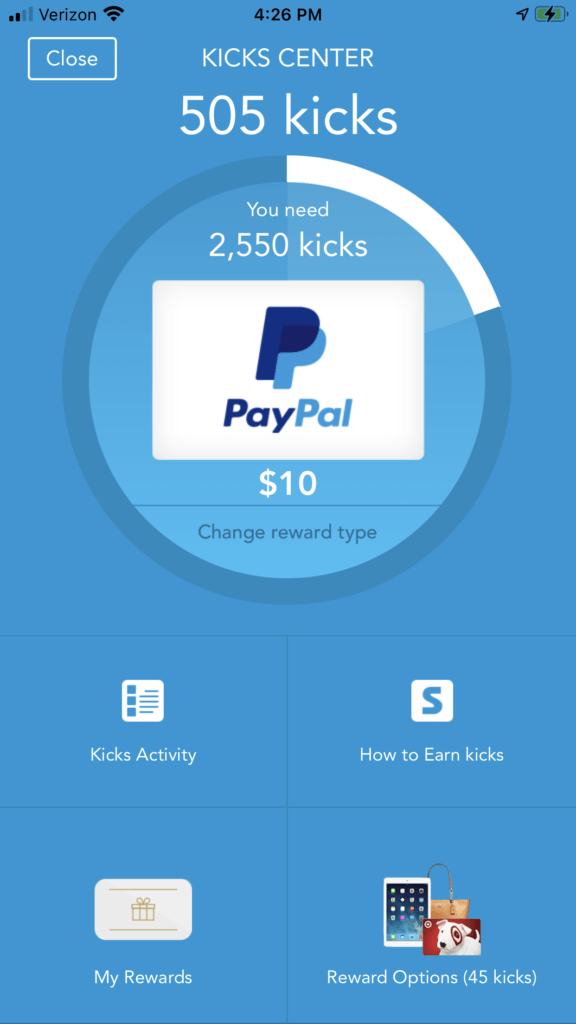 Ratings and Conclusion
| | | | | | |
| --- | --- | --- | --- | --- | --- |
| Overall Rating for Shopkick | ★ | ★ | – | – | – |
Keeping all of that aside, the real question arises – Is Shopkick worth your time? I can only speak for myself as everyone value time differently.
I see Shopkick in the same category as Coinout, ReceiptPal, or Fetch Rewards. If you get into the routine, you can make little money while spending little time. You won't get rich, but you won't waste your time if you use it wisely.
Here are some of the pros and cons of Shopkick to help you come up with way better conclusions than we could ever make.
👍 PROS
No Email Spams – If you are concerned about spamming emails, we've got good news for you. Shopkick does not spam with irrelevant emails once you sign up to their app – in case you are still not satisfied, you can always opt-out of Shopkick emails.
Offers Variety – Don't want to spend money? No problem. The app allows you to earn gift cards with various methods- virtually and in real life.
High Positive Ratings – You know an app or product is genuine when you hear it from the users themselves. This app has a positive rating of 4.7 on the App store and 4.4 on Google Play.
👎 CONS
Time-consuming – This disadvantage doesn't apply if you are going for the spending method. In case you don't want to spend money, then watching videos and scanning barcodes can be a very time-consuming task.
Only Available On Mobile – If you are someone who uses a laptop/computer more than your phone to watch all those ad videos and make online purchases, unfortunately, this app may not be suitable for you.
Restrictions – You can't go into any shop and get kicks – limiting you to your nearest partnered store.
---

My #1 recommendation is Wealthy Affiliate. I joined Wealthy Affiliate in September 2019, and I'm thrilled that I made that decision.
As a beginner entrepreneur, it is hard not to get distracted with multiple priorities. The Online Entrepreneur Certification offered by Wealthy Affiliate makes you stay focus by taking you step by step through a total of 50 lessons as you complete your website within your chosen niche.
Let me assure you that Wealthy Affiliate is not a shady online program. I would not be a member of a scam and would not recommend it if I thought it was not legit.
---
📖 Please leave a comment below and let me know what you think.