YouGov surveys are, for the most part, enjoyable and often very relevant. However, in my experience, you can make less money taking YouGov surveys than with comparable platforms.
I have been a panel member of YouGov for almost two months. As with any survey company, how much money you can make depends on many factors. Different people may have different results.
You may earn from $5 to $10 per month taking YouGov surveys. You can expect to make about $3 per hour of actual time spent on surveys.

Unfortunately, to get the most money for your points, you have to wait until you accumulate 100,000 points.
I have earned 11,050 points in about two months. At this rate, I will have to wait two years to get paid.
You can redeem your points as soon as you accumulate 25,000, but the value of your points increase if you wait until you accumulate more points.
What is YouGov?
YouGov is a British international company offering market research and data analytics, based mostly on information gathered via the Internet. The company is headquartered in London but also has operations in Europe, North America, the Middle East, and Asia-Pacific.
YouGov runs polls about various topics, including politics, public affairs, products, and brands. These polls or surveys are taken by people on the Internet.
The data collected is then used for marketing activities by media owners and other companies. YouGov works with some of the world's leading companies and brands.
The company was founded in May 2000 by Stephan Shakespeare (current Chief Executive Officer) and Nadhim Zahawi, who is currently a Member of Parliament (United Kingdom).
Based on YouGov's website timeline, the company has grown significantly in 19 years:
| | | | |
| --- | --- | --- | --- |
| Year | Number of offices | Number of employees | Number of panel members |
| 2000 | 1 | 20 | 1,000 |
| 2019 | 35 | 1,000 | 8,000,000 |
Based on the Annual Report and Accounts 2019, YouGov is a very successful company. Revenues for fiscal year ended 31 July 2019 was £136.5 million, which is approximately $177.4 million based on today's exchange rate.
The compensation of the executive directors is also a sign that YouGov is very profitable. The most recent annual report shows that the CEO, Stephan Shakespeare, received a total annual compensation of over £600,000.
YouGov Video Highlight-Connected Data
These are some key highlights from the video:
One of YouGov company's values is to be fearless and to be fast
YouGov utilizes the Internet to provide world-class research and data products to a wide variety of clients around the globe
YouGov panel is a group of six million (now eight million) real people around the world who talk to us every day they're willing to answer our questions in return for rewards and also a sense that they are contributing to national debate
YouGov panel is fundamental to our ability to innovate because, without the relationship of trust with millions of people globally, the insight and the richness that allow us to answer the questions wouldn't be able to have the rich data we have today
It's not about big data it's about the right data and as a marketer having the right data to make decisions you can truly stand behind is crucial
YouGov has a long history of innovation within the market research industry being the first to champion using online methodology as a way of producing very robust research
Is YouGov Legit?
YouGov is a well established and trusted company. I have no doubts that the company is legit. However, I don't have payment experience with them yet since I haven't reached the 25,000 points threshold required.
See more details below under "How Much can you Make with YouGov?"
Ways to get Money with YouGov
The only way to make money with YouGov is by completing the surveys you receive in your e-mail. You can always provide opinions for fun.
You can answer daily questions, let them know what you think about movies, music, sports, and other topics that interest you. But you won't get paid for those.
Mobile vs. Desktop or Laptop Task Completion
You can take YouGov surveys on your computer or smartphone. YouGov surveys are mobile-optimized. They also have an app that makes sharing your opinion even easier.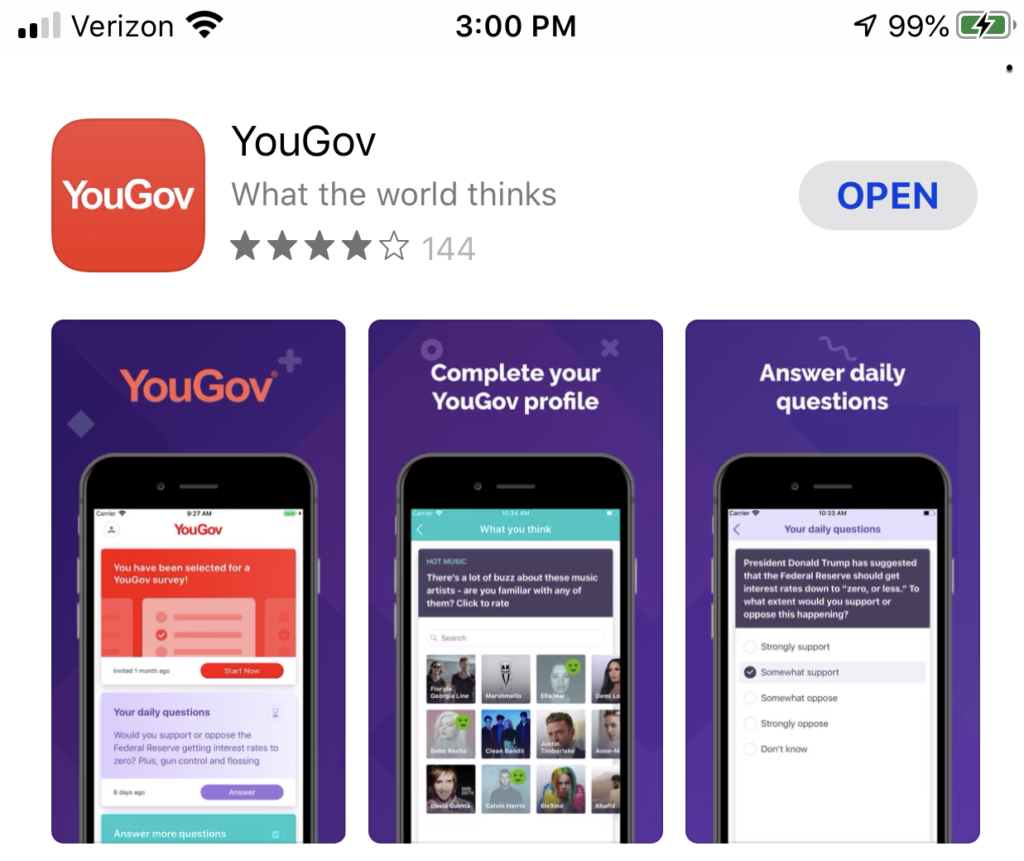 How Can You Sign up for YouGov?
To sign up and register you can go to https://today.yougov.com/join-community/

Based on YouGov's Terms and Conditions page effective July 20th, 2018, you have to be 16 years or older to join the YouGov Panel. I don't see any restriction in terms of the country of residence. You can sign up with your e-mail or Facebook account.
How Much Money can you Make with YouGov?
Most surveys will award between 500-2,000 points. The longer the survey, generally, the more points that are awarded. In my experience, some surveys are fairly quick.
From 10 to 15 minutes, and you typically get 500 points. Some take longer, and require written responses and sometimes only pay 500 points.

In general, I believe YouGov's per-hour compensation is less than what you would get with Prolific or MTurk. One of the reasons for this is that 500 points does not necessarily equal to 50 cents (more on this below).
In my experience, on average, I don't think you can make more than $3 per hour of actual survey time.
Let's compare YouGov, Prolific, and MTurk by analyzing three surveys I have completed very recently. The comparison is based on the reward and estimated completion time provided by each platform. Based on these examples below, I made:
YouGov: $3 per hour
Prolific: $7.5 per hour
Mturk: $7.2 per hour
YouGov notes in the video above:
I don't know if YouGov realizes that the company is paying about half of what Prolific and MTurk are paying to their "valuable panel of people."
At least based on my experience. Without this panel of people, YouGov would not exist.
I am a firm believer in the free market and think that prices should be determined by competition between businesses. I think right now YouGov is getting a bargain for their surveys.
For this YouGov survey, I just completed today, I will be credited 500 points for 10-12 minutes of my time. If it takes me 10 minutes to complete, it equals to $3 per hour of work.
This assumes 500 points equals 50 cents, which is only the case when you wait until you accumulate 100,000 points. Read more on this below, "How do you get Paid?"

For this Prolific survey I just completed yesterday, I will be credited £3 for 30 minutes of my time. If it takes me 30 minutes to complete, it equals to $7.5 per hour of work (calculated at a 1.25 £/$ exchange rate).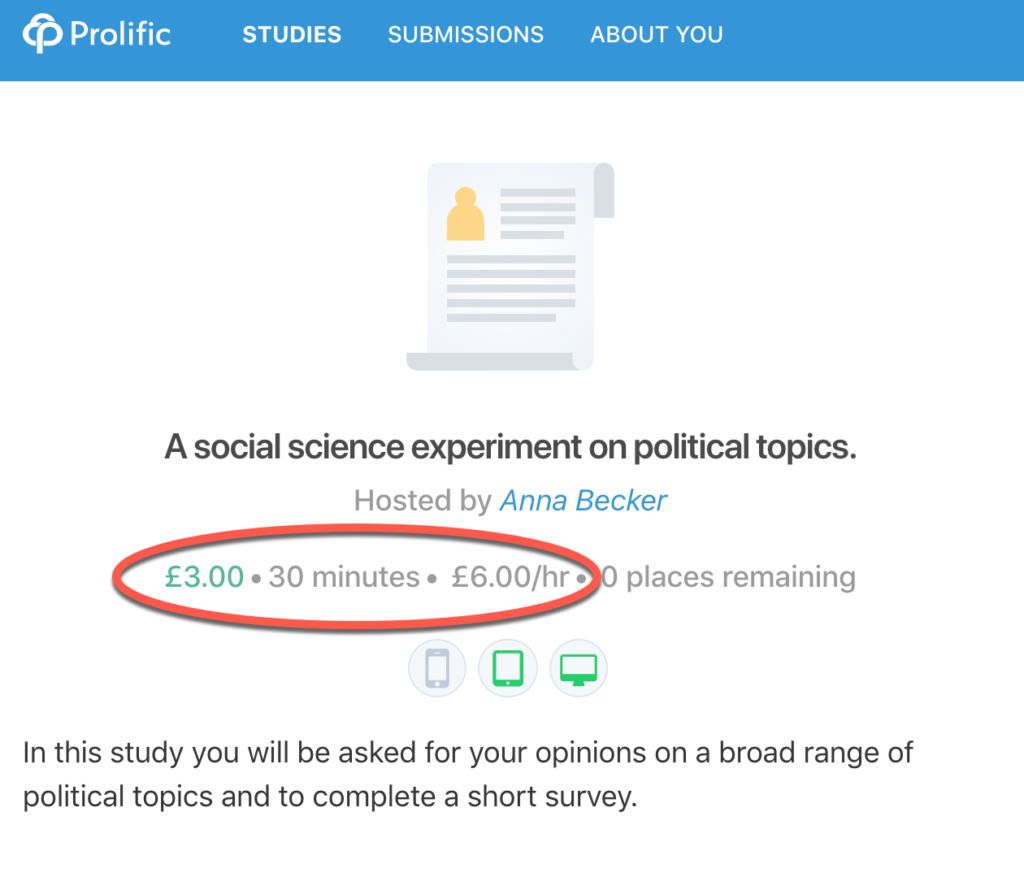 For this MTurk survey, I just completed today, I will be credited $1.80 for 15 minutes of my time. If it takes me 15 minutes to complete, it equals to $7.2 per hour of work.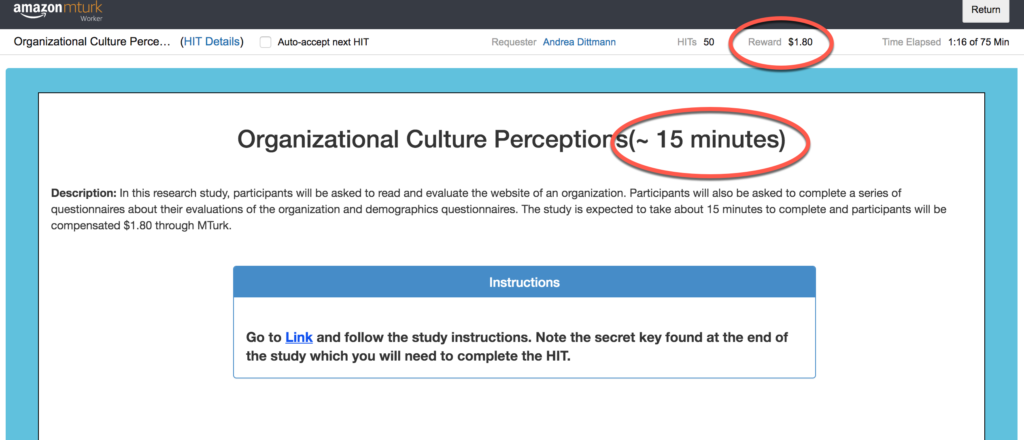 As with any other survey company, how many surveys you receive depends mainly on your individual profile. I have not received as many surveys as I would like. I jointed YouGov in 11/25/2019 and have received 12 surveys in 50 days.
A big plus of YouGov is that they will send you an email when a survey is available for you to complete. You don't have to be looking at your computer screen for available surveys like with most other companies. This is an example of an email I have received from them.
How do you get Paid?
According to their Rewards page (see below), you can redeem your points for gift cards or Bank Transfer.
How much money you get for the points you have earned depends on what gift card/bank transfer you choose and what amount.
Amazon Gift Cards
As of the time of my review, you have to have at least 25,000 points before you can redeem your points.
The first choice in YouGov Rewards page is a $15 Amazon gift card, which you can redeem with 25,000 points. Based on this example, the conversion rate is 1,666 points for $1.

The more points you have and the longer you wait to redeem them, the better the conversion rate. For example, you can get a $50 Amazon gift card for 55,000 points. If you wait this long, the conversion rate is 1,100 points for $1.
Other Gift Cards
YouGov offers various other gift cards. You can redeem your points for Michaels, AMC, Foot Locker, Nike, Beth Bath and Beyond, Best Buy, etc.
The conversion rate depends on the type of gift card, but in all the cases, you have to redeem more than 1,000 points for $1 value.
As an example, you can get a $25 Michaels gift card for 30,000 points. And a $50 Best Buy Gift card for 60,000 points.
Paypal
For my income goals, I am not interested in gift cards. I am only interested in cash. YouGov doesn't have a payment option through Paypal. But it does offer Bank Transfers.
Bank Transfer
YouGov has a bank transfer option with two amount thresholds. You can get a $50 bank transfer for 67,500 points. That is a conversion rate of 1,350 points for $1.
To get a conversion rate of 1,000 points for $1, you have to wait until you accumulate 100,000 points. This could take a while for me.

Does YouGov Have an Affiliate Program?
YouGov has a referral program. You can share your unique referral link with other people and receive extra rewards. As soon as your referrals have completed 4 surveys (including Welcome Survey), you'll receive 2,000 points, and they'll receive 2,000 points.
My Experience with YouGov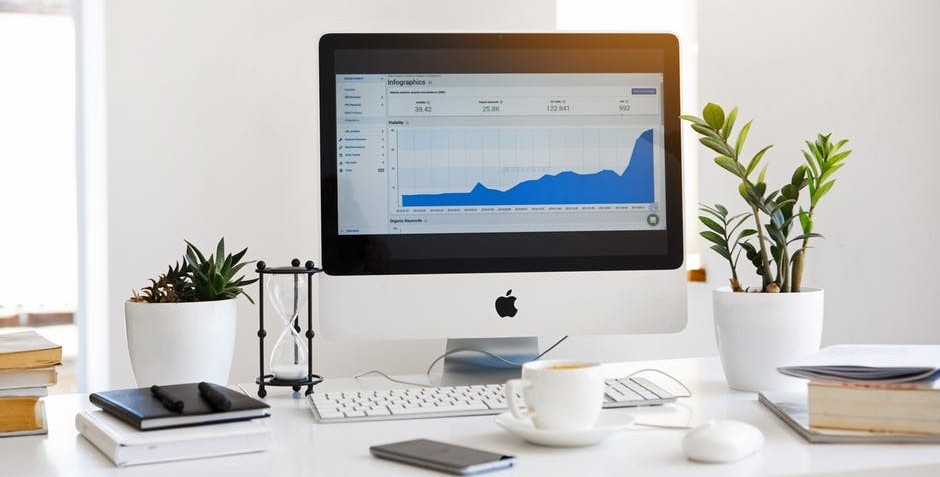 How Much Money Have I Made With YouGov?
I have made $32.85 so far with YouGov. This screenshot below is proof of my current earnings. I will update this section as earnings increase. [Updated July 1, 2020]
Every blog post I write is based on many hours of research. I also like to test every side hustle I review when possible. You may also want to see how much money I have made from the beginning. And may also want to take a look at the quarterly income reports.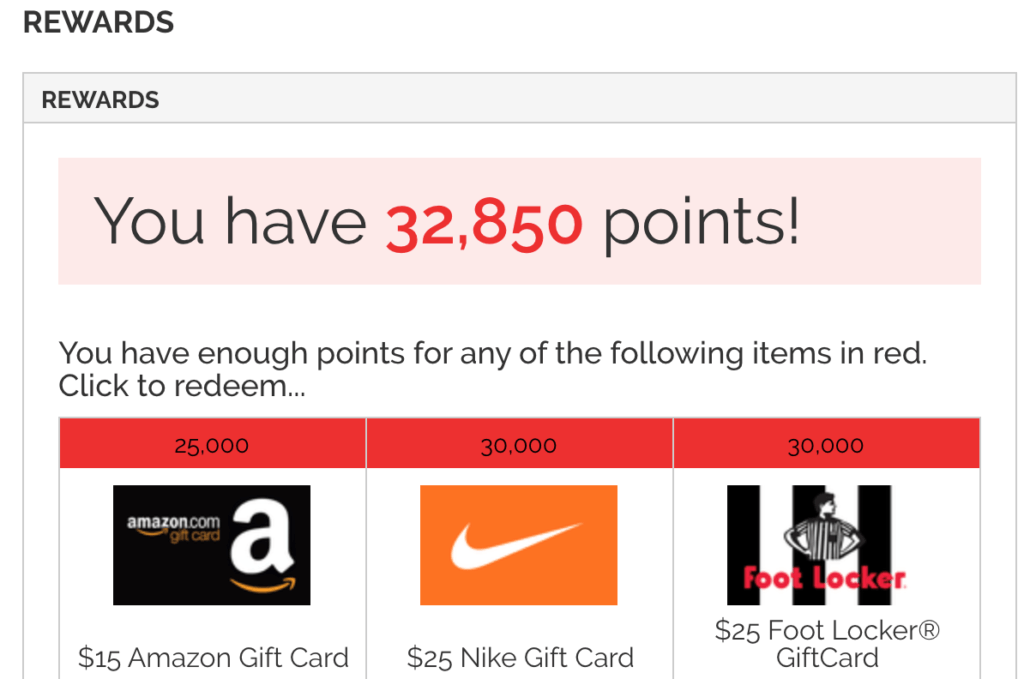 Ratings and Conclusion
| | | | | | |
| --- | --- | --- | --- | --- | --- |
| Overall Rating for YouGov | ★ | ★ | – | – | – |
What I really like about YouGov is that you don't have to be glued to your computer screen to see if there are available surveys. You will receive an email with a link to the survey.
On the minus side, I have received an average of less than 2 surveys per week. And most of those surveys pay only 500 points. Also, if you choose the bank transfer option, you'll have to wait a long time to get your first payment.
My overall rating for YouGov is 2 stars out of 5.
👍 PROS
➤ They send an email when a survey is available for you
➤ No screen-outs
➤ Cash payments available (bank transfer)
➤ Referral program available
👎 CONS
➤ Limited number of surveys available
➤ Low compensation per hour of work
➤ Minimum cash out amounts are high
➤ It will not generate significant money for my 2020 income goals
---

My #1 recommendation is Wealthy Affiliate. I joined Wealthy Affiliate in September 2019, and I'm thrilled that I made that decision.
As a beginner entrepreneur, it is hard not to get distracted with multiple priorities. The Online Entrepreneur Certification offered by Wealthy Affiliate makes you stay focus by taking you step by step through a total of 50 lessons as you complete your website within your chosen niche.
Let me assure you that Wealthy Affiliate is not a shady online program. I would not be a member of a scam and would not recommend it if I thought it was not legit.
---
📖 Please leave a comment below and let me know what you think.