Many people talk about passive income as an ideal source of income because, supposedly, you do nothing to get it. In this ReceiptPal review, I'll argue that while you won't get rich using its App, it is as close as passive income as you can get.
With the ReceiptPal App, you will earn extra cash by spending 5 seconds taking a picture of each receipt you get while shopping. ReceiptPal wants your receipts, and as a reward, they will give you a few dollars for a few receipts. Same as any other similar income-generating activity, ReceiptPal has certain advantages and disadvantages. Let's go over some of them.
What is ReceiptPal?
ReceiptPal is an app that users can install on their smartphones, and every time they buy something, upload a receipt and get rewards for it. The idea behind it is to provide valuable data to the marketing research company.
ReceiptPal was created by The NPD Group, Inc ("NPD"). According to the company, NPD "provides market information and advisory services to help companies make better business decisions. They help clients develop the right products and get them in the right places at the right prices for the right people in order to grow their businesses."
NPD considers themselves experts in several industries, including food, fashion, technology, and more.
NPD's about ReceiptPal page states that the receipts and other information you capture are not retained on the phone. It's all uploaded and stored on NPD's virtual servers, where it is safe and secure.
ReceiptPal is available only as a mobile app, and there is no other way to participate.
Introduction video to NPD-The company behind ReceiptPal
How do you make money with ReceiptPal?
As you know, I like to use Apps that pay me cash. Unfortunately, ReceiptPal does not pay cash. You will earn points and be able to exchange them for Amazon and other retailers' e-Gift cards.

The process of earning points is straightforward. You'll submit your receipts, earn points, then exchange them for rewards.
Paper Receipt
To earn points from a paper receipt, you need to do the following:
Tap on the receipts icon at the bottom to the Receipts tab in the app
Tap on the camera icon
After framing the picture and taking the picture, click "Done" to preview.
Click submit to get credit for that receipt
Note that you can take multiple photos to capture the rest of a long receipt or the back of the same receipt.
E-Receipts
To get credit for e-receipts automatically, you need to connect an email account.
Timeframe to submit receipts
According to ReceiptPal support, receipts will be accepted through the third day of the week after purchase. But they prefer if you submit them within the week of purchase when possible.
How long does it take for receipts to be validated?
Generally, paper receipts are processed and validated within 24 hours, while E-receipts can take up to 72 hours to be fully processed.
How Much Money Can You Make With ReceiptPal?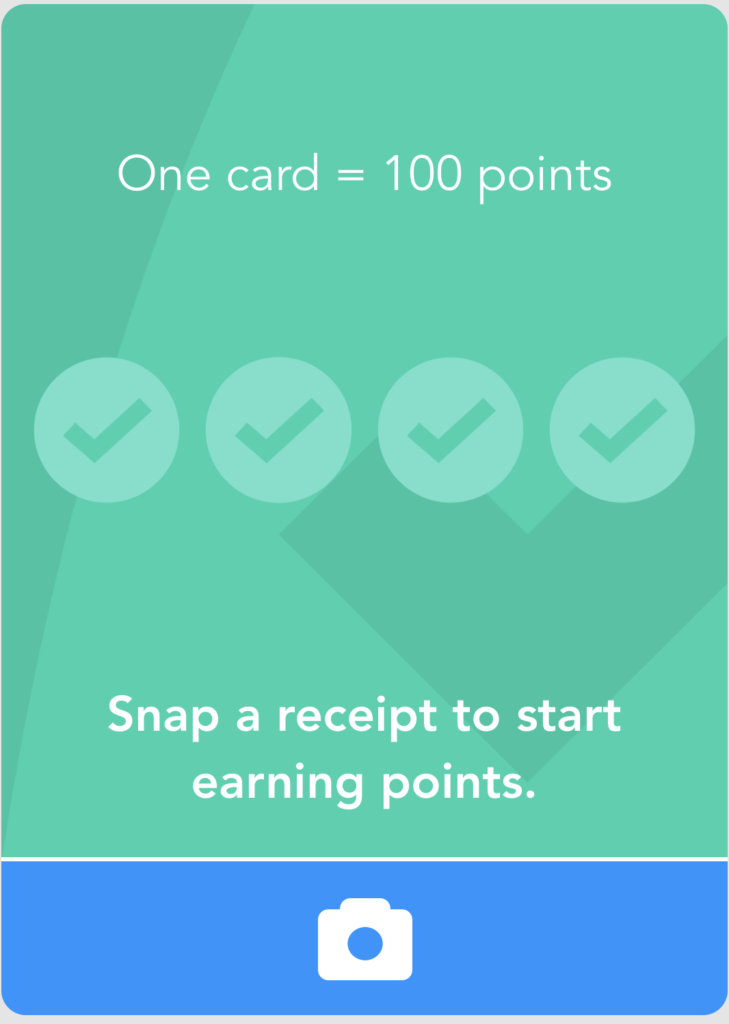 How many receipts can you submit per week?
On average, you can submit 12 valid receipts per week. ReceiptPal provides you with green Point Cards. Every Sunday, you get three green Point Cards with each point card containing four receipts.
Let me show you how it works with an example. I joined on Sunday, January 1st. Because I am a new member, I get 5 green Point Cards. That means I can submit 20 receipts for the 1st week. On Sunday, January 8th, I will receive 3 green Point Cards. That means I can submit 12 receipts this week and all the following weeks.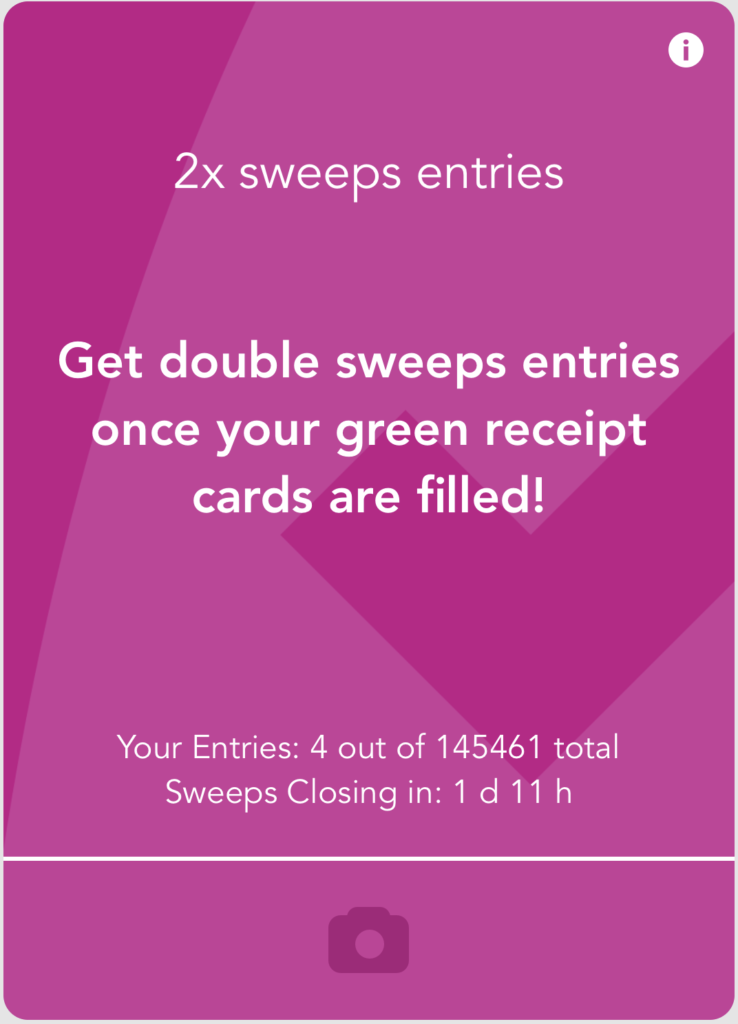 What if you submit additional receipts?
You are allowed to submit as many receipts as you like each week. The ReceiptPal support page says that "If you run out of Point Cards for the week, any additional receipts will automatically be submitted to the pink Sweepstakes Card available in the app. You'll earn two sweepstakes entries for every receipt (but no additional points)."
For example, as you can see from the pink card on the right, I have 4 out of 145461 chances to win. Based on the Sweeps Rules documentation, there are 3 prizes at $250 each. I am not holding my breath, but you never know.
So, how much can you make and how do you get paid?
You don't get paid cash. Instead, they offer Amazon and various other merchants e-Gift cards.
Since you get 100 points per green card and you can get 3 cards per week, you can accumulate a maximum of 300 points per week. That means you can get 15,600 points in a year (52 weeks x 300).
Let's try to come out with an exchange value in US dollars.
The exchange value is better the higher the level. To maximize the exchange value, you should go with Level 3 Rewards. The drawback is that you have to wait a long time.
How Long?
Over a year! Remember that you can make a maximum of 15,600 points in a year, but the $50 Amazon e-Gift Card costs 17,250 points.
On the other hand, you can probably get a $5 Amazon e-Gift card in a couple of months.
Rewards Expiration
As of this writing, all rewards offered don't expire except for the Virtual VISA Gift Card.
How much other blogs are saying you can make
There are several bloggers out there saying that you can make from $80 to $100 a year. I was curious to see why those bloggers are overstating the money you can really make.
I think I have the answer.
Some of those blog posts are very old. I saw one written in 2014 showing a similar screenshot as mine. That screenshot shows that you could get the $50 Amazon e-Gift Card for 11,000 points. Today you need 17,250!
It is fascinating to see companies like NPD growing year after year, but paying less and less to consumers who patiently provide their buying habits NPD profits from.
But in the end, I understand, I am an entrepreneur, and I have a respect for profit. No one is putting a gun to your head to scan these receipts. You actually make less with another popular App I have also tested, CoinOut.
How do you sign up for ReceiptPal?
The ReceiptPal FAQ offers the following steps to register and start using Receiptpal:
Download the app from the app store.
After opening the app, view the tutorial.
Tap on "Register".
Fill out the email address and profile information.
Make sure email connection is toggled on.
Tap on "Continue".
Enter the email address and password associated with the email account that you want to connect to ReceiptPal.
Wait until you see a screen stating "You're All Set!" or "Success". Tap "Okay" or "Done".
Once you see the "Success" screen, your email account is connected to your ReceiptPal account and valid e-receipts will be automatically credited to your ReceiptPal account.
Are there any restrictions on the receipts I can use?
Receipts have to be from you or a household member, but they can be from any retailer/store for consumer goods.
The entire receipt must be in the photo and needs to be clear. It must be in English and US dollars and needs to include the store name, purchase date, the total amount spent (it can't be zero), and either a phone number or zip code of the store.
Receipts must be from retailers/stores located in the United States, Puerto Rico, US Virgin Islands, or Guam.
Receipts must be submitted by the submission time window, the third day of the week after purchase.
Does ReceiptPal have an affiliate program?
ReceiptPal has a referral program that is not always available. Once in a while, the ReceiptPal program is opened for active members who entered a valid email address.
Members will have the option to refer a friend who will then get a link. That friend has to use the given link to register. After they register, you will get bonus points. When referrals are available, the limit is 25 referrals per month.
My Experience with ReceiptPal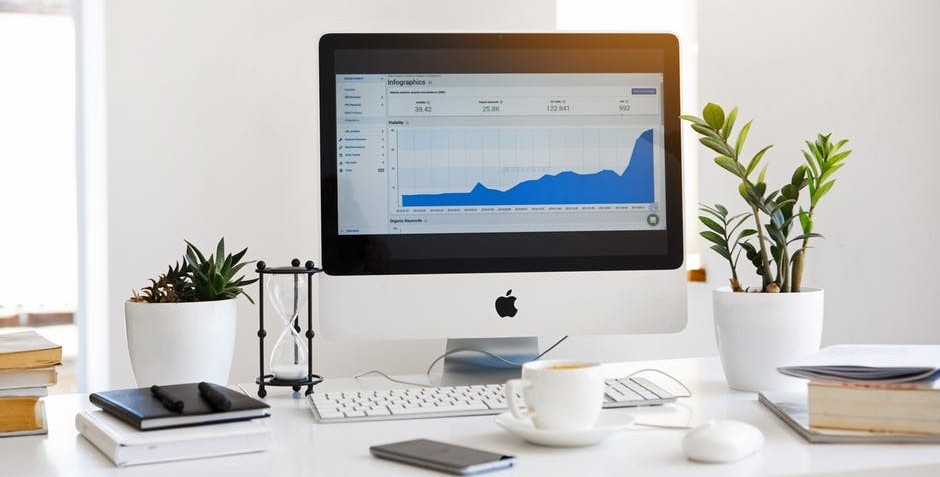 How Much Money Have I Made With ReceiptPal?
I have made $27.25 (9,400 points) so far with ReceiptPal. The dollar amount is based on the $50 Amazon e-Gift Card. This screenshot below is proof of my current earnings. I will update this section as earnings increase. [Updated March 31, 2021]
Every blog post I write is based on many hours of research. I also like to test every side hustle I review when possible. You may also want to see how much money I have made from the beginning. And may also want to take a look at the quarterly income reports.

Video Summary of ReceiptPal
Let's wrap up with a quick summary video I have created. If you like this video, consider subscribing to the Finance Notebook Youtube Channel.
Ratings and Conclusion
| | | | | | |
| --- | --- | --- | --- | --- | --- |
| Overall Rating for ReceiptPal | ★ | ★ | – | – | – |
Just like with a similar App, CoinOut, although you can't make a lot of money with this app, it takes very little time. You only have to get into the habit of scanning the receipts before you toss them, and easily make a few dollars per month.
If you combine this app with other receipt apps, you'll earn even more with the same receipts. My overall rating for ReceiptPal is 2 stars out of 5.
👍 PROS
➤ You can scan any receipt
➤ The scanning process is easy
➤ Relatively low cash out amount ($5 for E-Giftcard)

👎 CONS
➤ Average cashback per receipt is low
➤ It does not pay cash
➤ It will not generate significant money for my 2020 income goals
---

My #1 recommendation is Wealthy Affiliate. I joined Wealthy Affiliate in September 2019, and I'm thrilled that I made that decision.
As a beginner entrepreneur, it is hard not to get distracted with multiple priorities. The Online Entrepreneur Certification offered by Wealthy Affiliate makes you stay focus by taking you step by step through a total of 50 lessons as you complete your website within your chosen niche.
Let me assure you that Wealthy Affiliate is not a shady online program. I would not be a member of a scam and would not recommend it if I thought it was not legit.
---
📖 Please leave a comment below and let me know what you think.