In the second half of 2019, I decided to retire from my main occupation. I have worked in banking for the past 30 years, mostly in audit and compliance roles.
Sitting around reading the newspaper and drinking a beer is not my ideal retirement. I like a challenge.
So, I came out with a website and set up some rules and goals I will follow. I need to make a specific amount of money every year. And I can't be hired as an employee, I have to be considered an independent contractor.
In other words, the objective is to become an entrepreneur gradually.
The income goal for the year 2020 is $5,000. As of June 7, I am on target, I have made $2,600. That means I make, on average, over $400 per month. Let's go over how I make that money and what I am doing with it.
How Am I Making this Extra Money?
I am testing several money-making opportunities to figure out which ones are the best to achieve my goals for each year. So far, I have tested 26 platforms, and the primary side hustles for the first half of 2020 are:
My Money Making Gold Medal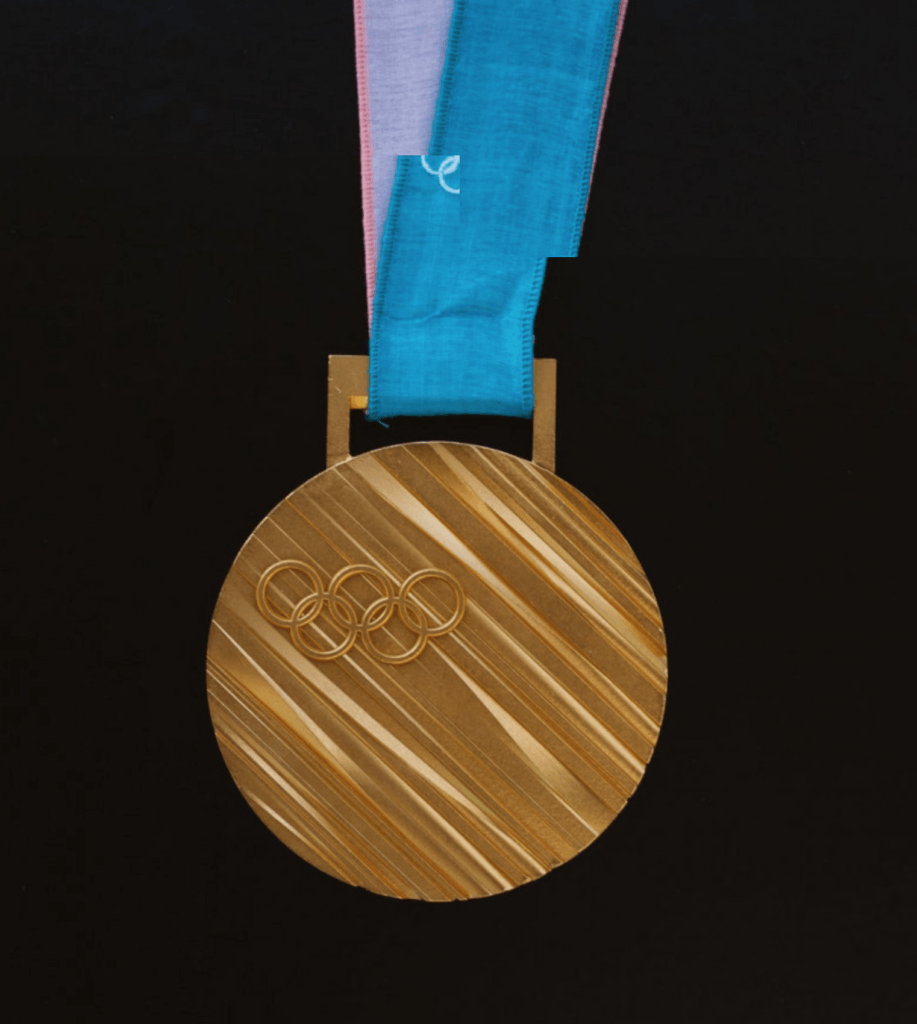 Field Agent – As of today, I have made $1,423 with Field Agent, which makes it the star of 2020, and I think it will continue to be the star until the end of the year. As a Field Agent, you use the Field Agent app to complete retail audits, mystery shops, market research, and digital product demonstrations. You can read more on my review of Field Agent. It may be a good option for you to make a few extra dollars here and there while on the go.
My Money Making Silver Medals
Prolific – Prolific has become my second most convenient way to make extra money. As of today, I have made $469 with Prolific. With Prolific, you will complete surveys, games, or other types of studies about scientific research, new products, or public opinion. Unlike other survey platforms that waste your time for pennies, Prolific promises you will make at least $6.50 per hour of survey time. In my experience of almost 300 surveys, I will say this is true with few exceptions. You can read my review of Prolific to learn more.
MTurk – Amazon Mechanical Turk was my first online testing platform. Despite having a lot of criticism from the media, I think it is another convenient way to make extra cash. As of today, I have made $414. If you are interested, you can read my MTurk review.
My Money Making Bronze Medals
Gigwalk – I started with a couple of jobs only initially because it was hard to find gigs in my area. I have had a few more in the past couple of weeks, and I have to say that Gigwalk is my second favorite secret shopping type of app after Field Agent. As of today, I have made $87. You may want to read my review of Gigwalk.
Observa – Observa is my third favorite secret shopping type of app. I have made $39 so far with Observa. You can read my review of Observa here.
You may want to read my Gigwalk, Field Agent, Observa, or EasyShift App. Which one is better? post.
This is not a Hobby. It's a Business
I have established this new chapter of my life as a business (Pioneer Publishing Group LLC) and I am very convinced that treating it as a hobby will make it more likely to fail. I don't think there are statistics about hobbies failing because hobbies are not meant to generate revenues.
It is much easier to start as a hobby and see where it goes. The problem with that approach is your commitment. If you establish it as a business, you need to be serious about it. Otherwise, when it fails, you would say, oh well! It was just a hobby.
Only when you treat your activity as a business do you have a chance to succeed.
According to the Bureau of Labor Statistics, about 50% of small businesses survive the 5-year mark. To avoid this, I purposely have established a 6-year goal, which I think is achievable if I consider it a business. I am committed to earning at least the following income. You may want to take a look at my Income Rules & Goals.
| | |
| --- | --- |
| Year | Gross Income |
| 2020 | $5,000 |
| 2021 | $10,000 |
| 2022 | $20,000 |
| 2023 | $30,000 |
| 2024 | $40,000 |
| 2025 | $50,000 |
| Total (6-year goal) | $155,000 |
Testing Another Money Making Opportunity
So far, I have tested money-making opportunities that generate money fast, such as Field Agent and Prolific. In May 2020, I started a new blog in the home improvement niche to talk about house maintenance topics related to my house in Lewes, DE.
I have started a new website in the house improvement niche as another money-making test, but the money, if any, will not show up fast. Most successful blog posts need many months to rank in Google, and after that, you need to monetize them. I will talk more about blogging topics when I have more first-hand experience with the blog.
I am determined to write three articles and create three videos per week for the new website. If I do this, I will have 150 articles and 150 videos by May 2021. With 300 pieces of content, I am hoping to have some traffic by the second half of 2021, which I should be able to monetize and start earning money to help with the 2021 income goals.
Blogging is not a sprint. It is a marathon.
In addition to taking care of the new website, I will continue to write one article and one video per week for Finance Notebook as usual.
So, What Am I Doing With the Extra Money?
I initially established a $3,000 business account as a start-up. As part of my rules, business expenses can only be funded with business income. I can't use personal funds.
Out of the $400+ I currently make every month, I have to take care of some ongoing expenses, such as web hosting, and a couple of premium plugins, etc.
The rest of the earnings will be invested back into the business. So the question is, what is the best investment for my business right now?
If I ask this question to ten entrepreneurs, I probably have ten different answers. Why? Because there is no book written about what to do for my business to be successful.
So, what have I started to do?
Outsourcing Blog Writing
In total, I want to publish four articles and four videos on Youtube per week. Something has to give because I want to continue testing other money-making opportunities, and I am not a prolific writer. Also, I don't want to work 80 hours a week.
Most experts warn against outsourcing new blogs. You must have your own voice to be successful. Otherwise, there is no reason for people to read your blog. Because when you outsource 100% of your blog, it isn't your blog. Or at least it isn't your voice.
I totally agree.
I don't intend to outsource "my voice." I just need help with drafting some articles and I will edit those drafts and make them my own.
I have started to outsource some articles with iWriter for the new website.
What is my experience so far?
My Experience with iWriter
What is iWriter?
iWriter is one of several platforms where you can have content written for your website. A project you post becomes available for freelance writers from across the globe to write.
The price you pay depends on the level of the writer and the number of words. There are four levels, Standard, Premium, Elite, and Elite Plus. Let's go over an example of how much a 1000 words article would cost from different levels.
Standard
Premium
Elite
Elite Plus
$8.25
$11.50
(39% more than Standard)
$20.25
(76% more than Premium)
$72
(256% more than Elite)
As you can see, the price is incrementally higher as you go up in the levels and it gets very high for the Elite Plus. The price for 1000 words is $72 when written by an Elite Plus writer as compared to $20.25 when written by an Elite writer. That's 256% higher than Elite!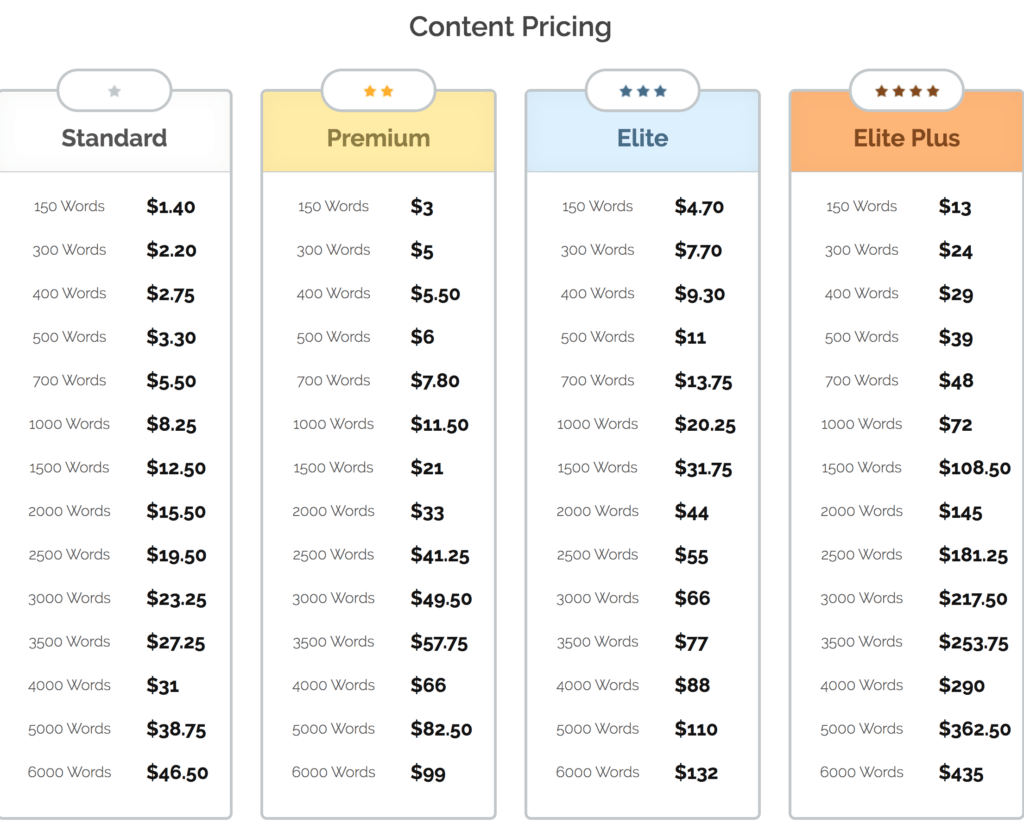 Which Levels Have I Tried so Far. And What are the Results?
I haven't tried Standard because I don't expect anything good coming out of that level. I haven't dared to try Elite Plus because I don't have the budget for that level, and I think it is too pricey even if I had the money for it.
I have had experience with five writers so far. One was Premium, and the other four were Elite. I will not disclose the writer's names for privacy, but this is how I would rate them.
| | | | | |
| --- | --- | --- | --- | --- |
| Writer | Level | # of Articles | iWriter Rating (out of 5) | My Rating (out of 5) |
| 1 | Premium | 1 | 4.88 | 3.5 |
| 2 | Elite | 1 | 4.8 | 2 |
| 3 | Elite | 1 | 4.84 | 3 |
| 4 | Elite | 1 | 4.94 | 4.9 |
| 5 | Elite | 12 | 4.96 | 4.9 |
Writer 1 was the only Premium writer I tried and the article wasn't terrible, but I had to change too many things to make it decent.
Writer 2 was so bad that I had to reject his article—the only one I have rejected out of 16 so far. I felt terrible, but it was a very bad article. I can't believe this writer is at the elite level.
Writer 3 was a 3-star out of 5-star, which is not worth it because you have to go over the whole thing and make material changes all over. Might as well write it yourself.
Writer 4 was great. She was my first writer but didn't take any of my requests after the first one. I think it may have been because I didn't give her a tip. She was my first request, and I didn't know. I now give approximately a 15% tip if I like what I see.
Writer 5 is also great and has written 12 articles for me so far. Her articles are 70%-80% of what I need, which is great. I typically request 1000 word articles from her and pay $23.70 [$20.25 (cost)+$3(tip)+$0.45(tip processing charge)]. That's about 2.3 cents per word, which is an excellent price for what I get.
So, in my experience so far, if you start with elite writers, you'll get 50% good writers and 50% not so good. This is not a big-enough representative sample because I only have experience with four writers at the elite level, but that's what I have seen so far.
My Opinion of iWriter so far
I am pleased with iWriter so far. In the past couple of weeks, I have been able to meet my goals of publishing eight pieces of content per week. That is, three articles and three Youtube videos for the new website and one article and one Youtube video for Finance Notebook.
I wouldn't have been able to do that without iWriter.
Below is my iWriter dashboard. I have spent $344 so far and need to be careful not to spend more than $400 per month. I will continue with this approach and keep you posted.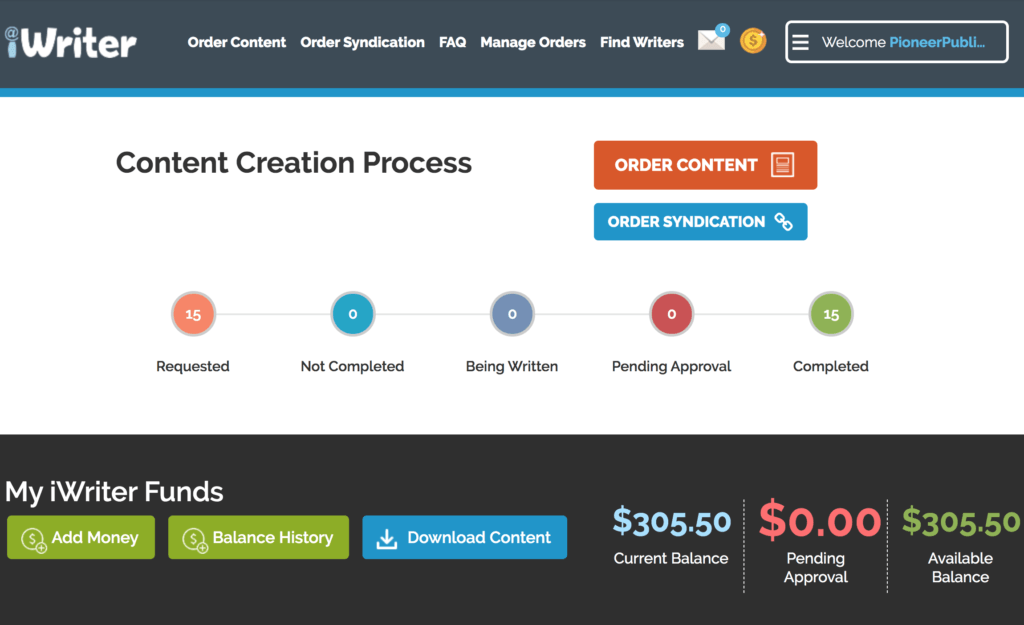 Video Summary
Let's wrap up with a quick summary video I have created. If you like this video, consider subscribing to the Finance Notebook Youtube Channel.
---

My #1 recommendation is Wealthy Affiliate. I joined Wealthy Affiliate in September 2019, and I'm thrilled that I made that decision.
As a beginner entrepreneur, it is hard not to get distracted with multiple priorities. The Online Entrepreneur Certification offered by Wealthy Affiliate makes you stay focus by taking you step by step through a total of 50 lessons as you complete your website within your chosen niche.
Let me assure you that Wealthy Affiliate is not a shady online program. I would not be a member of a scam and would not recommend it if I thought it was not legit.
---
📖 Please leave a comment below and let me know what you think.