I mentioned before that people fantasize about passive income when it's never passive. You either do something now or have done something in the past to generate revenue. Receipt type apps, like Fetch Rewards, are as close as passive income as you can get.
With the Fetch Rewards app, like with other receipt type apps, you most definitely won't get rich, but you can generate some extra cash by spending very little time. Like other similar apps, Fetch Rewards wants your receipts, and as a reward, they will give you a few cents per receipt you submit.
In this Fetch Rewards review, you will learn how to earn a few dollars a month with this app.
Use my referral code 3D7FF to get your free bonus points.
What is Fetch Rewards?
Fetch Rewards is a mobile shopping platform you can use to save on groceries by scanning receipts. Like Coinout and ReceiptPal, the only thing you have to do is snap a picture of your receipt, and the app will reward you points based on participating products and special offers.
Current CEO Wes Schroll cofounded the company in 2013. The company is headquartered in Madison, Wisconsin, and has three additional offices in Chicago, New York, and San Francisco.
People working as full-time employees with Fetch Rewards seem to be happy working for the company. Glassdoor shows a rating of 4.9 out of five from 28 reviews. The CEO has a 100% approval rate. A total of 157 employees are active in LinkedIn.
In the company about page, Wes explains how his aha moment happened when he was a sophomore at college and started to shop for himself.
It was then that he realized how difficult it was to save money on groceries. You had to be in the right store at the right time with the right receipt.
He knew then that there had to be an easier way. That's how Fetch Rewards was born to simplify things for the shopper. Just scan your receipts, and the app will do the rest for you.
Fetch Rewards is available only as a mobile app, and there is no other way to participate.
Company video Fetch Rewards App: More Brands. More Rewards
How Do You Sign Up for Fetch Rewards?
To sign up download the Fetch Rewards mobile app for free in the App Store or Google Play store.
Use code 3D7FF during signup and receive 2000 Bonus Points on your first receipt.
How Do You Make Money With Fetch Rewards?
The process to earn points with Fetch Rewards is simple. Scan your grocery receipts wherever you shop. Earn points on thousands of products every time they appear on your receipt. And Redeem your points for your choice of hundreds of available rewards.
Purchase any Participating Product
Fetch Rewards was born from the idea that you should be able to get rewards from your shopping without clipping coupons. With the Fetch Rewards app, you earn points by shopping as usual and scanning the receipts you get.
That is it.
If you have any participating brands on your receipt, you'll get points based on the price of the products.
Purchase a Special Offer Product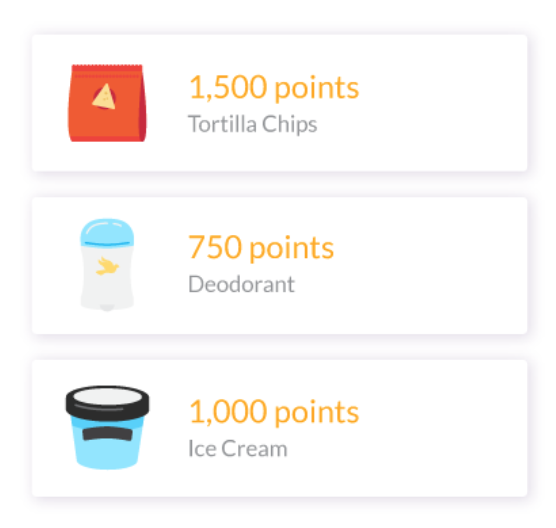 The App has a selection of special offers, allowing you to earn bonus points on top of the regular points you earn with participating brands.
You don't have to do anything extra for this. If you buy these special offers, you'll get the extra points. You can take a look at the offers beforehand and purposely purchase them to earn the extra points. But the only thing you have to do is to scan the receipt.
Refer a Friend or Family Member
Fetch Rewards has an affiliate program that awards you and your friend points when you share your code. As of this writing, if you share your code with a friend, you'll both get 2,000 bonus points.
The good news is that there is no limit to the number of referral bonuses you can earn. Refer everyone you know and watch the points come rolling in.
You can use my code 3D7FF to get your first bonus points.
Which Retailers are Currently Accepted for eReceipts?
As of this writing, the help section of the Fetch Rewards website shows the following retailers:
Amazon

Only normal Amazon and Amazon Prime orders are supported

Amazon Subscribe & Save, Amazon Prime Now, Amazon Pantry, Amazon Fresh, and Amazon Pantry Fresh orders will not work

Bjs.com
Boxed
Chewy.com
Costco.com
CVS.com
Foodlion.com
Freshdirect.com
HEB Curbside
HEB.com
Instacart.com
Jet.com
LowesFoods.com
Meijer Home Delivery
Peapod.com
Petco.com
RideAid.com
Samsclub.com

Does not include Sam's Scan-and-Go purchases

Shipt.com
ShopRite From Home
Target.com
Thrive Market.com
Ulta.com
Walgreens.com
Walmart.com

Does not include Walmart Pay purchases

Wegmans.com
Weis2go
eReceipts from the following meal delivery services are also able to be processed for 5 points:
UberEats
GrubHub
Doordash
Caviar
Delivery
Seamless
Waitr
How Many Receipts Can You Submit Per Week?
There is a limit on how many receipts you can scan per week. Over a rolling 7 day period, up to 28 receipts can be scanned.
According to the help section of the website, you can still get credit for special offers products.
"If you reach that limit and are waiting to scan a receipt with a product that qualifies for a special offer which is about to expire, you can still complete that offer when you scan the receipt, as long as the checkout date of the receipt is within the time frame of the offer."
What Type of Retailers Qualify for Rewards?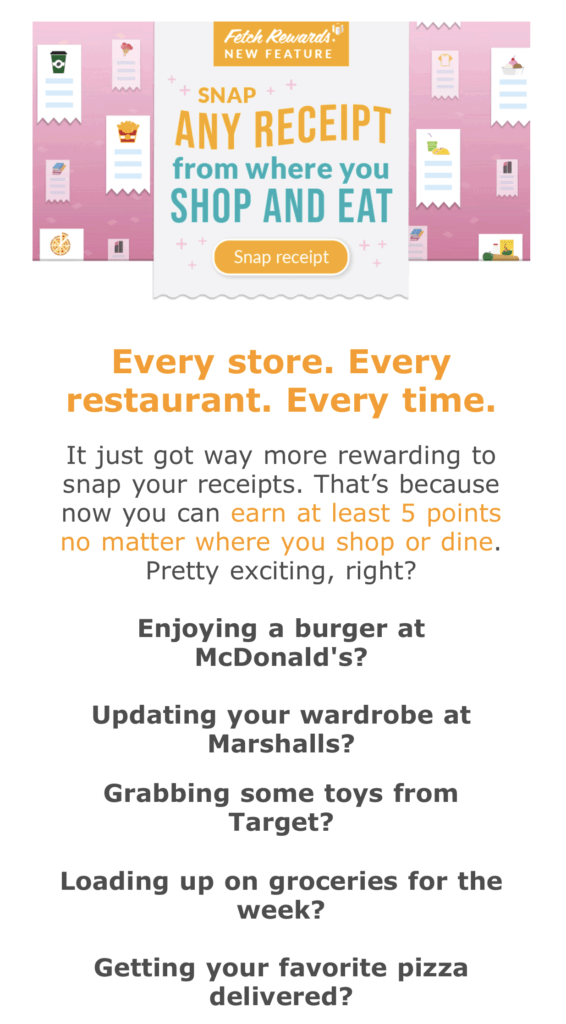 As of recently, Fetch Rewards was only accepting receipts from the following types of core retailers:
Grocery retailers
Supermarkets
Club wholesalers
Home improvement/hardware stores
Pet stores
Liquor stores
Convenience stores
Gas station receipts from the inside register
As of June 12, 2020, the app accepts receipts from every store and restaurant.
Although they now accept all receipts, bear in mind though that, Regardless of the receipt you scan, in order to receive points for partner products, the receipt must show an itemized list of what was bought to confirm your purchase.
How Much Can You Earn?
I know you understand that you will not be able to quit your job scanning receipts.
How many points you can earn depends on how many receipts you submit, limited to 28 receipts per 7 day period (see above.) Everything being equal, you will earn more points the more special offers you purchase.
For core retailers (see above), you will earn a base of 25 points (or 2.5 cents) for each successful scan plus any additional bonus points if a partner product is listed as being purchased on that receipt.
For any other shopping or dining receipts from retailers that do not fall into one of the core categories listed above, you will receive 5 base points (or 0.5 cents) for a successful scan plus any additional bonus points if a partner product is listed as being purchased on that receipt.
Tips for Scanning Receipts
Scanning your receipts is very easy. Open your Fetch Rewards app, go to the Activity or Discover tab, and click the orange circle with the white outline of a camera. Then, frame your receipt, touch the screen to focus if needed, and click submit.
Here are some tips that will help with successful scans:
Make sure the receipt is not stained, smudged, nor crinkled and is laying flat
Line up the edges of the receipt with the guidelines shown on your screen
Make sure to scan the whole receipt -It needs to show store name or logo, checkout date/time, and total amount paid.
If the receipt is too long and can not be captured in a single picture, use the Add section button to take additional photos for the scan (but no more than two.)
The video below shows receipt scanning best practices.
Do Points Expire?
Yes. If an account is inactive for 90 days, the points earned on the account will expire. Inactive status means there have been no finished receipts scanned onto the account within that time period.
Fetch will notify users via the email address on the account before their points are expired.
My Experience with Fetch Rewards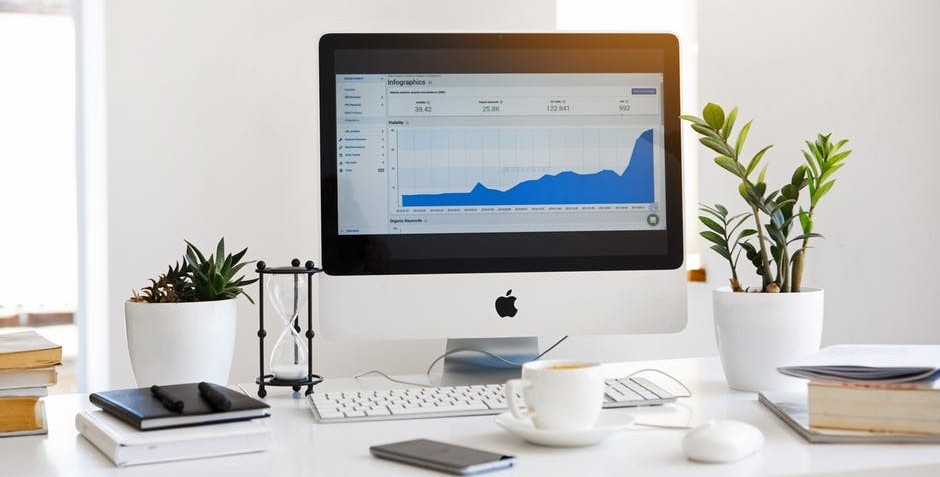 How Much Money Have I Made With Fetch Rewards?
I have made $17.21 (17,210 points) so far with Fetch Rewards. This screenshot below is proof of my current earnings. I will update this section as earnings increase. [Updated Decembe 1, 2020]
Every blog post I write is based on many hours of research. I also like to test every side hustle I review when possible. You may also want to see how much money I have made from the beginning. And may also want to take a look at the quarterly income reports.
Ratings and Conclusion
| | | | | | |
| --- | --- | --- | --- | --- | --- |
| Overall Rating for Fetch Rewards | ★ | ★ | – | – | – |
Just like with similar Apps, CoinOut and ReceiptPal although you can't make a lot of money with this app, it takes very little time. You only have to get into the habit of scanning the receipts before you toss them, and easily make a few dollars per month.
If you combine this app with other receipt apps, you'll earn even more with the same receipts. My overall rating for Fetch Rewards is 2 stars out of 5.
👍 PROS
➤ You can scan any receipt
➤ The scanning process is easy
➤ Low cash out amount ($3 for E-Giftcard)

👎 CONS
➤ Average cashback per receipt is low
➤ It does not pay cash
➤ It will not generate significant money for my 2020 income goals
---

My #1 recommendation is Wealthy Affiliate. I joined Wealthy Affiliate in September 2019, and I'm thrilled that I made that decision.
As a beginner entrepreneur, it is hard not to get distracted with multiple priorities. The Online Entrepreneur Certification offered by Wealthy Affiliate makes you stay focus by taking you step by step through a total of 50 lessons as you complete your website within your chosen niche.
Let me assure you that Wealthy Affiliate is not a shady online program. I would not be a member of a scam and would not recommend it if I thought it was not legit.
---
📖 Please leave a comment below and let me know what you think.