Welcome to the second Finance Notebook Income Report! In this post, I will talk about how much income I have made for the second quarter of 2020 and how I made that income. I will also go over the short-term strategy to boost income in 2021 and beyond.
A Little Bit of Background
In the summer of 2019, I decided to retire from my main occupation. I have worked in banking for the past 30 years, mostly in audit and compliance roles. Instead of just retired, I decided to build this website and start earning money as an entrepreneur.
Take a look at the Rules and Goals of Finance Notebook to read about the overall objectives.
You may also want to see how much money I have made from the beginning.
Why I Disclose the Income I Make
I think it was Napoleon Hill, who said, "A goal is a dream with a deadline." Without a deadline, a dream is just a series of thoughts, images, and sensations (Wikipedia). We need to act on those dreams to make them real.
To make my dreams real, I have set annual goals and will document my progress in these quarterly Income Reports.
You may be thinking that I publish these income reports to brag, but that's not the case because I am not making a lot of money yet. I think what is important is not how much money I make, but whether I am accomplishing my goals.
Eventually, I am hoping that with hard work and a lot of determination, I can continue to meet those goals and maybe go above and beyond those goals.
I am hoping that over time this will become a roadmap for people who want to become entrepreneurs and other than want to earn additional money.
Finance Notebook Income for 2020 Second Quarter
I am very happy to report that the total income earned for the second quarter of 2020 is $1,426.81. I am ahead of the game to achieve the income goal for 2020 of $5,000. Year to date I have earned $3,106.24. You can see the breakdown for the second quarter by sources of revenue on the table below. You can also see the earnings for the 2020 first quarter here.
It was a busy quarter working on 13 apps, continuing writing blog posts for Finance Notebook, and creating Youtube videos. I have also started a new blog; more on that below.
You can read individual blog posts by clicking each link within the source of income column.
To clarify, the figures above represent income earned, but not all cash has been received, for two reasons:
1) For some of the new apps I have tested, I have not reached the minimum to get paid, and
2) For other apps, I may have requested the money at the end of the quarter and have not received it yet.
The overall income goal for 2020 is $5,000. That means I needed to make at least $2,500 by June 30th. I clearly met my goal since I have made $3,106.24.
I am not too concern about the progress of individual months, as long as the average is on target quarter over quarter.
Cash Received Year-To-Date
Below is the income overview showing cash already in my business account. This is a screenshot from my Hurdlr app.
The Hurdlr app is an automatic business expense and mileage tracker app that keeps tabs of all of your income streams, expenses, and tax deductions in real-time, on the go. I am enjoying this app so far and recommend it to any entrepreneur.
As I mentioned above, the amount shown on the Hurdtr app (amount collected) will always slightly different from the amount earned.
Income From Gigs and Side Hustles–$1,426.81
Two apps have captured the spotlight for the second quarter: Field Agent, and Prolific. More than 85% ($1,251) of the income for the quarter came from these two apps.
Field Agent
I have made more than half (64%-$909) of the income for the quarter with Field Agent. Field Agent is an enjoyable and convenient app when I am doing errands, or I need a break from writing and want to leave the house. Here is an example of a day I made $53 coming back from doing an errand.
You can quickly become an agent and use the Field Agent app to complete retail audits, mystery shops, market research, and digital product demonstrations. To learn more about Field Agent, you can read this post I wrote.
I also made $73 from a similar App I also like, Gigwalk. Unfortunately, I don't see many jobs from Gigwalk in my area; otherwise, I would use it more.
I initially liked Observa as much as Field Agent and Gigwalk, but not anymore. Although I still think it is a good third option and pay very fast, I'm disappointed with some of their jobs. I haven't had a chance to complete many of them, and I'm hoping my opinion changes the more jobs I complete.
Overall I find these mystery shop types of apps very convenient to earn easy extra cash. Whenever I go out for any errands, I see if there are any jobs available close to where I am going. And I often find something, especially with Field Agent.
Prolific
Prolific was my second best performing platform ($341) of the quarter. If Field Agent is my best app when I am out and about, Prolific has been my go-to platform when I am at home.
With Prolific, you will complete surveys, games, or other types of studies about scientific research, new products, or public opinion. As you may know, my main business activity is writing blog posts and it can be a little tiring at times. So, I like to complete surveys as welcome brakes from writing blog posts.
I have the Prolific Assistant – Google Chrome extension, which lets me know when there is an available survey for me. If you want to use Prolific I would get the chrome extension –very useful.
It is hard to believe, I have completed over 340 surveys, and made $585 in six months. You can read my review of Prolific to learn more.
MTurk
I didn't use MTurk much this quarter, mainly because I find it easier to make comparable money with Prolific. I have only made $18.17 with MTurk this quarter, although I think, together with Prolific, it is a very good way to make extra cash when you are at home and have free time. You can read more in this MTurk post.
In general, as long as I can achieve my income goals, I will use the most convenient money-making opportunities I know. That said, I didn't need MTurk this quarter, but I may need it another quarter. MTurk is good to have in your back pocket.
Other Survey Platforms
I have continued to use some other survey platforms in the second quarter, but I am not too excited about them. Ultimately, I am trying to identify ways of making as much money as possible per hour of my time. You may want to use these platforms below if you are desperate to make extra money and can't make it any other way.
YouGov: I have made $32.85 since I started with them and I am essentially waiting to reach enough points to get a bank transfer, which is 67,500 points for $50 or 100,000 points for $100. I want to wait because I don't like to get gift cards, I like cash, but YouGov, like these other platforms below, are not worth my time or yours. You can read my YouGov blog post here.
PaidViewpoint: I'd love to hear your opinion on PaidViewpoint. I have made $14.89 and can't wait to reach $15 to cash out and say goodbye to PaidViewpoint. I have been with them since November 21, 2019, and have received only two surveys and a bunch of nonsensical trait surveys that pay 10 cents. Why does Survey Police have PaidViewpoint as the top survey site? Please let me know if you have an answer to this.
Swagbucks: Although Swagbucks has many good reviews out there, I think these reviews are not sincere. Bloggers are saying that Swagbucks is amazing to earn commissions through their affiliate income. I could not make $2 per hour with them and had many, many screenouts. I made $1.45 only to reach the minimum amount to cash out and say goodbye. You can read my review of Swagbucks here.
Survey Junkie: I carried 4 cents into the second quarter. I think Survey Junkie is better than PaidViewpoint and Swagbucks, but barely worth your time. You can read more here.
Receipt Apps
This quarter I started testing three receipt apps. They all work very similarly. They give you rewards for scanning and submitting receipts. These are apps that give you little money for minimal effort. If you use them all to submit the same receipt, you could make $50 to $100 in a year.
I know you are probably thinking, why bother? Well, they take very little time, so it may be worth it for some people. You may accumulate enough for a Chrismas present, but don't quit your job.
Fetch Rewards: I have made $6.84 with Fetch Rewards. To learn more, you can read my blog post.
Coinout: I have made $4.81 with the Coinout app. To learn more, you can read my blog post.
ReceiptPal: I have made $11.74 with ReceiptPal. To learn more, you can read my blog post.
Finance Notebook–Blog Progress
I completed 12 blog posts in the second quarter, a total of 21,000 words. There is still very little traffic coming to the blog at this point, but this is not a surprise. I have 25 blog posts, and most websites, if they are lucky, start seeing some traffic after a year and over 50 blog posts published.
My website is in the "money-making" niche, which is very competitive, and I am not doing any social media marketing. So I may have to wait a couple of years until I see some traffic.
I am not worried about getting traffic as long as I enjoy the journey and learn from it. I think visitors will eventually come if I can help them.

Below is the Google Analytics Chart for the second quarter. As you can see, I get about two users per day. Although it is nothing to brag about, it almost doubled the number of users I received in the first quarter. I don't expect any income until at least two years, and it is later than that, it's fine also. I will have to find other income sources.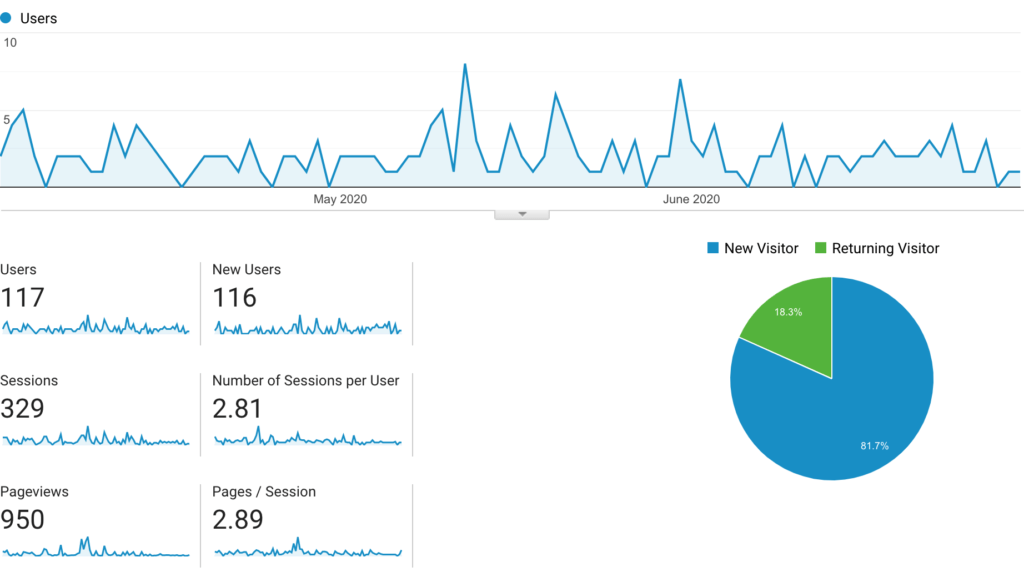 Finance Notebook-Youtube Channel Progress
In addition to publishing one blog post per week, the goal is to also publish one Youtube video per week. There are currently 25 videos and 6 subscribers (haha, I lost one subscriber in one quarter). The Youtube Channel is very young and it takes time to get traction.
Just like with the blog, I am in no hurry to be discovered. I am happy with improvements quarter after quarter. I have received 526 unique views in three months compared to about 300 views last quarter. You may want to subscribe to the Youtube Channel.
Blogging Strategy
In addition to continuing looking for side hustles that provide additional money and documenting them in Finance Notebook, the second half of 2020, I will be busy building a new site in the home improvement niche I started in May 2020. A blog about the new house my wife and I built in Lewes, Delaware.
Why writing a blog?
I am very convinced that blogging will be my most profitable income activity in the long run. Unlike the money-making opportunities I listed above that pay you money fast, blogging takes time, a lot of time. We already see that with Finance Notebook.
Most people don't have the patience blogging requires.
It is a well-known fact that it typically takes over a year of consistent writing to see some traffic coming to your website. Especially if you rely only on Search Engine Optimization Techniques (SEO). How much traffic can you get depends on too many factors beyond this post's scope.
Why writing a blog about my house?
The first thing you need to do before you think of a domain name is to find a niche. Finding a niche is more an art than a science, and ultimately only you know what the right niche for you is. I feel that our new house will be a source of many blog post ideas (maintenance, repairs, etc.) emanating from the many questions I have about the house.
Aggressive One-Year Goal
My aggressive goal is to write three articles and create three videos per week for the new website. If I do this, I will have 150 articles and 150 videos by May 2021. With 300 pieces of content, I hope to have some traffic by the second half of 2021, which I should be able to monetize and start earning money to help with the 2021 income goals.
In addition to taking care of the new website, I will continue to write one article and create one video per week for Finance Notebook.
To get four blog posts and four videos published per week while I also test some side hustles, I will need some help. To that end, a significant portion of what I earn will be used to hire writers through the IWriter platform. I recently wrote a blog post explaining what I am doing with the money I make every month.
Video Summary of Second Quarter 2020 Report
Let's wrap up with a quick summary video I have created. If you like this video, consider subscribing to the Finance Notebook Youtube Channel.
Final Thoughts
In the end, the success of my entrepreneurial activities will depend on how much and how well I am helping you, my audience. I hope that with time, I learn how to accomplish this. I am willing to go through all the necessary ups and downs to get to the final results.
Thank you for reading.
---

My #1 recommendation is Wealthy Affiliate. I joined Wealthy Affiliate in September 2019, and I'm thrilled that I made that decision.
As a beginner entrepreneur, it is hard not to get distracted with multiple priorities. The Online Entrepreneur Certification offered by Wealthy Affiliate makes you stay focus by taking you step by step through a total of 50 lessons as you complete your website within your chosen niche.
Let me assure you that Wealthy Affiliate is not a shady online program. I would not be a member of a scam and would not recommend it if I thought it was not legit.
---