PrizeRebel is a legit and popular GPT (get-paid-to) rewards website where members receive points for completing various tasks in exchange for gift cards and Paypal cash.
PrizeRebel is a legit company that has a large inventory of surveys and tasks to earn points. But in my experience, it is hard to average more than $2 per hour of work.
What is PrizeRebel?
PrizeRebel is a lead generation and market research company owned by iAngelic Inc. I couldn't find a lot of information on the company since PrizeRebel.com doesn't have an "about us" page.
Information on the IAngelic.com website has not been updated since 2014 but contains an "about us" page. Based on this website, the company was founded in 2007 and can "reach panelists across any demographic from North, Central and South America, Europe, Africa, and Asia Pacific."
Do Million of Users Trust PrizeRebel? Company Video.
There are two important pieces of information in this 2015 video from PrizeRebel :
5.5 Million users trust PrizeRebel
Over $6 million have been paid out to these users
If this is true, we can draw some conclusions that are not too positive for PrizeRebel as of 2015:
On average, each user has earned $1.09 ($6million/5.5 million users).
Since there is a $2 minimum required to redeem the rewards, at least 2.5 million users have not been paid. Why, because $6 million divided by $2 equals 3 million (maximum number of users who could have potentially reached the minimum).
I am not a math major, but based on these numbers, I wouldn't say that 5.5 million users trust PrizeRebel. What I would say is that more than likely, the vast majority of these users have not received any money from PrizeRebel.
However, these numbers have increased based on information on the main page of their website, which I captured below. Now they have over 10 million users, and $20 million has been paid out to those users.
If this is true, the number of users has almost double and the amount paid to users more than triple in 5 years, which is impressive.
These current numbers also mean that, on average, the amount each user earns has increased from $1.09 in 2015 to $2.00 ($20 million/10 million users) in 2020. This is a positive trend for users of PrizeRebel.

Although this average calculation is an interesting statistic, it is not very useful because most people sign up for this type of survey platform and never use it.
What is important is to know is how much those members get paid per hour of their time on average. Read more below under How Much Money Can You Make With PrizeRebel.
Is PrizeRebel Legit?
PrizeRebel is a well-established company with over 12 years of history. I have no doubts that the company is legit. I have received a transfer payment from them into my Paypal account with no problems.
Ways to get Money with PrizeRebel
In this is a video, PrizeRebel shows the "Best Ways to Earn Points with PrizeRebel"
This guide Get Started on PrizeRebel: How to Earn Points lists the main ways to earn points with PrizeRebel:
Following PrizeRebel on Social Media: You can follow PrizeRebel on Facebook/ Twitter/ Instagram/ for contests and promo codes.
Offers: Offers usually involve completing a specific action on another site such as clicking on a banner on another site and signing up for the site.
Videos: you can get paid to watch videos, which include ads.
Paid Surveys: Surveys are probably the most popular way to earn points on Prizerebel. Most surveys are conducted by market researchers who want your opinions on a subject they are testing. These are some of the third-party survey companies PrizeRebel uses:

Samplicio
Yuno
OpinionWorld
MarketCube
Peanut Labs
Toluna
Tap Research
Innovate
Cint

Mobile vs. Desktop or Laptop Task Completion
PrizeRebel doesn't have a mobile app, but the website is mobile friendly. I couldn't find specific restriction on completing surveys with a smart phone, but I would expect that some surveys need to be completed on a computer or laptop, as is the case with most other platforms.
How Can You Sign up for PrizeRebel?
Based on PrizeRebel Terms of Use, last updated on July 5, 2018, users must be 18 years old and above OR 16 years to 18 years old with parental permission.
I couldn't find any country restriction. It appears that the majority of survey opportunities are only available to members residing in the US, UK, Canada, and Australia.
But you can still use PrizeRebel in other countries to receive different rewards included in offer walls, tasks, daily points, and gaining referrals.
To sign up, go to their registration page and complete the requested information. You can create an account easily using your Facebook account or with your email.
How Much Money can you Make With PrizeRebel?
For most git cards and Paypal, 100 points equals $1.00. PrizeRebel typically shows the time to complete the survey and the number of points you will earn. As an example, this is what I saw today under the "Your Surveys" page of my account.
It is easy to calculate the estimated amount I would earn per hour of work for these surveys. Let's break it down in the table below.
| | | | |
| --- | --- | --- | --- |
| Survey | Time to Complete | Points | Earnings Per Hour |
| Survey#22303517 | 14 min | 67 | $2.9 |
| Survey#22308276 | 18 min | 84 | $2.8 |
| Survey#22304072 | 32 min | 42 | $0.8 |
| Survey#22202593 | 12 min | 58 | $2.9 |
| Total | 76 min | 251 | $2.0 |
As you can see, on average, I would make $2.00 per hour of my time. But this does not include the time wasted because of screen-outs. This is because you sometimes do not qualify for some of these surveys.
In my experience, after I account for screen-outs, I believe I have made about $1.5 per hour of my time.
I noticed that the screen-outs are more frequent when I tried to complete the better-paid surveys. These are some examples I tried yesterday.
I tried to complete the survey below because it paid $1.29 for 13 minutes of my time. That's almost $6 per hour, which is as good as it gets with PrizeRebel. I clicked "GO".
This is the first screen I received. So, I answered a few questions.
Then I get this screen and I am all excited. I may not be screened out after all. So, I answered a few more questions.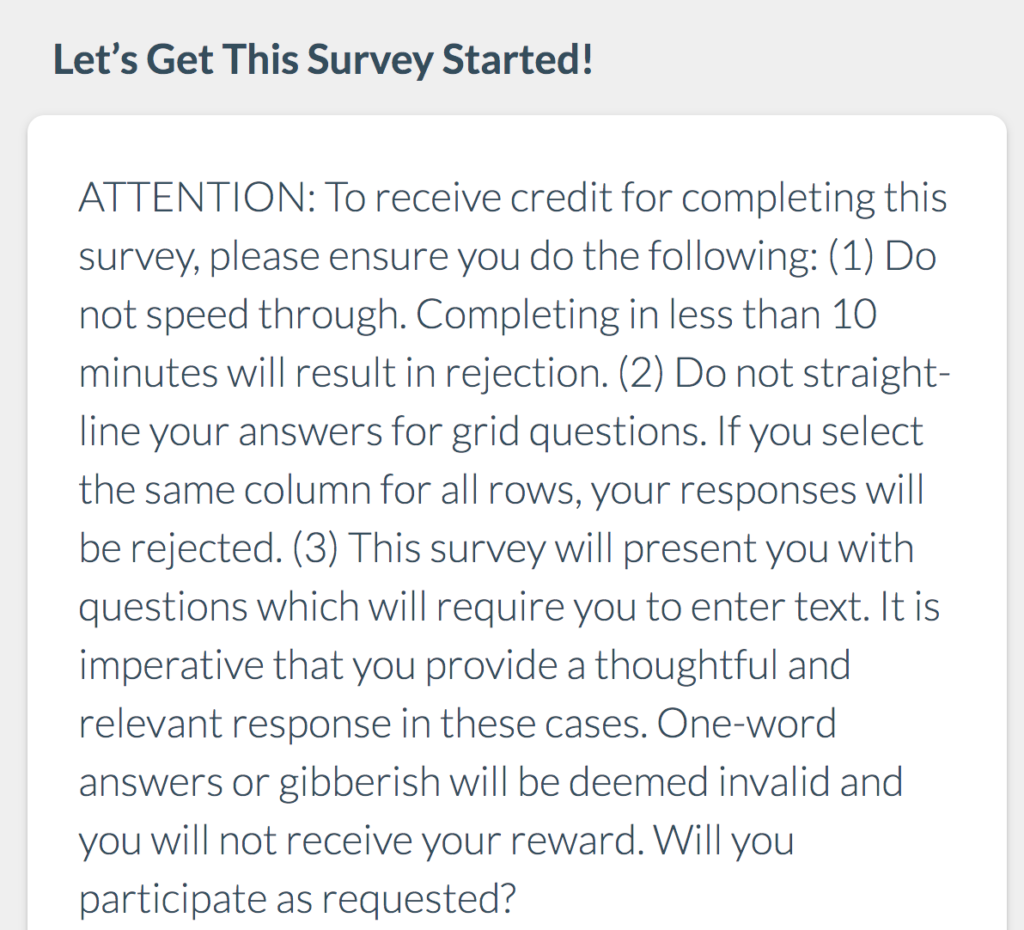 After about 5 minutes of answering various questions, I get this. You may think that this is unusual. It is not. This is very typical.
But, I continued because I was determined to complete a survey that paid more than $2 per hour. I tried to complete the survey below because again, it paid $1.29 for 15 minutes of my time. That's about $5 per hour. Good price for PrizeRebel. I clicked "GO."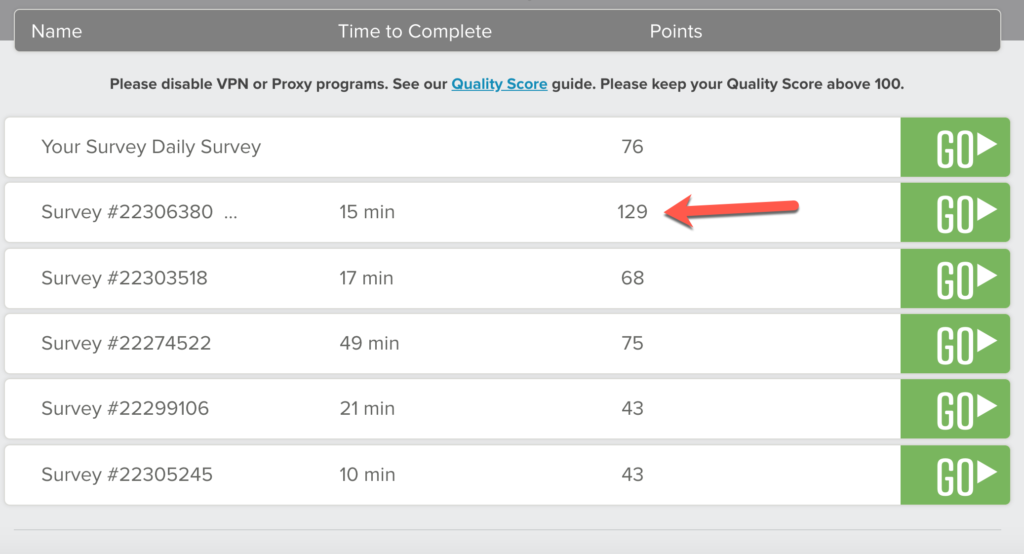 This is the first screen I received. So, I answered a few questions.

Then I get this screen and I am all excited again. I may not be screened out after all. So, I answered a few more questions.

After about 5 minutes of answering various questions, I get this screen again. At this point, I stopped because I wasted about 15 minutes of my time trying to qualify for the better-paid surveys.
The best approach, based on my experience, is to complete the low-pay surveys and try to make $2 per hour of work. The good news is that PrizeRebel seems to have a lot of surveys available.
So, if you are willing to get paid $2 per hour, you may have enough work to keep you busy the whole day.
Let's compare PrizeRebel with YouGov, Prolific, and MTurk by looking at three surveys I have completed recently. The comparison is based on the reward and estimated completion time provided by each platform. Based on these examples below, I made:
| | | |
| --- | --- | --- |
| Survey Platform | Amount per Hour of work | USA federal minimum wage |
| PrizeRebel | $2.0 | $7.5 |
| YouGov | $3.0 | $7.5 |
| Prolific | $7.5 | $7.5 |
| Mturk | $7.2 | $7.5 |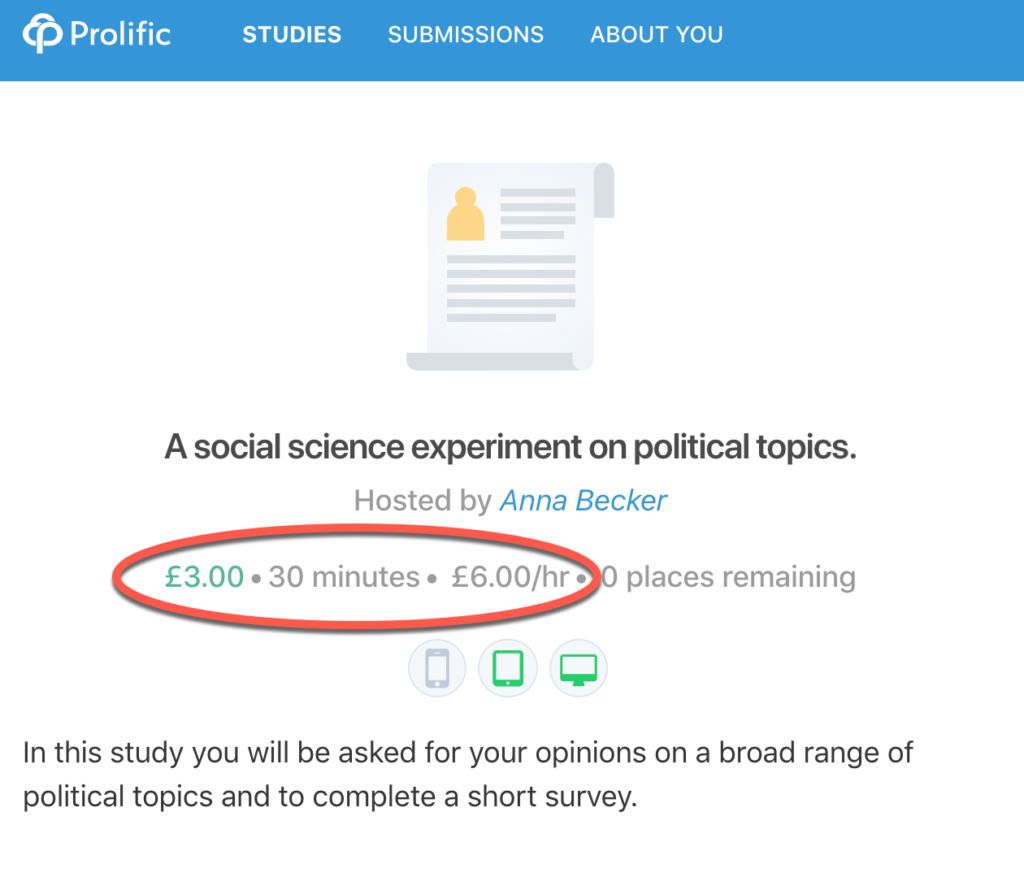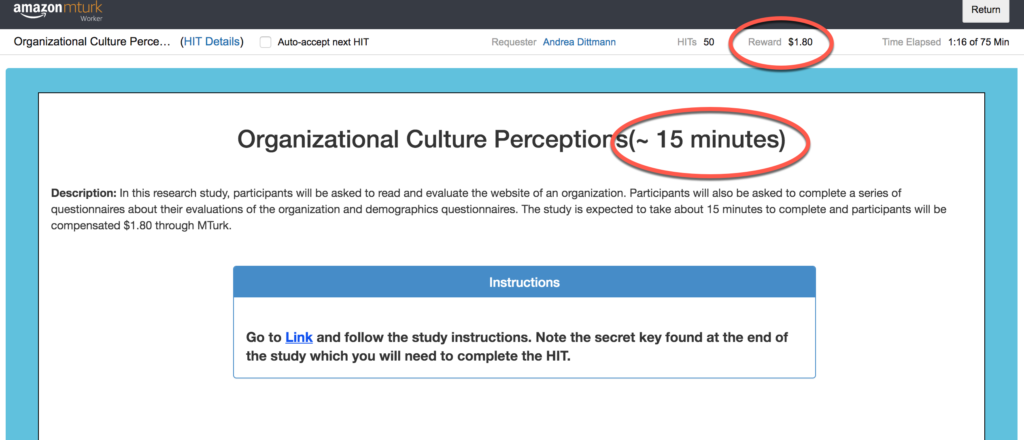 How do you get Paid?
PrizeRebel has a very extensive Rewards catalog offering Paypal cash and most gift cards you can think of.
The minimum payout amount is $2 (200 points). There are currently two choices for this amount, Amazon and App Store & Itunes gift cards.
Most other gift cards and Paypal cash are available for $5 (500 points). These are just some examples.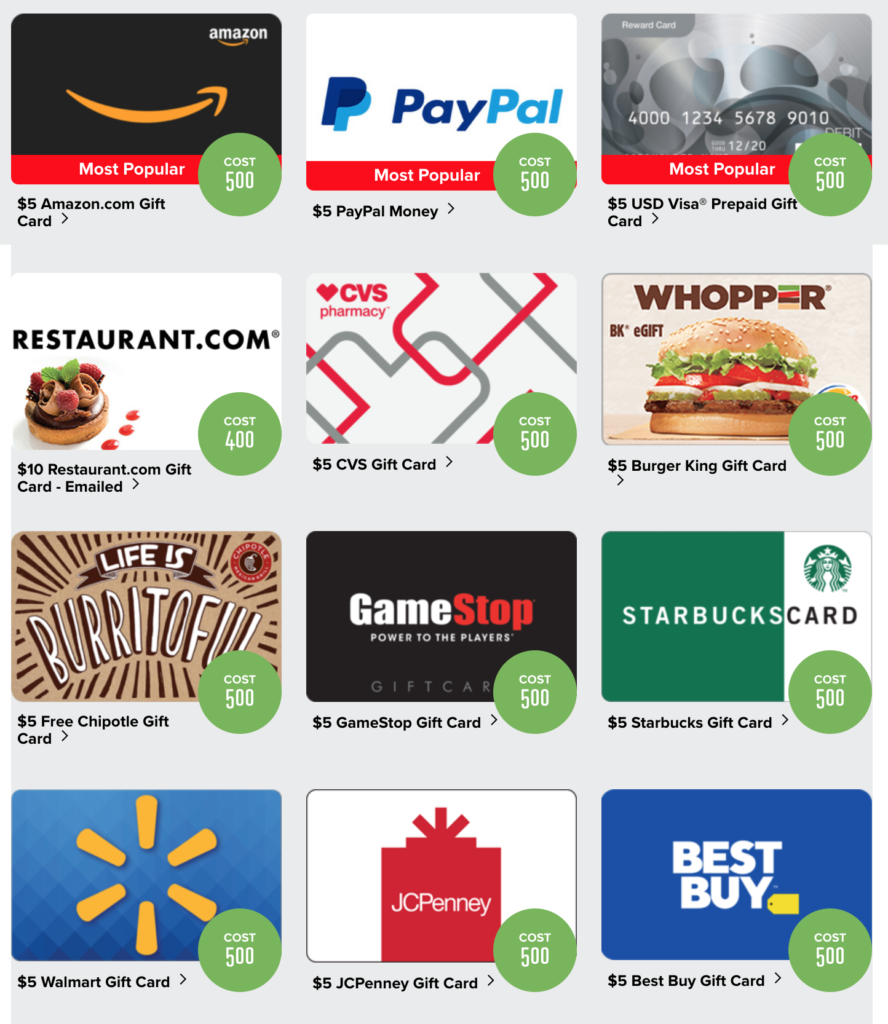 I requested my reimbursement via Paypal custom amount to withdraw all my balance ($18.31). I noticed a concerning note at the bottom of the screen: "Please Note: Due to an increasingly high amount of PayPal claims, there is currently a 2 claim per day(s) limit."
Wait, what!!? You have 10 million users and you can only process 2 PayPal claims per day? That's not good. I will let you know how long it takes to receive this money. I don't like gift cards. I work for money.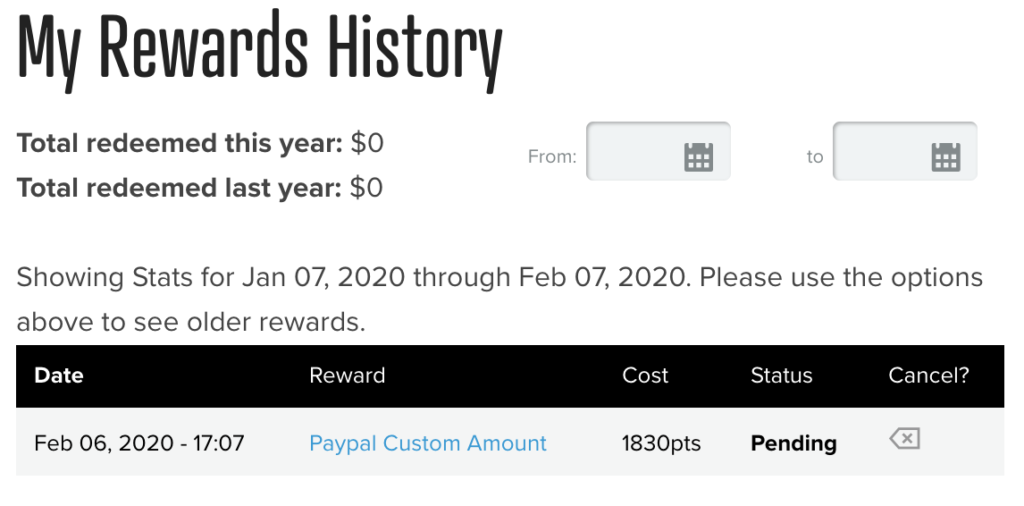 I actually received the payment on my Paypal account promptly the next day. So, I don't know what that note about two Paypal claims per day means. I have a hard time to believe only two people, including me, claimed a Paypal payment on Feb 7, 2020, out of 10 million users. Anyhow, here is the proof.
Does PrizeRebel Have an Affiliate Program?
PrizeRebel has an attractive affiliate program. According to PrizeRebel, their referral program is the best in the business.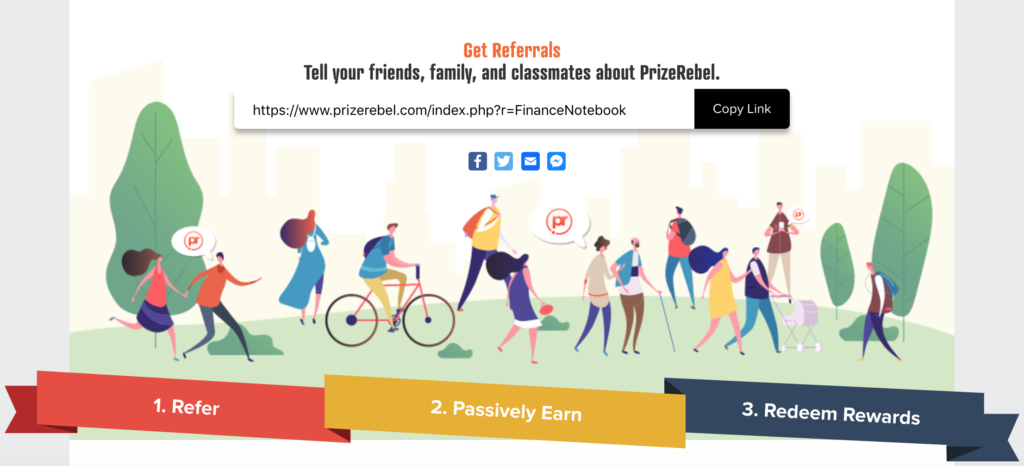 Your referral percentage is based on your account level, which is based on the points you have accumulated. For example, since I have accumulated 1831 points, my account level is Silver. That is, I would make 20% of what my referrals make for life.
This is PrizeRebel Referral Program Guide Video
My Experience with PrizeRebel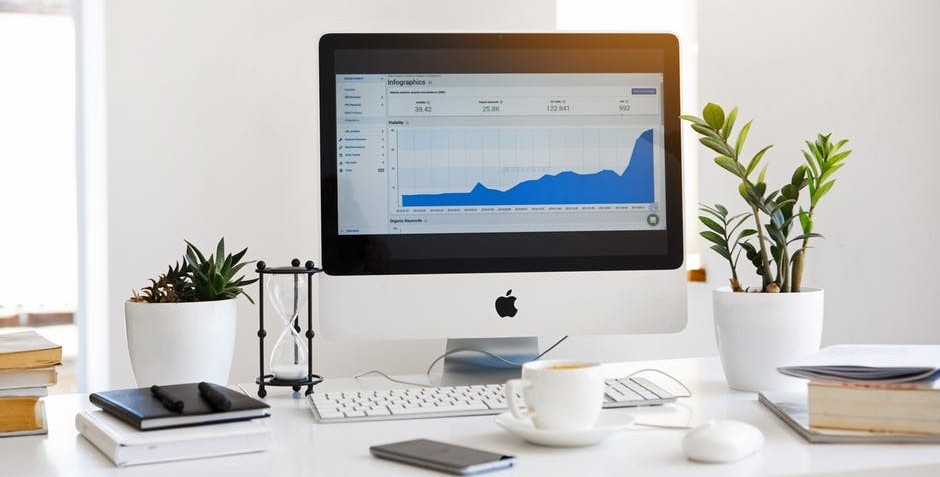 How Much Money Have I Made With PrizeRebel?
I have made $19.86 so far with PrizeRebel. This screenshot below is proof of my current earnings. I will update this section as earnings increase. [Updated April 1, 2020]
Every blog post I write is based on many hours of research. I also like to test every side hustle I review when possible. You may also want to see how much money I have made from the beginning. And may also want to take a look at the quarterly income reports.
Video Summary of PrizeRebel
Let's wrap up with a quick summary video I have created. If you like this video, consider subscribing to the Finance Notebook Youtube Channel.
Ratings and Conclusion
| | | | | | |
| --- | --- | --- | --- | --- | --- |
| Overall Rating for PrizeRebel | ★ | ★ | – | – | – |
The amount of money you will earn per hour with PrizeRebel is lower than what you will make with comparable sites, such as Prolific or MTurk.
You are also likely to get screened out of surveys often, which is annoying.
On the plus side, PrizeRebel seems to have a large inventory of available surveys and other tasks, which pretty much guarantees that you will have something to do to earn some money at any given time.
It also has a well-designed and user-friendly interface. Due mainly to the low earnings per hour, my overall rating for PrizeRebel is 2 stars out of 5.
👍 PROS
➤ Cash payments available
➤ Low cash-out amount of 200 points ($2)
➤ Many surveys available
➤ Referral program available
👎 CONS
➤ Lots of screen-outs due to not qualifying for many surveys
➤ Low compensation per hour of work
➤ It will not generate significant money for my 2020 income goals
---

My #1 recommendation is Wealthy Affiliate. I joined Wealthy Affiliate in September 2019, and I'm thrilled that I made that decision.
As a beginner entrepreneur, it is hard not to get distracted with multiple priorities. The Online Entrepreneur Certification offered by Wealthy Affiliate makes you stay focus by taking you step by step through a total of 50 lessons as you complete your website within your chosen niche.
Let me assure you that Wealthy Affiliate is not a shady online program. I would not be a member of a scam and would not recommend it if I thought it was not legit.
---
📖 Please leave a comment below and let me know what you think.