Swagbucks claims to be the web's most popular rewards program platform. There is no doubt the company has millions of users, and many blogs out there list Swagbucks as number 1 among all get-paid-to programs.
And yet, based on my experience, you will not earn $2 per hour of your time. In this post, I try to answer why Swagbucks is so popular, paying so little.
What is Swagbucks?
Swagbucks is a platform where members can join for free and earn Swagbucks points (SBs) for completing various tasks on the web, such as watching videos or completing surveys.
Swagbucks is a subsidiary brand of Prodege, LLC. Its LinkedIn company profile describes Prodege, LLC as an internet and media company that is dedicated to "creating rewarding moments" for its members by rewarding them with more than $700 million in cash and free gift cards since inception.
The company was founded by Josef Gorowitz in 2005, Prodege is led by CEO and Chairman Chuck Davis, former CEO of Fandango and Shopzilla and is headquartered in El Segundo, CA.
Swagbucks is one of four consumer brands owned by Prodege. The other three are MyPoints, ShopAtHome, and InboxDollars.
According to their LinkedIn profile, these four consumer brands have rewarded their more than 100 million members worldwide over $700 million in cash and free gift cards since inception.
I love to calculate averages with these companies. If $700 million have been rewarded to 100 million members since inception. That means that on average, each member has earned $7 since inception.
This is not a lot of money per person, but no one can deny that the company is popular. More on how much you can earn with Swagbucks below.
Swagbucks Company video
This Swagbucks Company video shows us how to "Put cash back in your wallet".
The video says that you can put cash back in your wallet and earn points when you shop at your favorite retailers, watch entertaining videos, search the web, or answer surveys. I will go over my experience with some of these activities.
According to the video, Swagbucks has already given back over 100 million dollars in cash and free gift cards to its millions of happy members. I am currently one of the members, and I'm not happy. I'll go over that in a minute.
How Can You Sign up for Swagbucks?
Per Swagbucks' help center, any resident of the following countries who is above the age of 13 is eligible to redeem Rewards from Swagbucks.com:
The United States(and its territories)
Ireland
France
Germany
Australia
New Zealand
India
Canada
Spain
Portugal
United Kingdom
Joining Swagbucks is very easy. You simply signup by using your email or your Facebook account. Unlike most other survey platforms, Swagbucks doesn't ask you to complete a profile questionnaire.
This is not something positive because, without a personal profile, you will get redundant qualifying questions over and over—more on that below.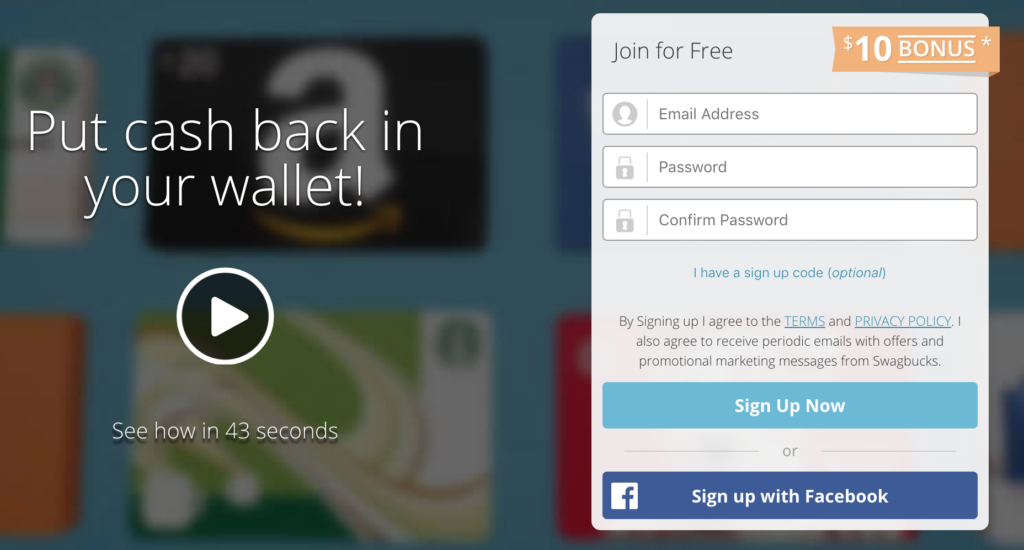 Ways to Earn Rewards with Swagbucks
Swagbucks offers several ways to earn points. These are some but not the only ways to earn reward points with Swagbucks.
Shopping online: at many retailers, including Amazon, Walmart, and Target. You'll earn 1% through 10% cashback when you shop through Swagbucks. You may also get points for printing and using coupons.
Taking surveys: earn SB points taking surveys you qualify for. You often don't qualify and may get 1-2 cents consolation price—more on that below.
Watching videos or visiting webpages: Swagbucks may pay you 1-2 cents when you watch several videos or visit several pages. The topics vary. If you enjoy the topics, then it may be worth it, but if you don't, you may spend 1 hour for 10 cents, and I think I am being generous. Even if you let them run in the background, as most people do, I don't feel it is worth it.
Playing games online: you earn some SB points when you spend money on the games.
You can also earn points by adding the SwagButton Chrome extension. There are additional ways to earn more SB points.
Mobile vs. Desktop or Laptop Task Completion
Swagbucks has a mobile app for IOS and Android to shop, complete surveys, and watch videos when you are not at home. Some surveys may require you to use a desktop or laptop.
How Much Money can you Make With Swagbucks?
One Swagbuck (SB) equals 1 cent. So, if you get 100 SB, you have earned $1. How much money you make per hour of your time varies by task.
It is easy to calculate an estimated amount I would earn per hour of work for these surveys. Let's break down the "Gold Surveys" I had available at a given time.
Based on the table below, if I am approved for every single survey and I complete them in the time Swagbucks estimated, I would make $2.4 per hour at best, which is not an acceptable hourly rate in my opinion.
If you read my experience completing Swagbucks surveys below, you would agree that the amount I made per hour is less than $2, considering the frequent screenouts.
Even for this type of tasks, I think we should try to make the US Federal minimum wage of $7.25 per hour.
| | | |
| --- | --- | --- |
| Time to Complete | Points | Earnings Per Hour |
| 25 | 147 | $3.5 |
| 10 | 50 | $3.0 |
| 20 | 100 | $3.0 |
| 30 | 70 | $1.4 |
| 12 | 50 | $2.5 |
| 5 | 50 | $6.0 |
| 6 | 25 | $2.5 |
| 7 | 13 | $1.1 |
| 10 | 28 | $1.7 |
| 12 | 20 | $1.0 |
| 137 | 553 | $2.4 |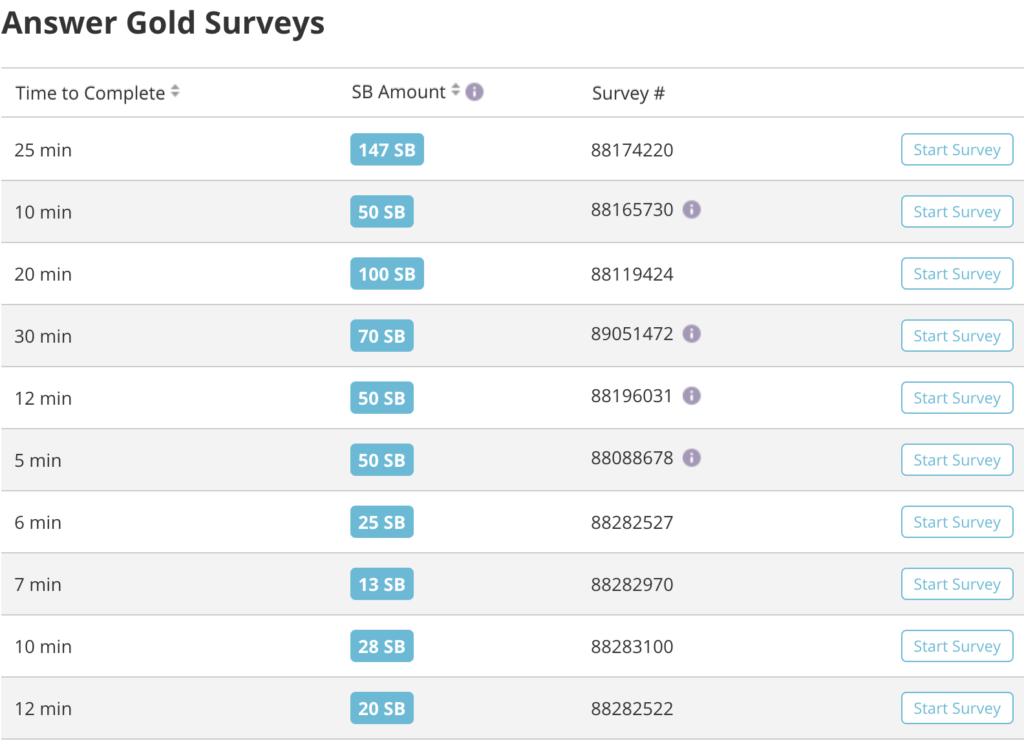 A Couple of Hours Completing Swagbucks Surveys
I completed some Swagbucks tasks, mostly surveys a few weeks ago, and got tired of it after I made a little over $3. Today I want to get to $5 so that I can redeem the $5 Paypal cash.
Here we go! Wish me luck.
I attempted my first survey. A limited time bonus survey paying a total of 53 cents for 6 minutes. That is $5.3 per hour, which is not bad for a survey.
Too bad I didn't qualify. After spending 3 minutes answering repetitive and redundant qualifying questions, I get the following message. They gave me 5 SB for my effort. So, 5 cents for 3 minutes translates into $1 per hour. Moving on to attempt #2.

I start my second survey. Another limited time bonus survey paying a total of 113 cents (75 SB + 38 SB bonus) for 15 minutes. That is $4.52 per hour, which is not amazing, but not too bad for a survey.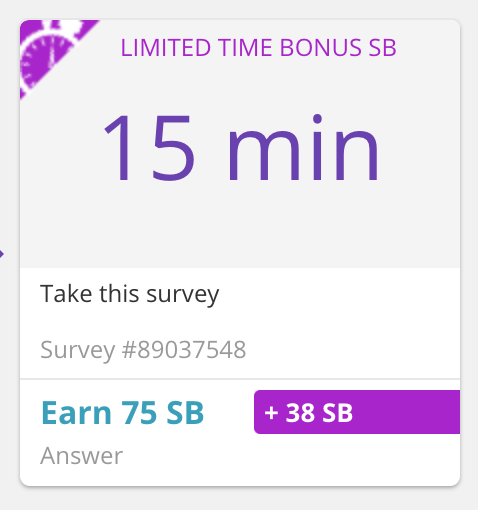 I got excited because it looked like after a couple of qualifying questions, which were almost identical to the prior attempt, I got to the beginning of the survey.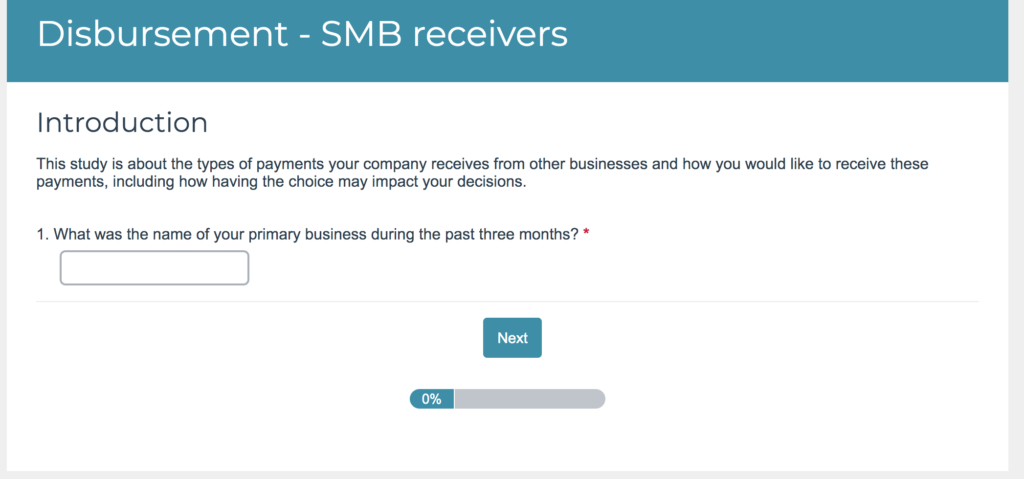 I went over an additional 3 minutes of specific questions and received another "Not every survey is a winner message." Again I get 5 SB for my effort, but it took at least 5 minutes this time. So, 5 cents for 5 minutes translates into $0.6 per hour.

I don't give up easily. I have accumulated 361 SB ($3.61). I want to make enough to get the $5 Paypal cash. So, I will continue until I get there.
I decided to attempt the surveys that are trending now because I haven't been lucky with the "Limited Time Bonus SB" surveys. I chose the first one. It claims 48 cents (32 SB + 16 SB bonus) for 17 minutes. That is $1.41 per hour, which is a ridiculously low amount.
And what is sad is that it's trending, which means most people in Swagbucks are ok making $1.41 per hour. I am desperate; just trying to see if I qualify for one 🙁
I finally qualified for one survey, although I made a ridiculously low amount per hour. I now have $4.14 on my account. I need 86 more cents to get to the $5 goal and it has been painful so far. Let's finish this up.
At this point, I wanted to take short cuts by watching videos and browsing through page ads for 1 or 2 cents. LOL! I did one and took about 10 minutes of viewing time for 1 cent! I am not going to calculate the per hour compensation here because I may pop a vein.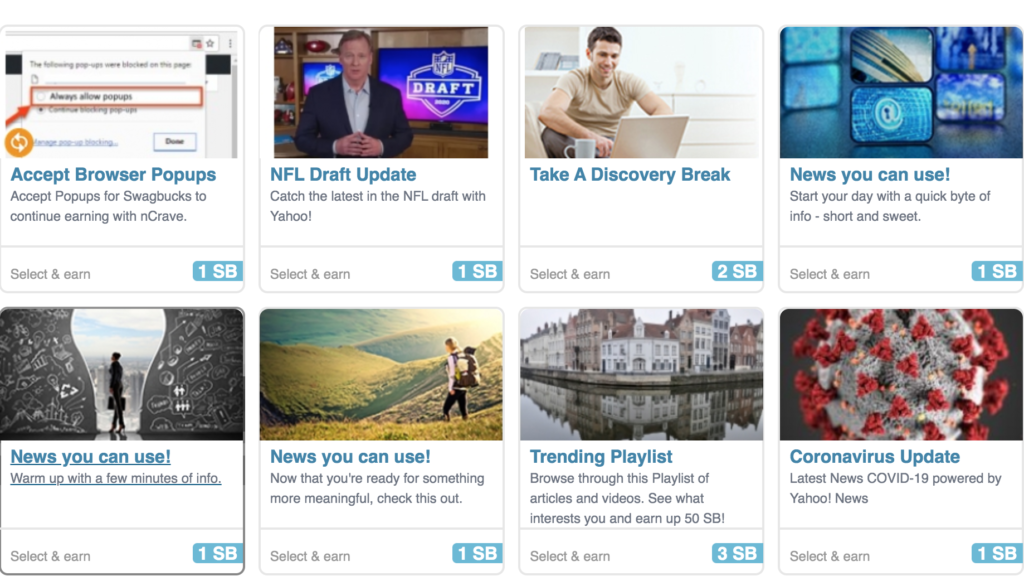 This is the log of my last activity to reach the $5. I needed a few more cents, so I added the SwagButton Chrome extension, for which I think I received 25 cents. This has been a painful day.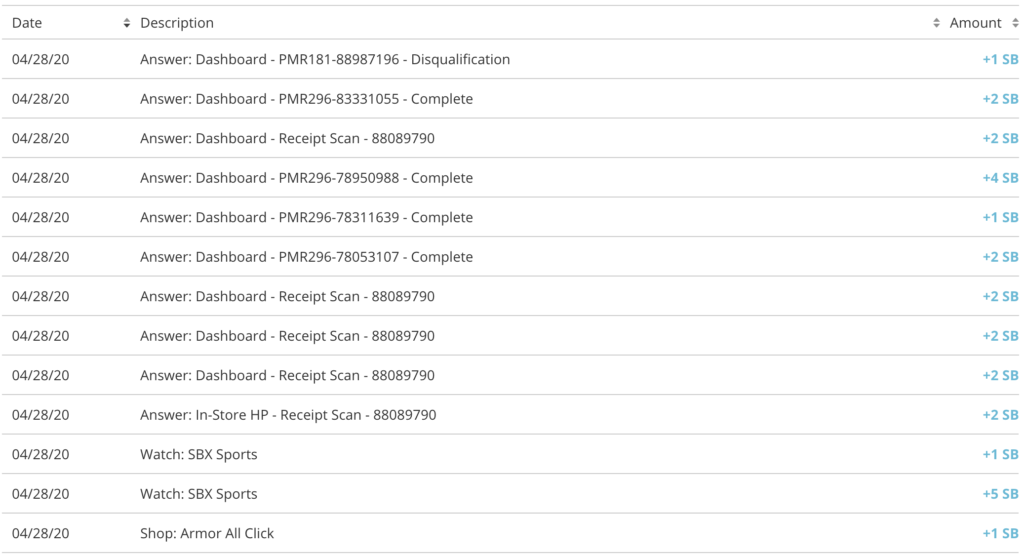 A Clear Alternative to Swagbucks
Let's compare Swagbucks with Prolific, by looking at two surveys I completed today while I was messing around with Swagbucks.
The comparison is mind blogging.
Both surveys had the same hourly rate, £9.53/hour, which is about $11.83/hour, given today's exchange rate for British pounds of 1.24. Compare that to maybe $2/hour with Swagbucks.
How do you get Paid?
Swagbucks has many options to redeem your rewards:
Cash using Paypal (minimum $5)
Many e-Giftcards options
As you know, whenever I can, I'd like to get cash because I don't work for gifts. So, I went for the $5 Paypal cash. I clicked the "Claim a Gift Card" button and went through a verification process. After verifying my address, I received a phone security code and an email.
Then I got an email telling me that my order has been verified. I will update this area when I get the money in my Paypal account.
Update: It took 3 days to receive the money in my PayPal account, which is not bad. See the third screenshot below for proof the the receipt.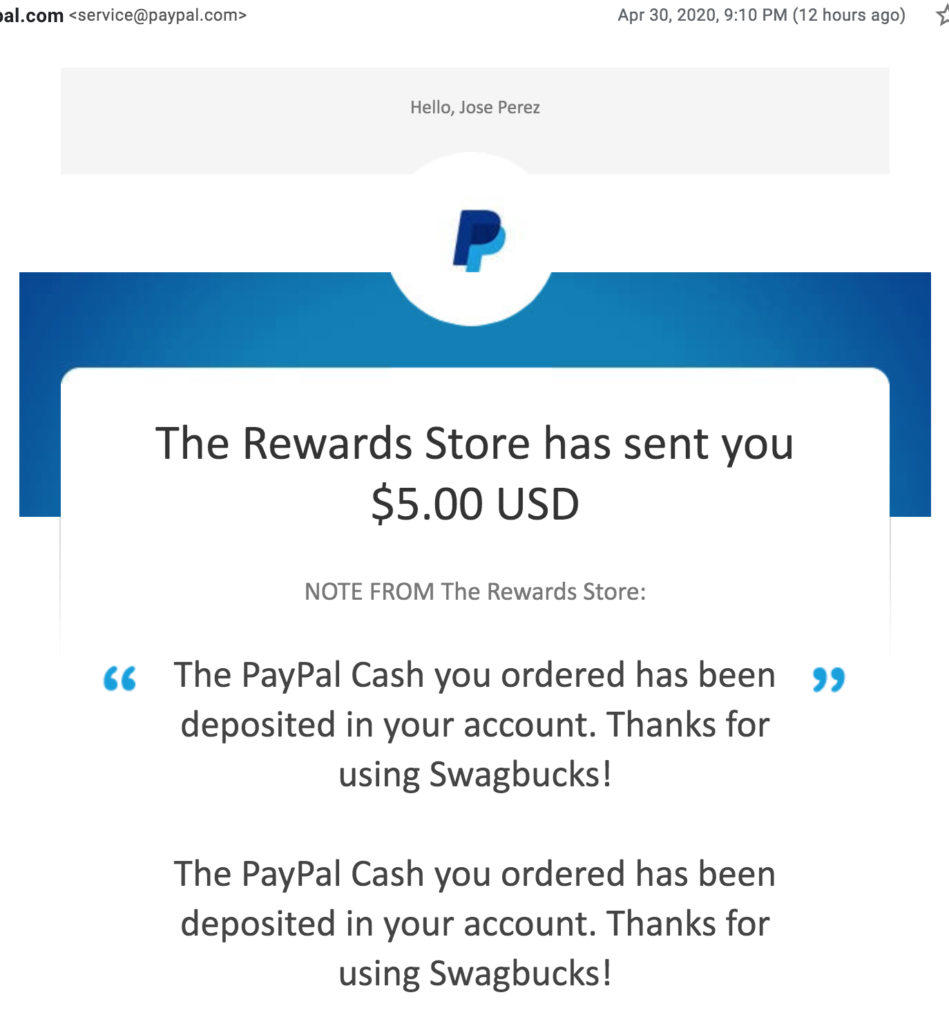 Does Swagbucks Have an Affiliate Program?
Swagbucks has a very lucrative affiliate program: 300 SB Bonus + 10% Lifetime Earnings.
According to Swagbucks, you and your referral get a 300 SB Bonus when your referral earns 300 SB within their first 30 days.
PLUS, you'll also earn 10% of their SB earnings for the life of their account.
This explains why the vast majority of bloggers and websites have Swagbucks as the number 1 platform. Not because it is good for you, which is not, but because they earn a lot of money from referrals.
This is sad!
I am not a hypocrite, I am writing this blog to make money, but I will not promote what doesn't make sense.
Prolific is so much better than Swagbucks, and yet you will not see that a lot.
Why?
Because Prolific doesn't have an affiliate program.
I will be wrong sometimes when I write some of these blog posts, I will make mistakes, but I will always be honest. If honesty doesn't make me profit, so be it.
My Experience with Swagbucks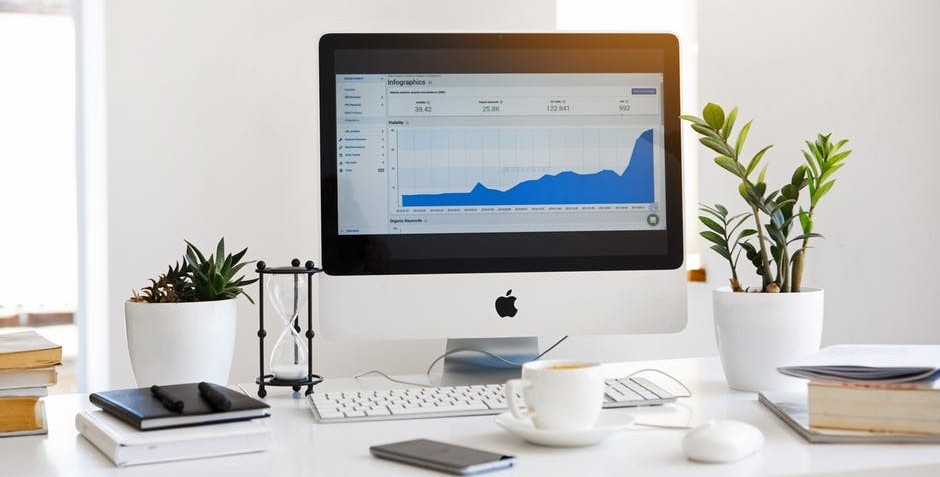 How Much Money Have I Made With Swagbucks?
I have made $5.01 with Swagbucks. This screenshot below is proof of my current earnings. I will update this section as earnings increase. [Updated April 28, 2020]
Every blog post I write is based on many hours of research. I also like to test every side hustle I review when possible. You may also want to see how much money I have made from the beginning. And may also want to take a look at the quarterly income reports.
Video Summary of Swagbucks
Let's wrap up with a quick summary video I have created. If you like this video, consider subscribing to the Finance Notebook Youtube Channel.
Ratings and Conclusion
| | | | | | |
| --- | --- | --- | --- | --- | --- |
| Overall Rating for Swagbucks | ★ | – | – | – | – |
The amount of money you can earn per hour with Swagbucks is really low. In my experience, it is less than what you can make with PrizeRebel or Survey Junkie, which are not good, to begin with. The two best alternatives to Swagbucks are Prolific and MTurk.
Due mainly to the low potential earnings per hour, my overall rating for Swagbucks is 1 star out of 5.
👍 PROS
➤ Cash payments available
➤ Low cash-out amount of 500 points ($5)
➤ Referral program available
👎 CONS
➤ Screen-outs due to not qualifying for some surveys
➤ Very low compensation per hour of work
➤ It will not generate significant money for my 2020 income goals
---

My #1 recommendation is Wealthy Affiliate. I joined Wealthy Affiliate in September 2019, and I'm thrilled that I made that decision.
As a beginner entrepreneur, it is hard not to get distracted with multiple priorities. The Online Entrepreneur Certification offered by Wealthy Affiliate makes you stay focus by taking you step by step through a total of 50 lessons as you complete your website within your chosen niche.
Let me assure you that Wealthy Affiliate is not a shady online program. I would not be a member of a scam and would not recommend it if I thought it was not legit.
---
📖 Please leave a comment below and let me know what you think.