Welcome to the first Finance Notebook Income Report! In this post, I will talk about how much income I have made for the first quarter of 2020 and how I made that income.
A Little Bit of Background
In the summer of 2019, I decided to retire from my main occupation. I have worked in banking for the past 30 years, mostly in audit and compliance roles.
Instead of just retired, I decided to build this website and start earning money as an entrepreneur.
Take a look at the Rules and Goals of Finance Notebook to read about the overall objectives.
You may also want to see how much money I have made from the beginning.
Why I Disclose the Income I Make
I think it was Napoleon Hill, who said, "A goal is a dream with a deadline." Without a deadline, a dream is just a series of thoughts, images, and sensations (Wikipedia). We need to act on those dreams to make them real.
I have set annual goals and will document my progress in these quarterly Income Reports.
I certainly don't publish these income reports to brag because I am not making a lot of money. I think what is important is not how much money I make, but whether I am accomplishing my goals.
Eventually, I am hoping that with hard work and a lot of determination, I can continue to meet those goals and maybe go above and beyond those goals.
Finance Notebook Income for 2020 First Quarter
The total income earned for the first quarter of 2020 is $1,679. You can see the breakdown by sources of revenue on the table below. It was a busy quarter testing several apps and writing about 12 of those apps and creating Youtube videos.
You can read individual blog posts by clicking each link.
This is income earned, but not all cash has been received, for two reasons:
1) For some of the new apps I have tested, I have not reached the minimum to get paid, and
2) For other apps, I may have requested the money at the end of the quarter and have not received it yet.
The overall income goal for 2020 is $5,000. That means I need to make at least $1,250 each quarter to be on target. I clearly met my goal since I made $1679.
I am not too concern about the progress of individual months, as long as the average is on target quarter over quarter.
You may be thinking that it's not hard to make $5,000 in a year.
I don't disagree.
Before I retired, I used to make more than double that in a month. Now, I'm in a different stage of my life where I am not necessarily interested in setting high records from the beginning.
I also don't want to burn myself out…the key is baby steps.
My life motto has always been: success is achieved by taking one small step at a time. People overestimate what they can do in the short run, but grossly underestimate what they can do in the long run. I am a big believer in this saying.
The challenge is that my business has two competing but needed priorities.
1) Test money-making opportunities and make the income goals with those opportunities.
2) Publish at least one blog post and one video each week. The hope is that eventually (many months from now), the blog and the Youtube Channel generate a portion of the income to help meet my annual goals.
So, I consider this a successful quarter since I met my income and publishing goals.
Below is the income overview showing cash already in my business account. This is a screenshot from my Hurdlr app.
The Hurdlr app is an automatic business expense and mileage tracker app that keeps tabs of all of your income streams, expenses, and tax deductions in real-time, on the go. I am enjoying this app and recommend it for any entrepreneur.
As I mentioned above, the amount shown on the Hurdtr app (amount collected) will always be less than that of the amount earned.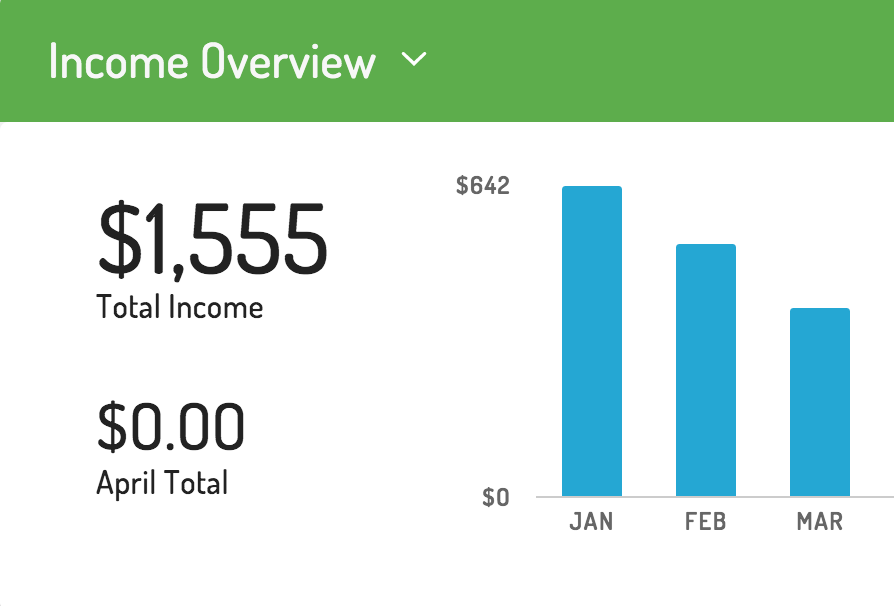 Income From Gigs and Side Hustles–$1,679
Three apps have captured the spotlight for the first quarter: Field Agent, MTurk, and Prolific. More than 90% ($1,475) of the income for the quarter came from these three apps.
Field Agent-I have made more than half of the income ($884) for the quarter with Field Agent. Overall, I find Field Agent an enjoyable and easy app to use when I am doing errands, or I need a break from writing and want to leave the house. Give it a try. Become an agent and use the Field Agent app to complete retail audits, mystery shops, market research, and digital product demonstrations. You can read more in this post I wrote. Another, very similar app I like is Observa. The only reason I haven't used it much is because I haven't seen many jobs in my area. Two runners-up apps also similar to Field Agent are Gigwalk and Clickworker.
MTurk-This is the first crowdsourcing platform I have ever tried. I was very skeptical at first, but with time and some practice, it has become my second best performer ($396) for the quarter. You can read more in this MTurk post.
Prolific-It is the third-best performing platform ($244) of the quarter. So far, I love Prolific. There is only one reason why you don't hear much about it on the internet. Prolific doesn't have an affiliate program, so many bloggers don't promote it because they can't make affiliate income from it. See more details about Prolific in this post.
You may have heard about Paid Viewpoint, PrizeRebel, Swagbucks, or Survey Junkie because they all offer affiliate programs. And yet they are all by far inferior to Prolific.
In my opinion, MTurk and Prolific are ideal platforms to make money while you are in front of your computer. In my case, I just set them up and work on surveys from either Prolific or Mturk as they become available while I write blog posts or create videos.
Finance Notebook–Blog Progress
There is very little traffic coming to the blog at this point because it is very new and has just a few pages. Most websites, if they are lucky, start seeing some traffic after a year and over 50 blog posts published. Also, my website is in the "money-making" niche, which is very competitive, so I may have to wait a couple of years until I see some traffic.
I am not worried about getting traffic as long as I enjoy the journey and learn from it. I think visitors will eventually come if I can help people.
Below is the Google Analytics Chart for the first quarter. As you can see, I get about one user per day. There was a one-day spike of 40 users at the end of March for no apparent reason. I want to compare quarter over quarter to see the progress.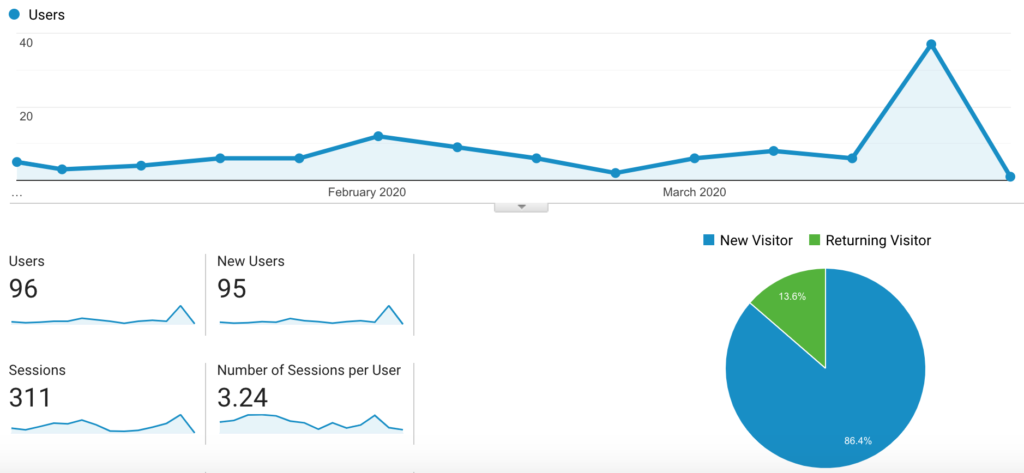 Finance Notebook-Youtube Channel Progress
In addition to publishing one blog post per week, the goal is also to publish one Youtube video per week. There are currently 13 videos and 7 subscribers. I get about one visitor every two days. Just like the blog, it is very new and will take many months to increase the number of subscribers and views. I am in no hurry. But I'd also like to compare quarter over quarter to see the progress.

Final Thoughts
All in all, it was a great first quarter. I'm already working on the second quarter and ready to start earning income and publishing more articles and videos. If you know a great gig you want me to test, please make a suggestion in the comments below or just let me know any questions or thoughts.
Thank you for reading.
Video Summary of First Quarter 2020 Report
Let's wrap up with a quick summary video I have created. If you like this video, consider subscribing to the Finance Notebook Youtube Channel.
---

My #1 recommendation is Wealthy Affiliate. I joined Wealthy Affiliate in September 2019, and I'm thrilled that I made that decision.
As a beginner entrepreneur, it is hard not to get distracted with multiple priorities. The Online Entrepreneur Certification offered by Wealthy Affiliate makes you stay focus by taking you step by step through a total of 50 lessons as you complete your website within your chosen niche.
Let me assure you that Wealthy Affiliate is not a shady online program. I would not be a member of a scam and would not recommend it if I thought it was not legit.
---