Welcome to the 2021 first quarter Finance Notebook Income Report. I am starting the year even more excited than I was last year. In this post, I will talk about how much income I have made for the first quarter of 2021 and how I made that income. I will also go over the progress on the strategy to continue boosting income in 2021 and beyond.
A Little Bit of Background
In the summer of 2019, I decided to retire from my main occupation. I have worked in banking for the past 30 years, mostly in audit and compliance roles. Instead of just retired, I decided to build this website and start earning money as an entrepreneur.
Take a look at the Rules and Goals of Finance Notebook to read about the overall objectives.
You may also want to see how much money I have made from the beginning.
Why I Disclose the Income I Make
I think it was Napoleon Hill, who said, "A goal is a dream with a deadline." Without a deadline, a dream is just a series of thoughts, images, and sensations (Wikipedia). We need to act on those dreams to make them real.
To make my dreams real, I have set annual goals and will document my progress in these quarterly Income Reports.
You may be thinking that I publish these income reports to brag, but that's not the case because I am not making a lot of money yet. I think what is important is not how much money I make, but whether I am accomplishing my goals.
Eventually, I am hoping that with hard work and a lot of determination, I can continue to meet those goals and maybe go above and beyond those goals.
I am hoping that over time this will become a roadmap for people who want to become entrepreneurs and other than want to earn additional money.
Finance Notebook Income for 2021 First Quarter
The first quarter of 2021 started with the realization that I need to make $10,000 for the year to meet my income goals. It was relatively easy to make over $5,000 last year with the various gigs, but I know it is not going to be as easy to make $10,000 this year. Especially because I need to spend significant time working on my sites, this one (Finance Notebook) and Site #2 (Home & Garden Niche.)
I am starting the second year out of a 6-year plan, which will take me to make at least $70,000 per year on year six. It is a steady personal challenge to little by little learn how to make a full-time income as an entrepreneur. You may want to take a look at the details of the plan here.
The breakdown for the first quarter by sources of revenue is in the table below. You can also see the earnings for the 2020 fourth quarter here, the third quarter here, the second quarter here, and the first quarter here.
It was definitely a busy quarter mostly writing for Site #2 Income Report (Home & Garden Niche)–more on this below, working on several gigs, stating a new gig (Uber Easts) –more below, and continuing writing a few blog posts for Finance Notebook.
Income Sources
You can read individual reviews by clicking each link within the source of income column below.
To clarify, the figures above represent income earned, but not all cash has been received, for two reasons:
1) For some of the new apps I have tested, I have not reached the minimum to get paid, and
2) For other apps, I may have requested the money at the end of the quarter and have not received it yet.
Cash Received Year-To-Date
Below is the income overview showing cash already in my business account. This is a screenshot from my Hurdlr app.
The Hurdlr app is an automatic business expense and mileage tracker app that keeps tabs of all of your income streams, expenses, and tax deductions in real-time, on the go. I am enjoying this app so far and recommend it to any entrepreneur.
As I mentioned above, the amount shown on the Hurdtr app (amount collected) will always slightly different from the amount earned.
Income From Gigs and Side Hustles-$2,186.60
The one gig that captured the spotlight for the first quarter was Uber Eats. But although I made the most money with Uber Eats this quarter, I continued to work on some of the other apps.
Uber Eats: The Star of the Quarter
It has been really surprising how well I have done with Uber Eats so far. I thought I would hate the gig and I wouldn't make enough money. I was wrong on both counts.
Per hour, I make about $20 and the job is surprisingly easy and almost pleasant. It is actually a nice break from writing and staring at my laptop. As you can see from the bar graph above, March was the best performing month with over $1,200 coming from Uber Eats.
Unless things change I would like to focus of making money with Uber Eats in 2021 to meet my $10,000 goal and continue writing as much as I can.
You can read my full review of Uber Eats here.
Mystery Shopping and Retail Audit Apps
Mystery shopping and retail audit-type apps continued to give me significant income this quarter.
Field Agent
I made $214.00 with Field Agent. This app has been my favorite historically but I have noticed that they are paying less and less money than when I started. Sometimes it's just a couple of dollars for relatively complicated tasks.
Presto Shopper
I also made $213.97 with Presto Shopper for very easy gigs. The Presto Shopper app can be annoying in that it has issues often. However, some gigs like the ones you have to count cars in gas stations are easy and pay pretty well. Although I haven't seen this type of gigs in a while.
EasyShift
EasyShift has been a love/hate relationship for me. At first, I hated it. Then, I still hated it but there are so many gigs available, that I got used to the awkward assignments and the too many pictures required. So, I managed to make $205.30 this quarter.
Observa
I made $104.00 with Observa. This is another love/hate relationship for me. Most often than none, the jobs are too much for the pay, although some make sense. They pay very fast, but you have to be detail-oriented or they will reject your job. This can also happen with the other apps like Field Agent, but not as often, at least for me.
Gigwalk
I am tired of Gigwalk. There are very few jobs in my area and they are often strange. Several times the app sent me to a location where there was absolutely nothing. No business or buildings, just empty land. Somehow I made $29.50 with them.
Ivueit
I only made one gig with Ivueit and made $8.00. Although initially, I thought the app was promising, I now think it is very similar to the other ones. My last assignment was taking pictures of every single writing or logo appearing on the front door or windows of a telecom company. It was awkward, as you don't have permission to do that, and customers and employees see you taking pictures. But then again, this is typical on the other apps as well.
Survey Apps
Prolific
Prolific is definitely my favorite survey platform for convenient and relatively well-paid surveys. I made $121.28 this quarter. As before I could have made more because there are always surveys available when I look at my dashboard. Unfortunately, I have less and less time to work on these surveys and need to work on things that will pay more money in the long run.
Other Survey Platforms
For some reason, I went back to MTurk at one point and completed a few surveys. I think I was nostalgic. I made $10.52 this quarter
Receipt Apps
I have continued to use three receipt apps this quarter. While they don't take much time, you make many pennies per month. Not too exciting.
This is what I have made this quarter:
Fetch Rewards: I have made $1.57 with Fetch Rewards. To learn more, you can read my blog post.
Coinout: I have made $1.13 with the Coinout app. To learn more, you can read my blog post.
ReceiptPal: I have made $1.74 with ReceiptPal. To learn more, you can read my blog post.
I don't know if I will have the motivation or mental space to continue with these three. I'll keep you posted.
Walking Apps
I think I have forgotten to talk about Sweatcoin in prior reports. Sweatcoin is basically an app that offers rewards when you walk. You can read my blog post to see what it is about. I have earned the equivalent of $18.95 this quarter.
Youtube Channels
Last quarter I said that I had paused the Youtube channels for now because I don't feel it is my strong suit. I am starting to add more videos now because I think they are going to be good in the long run. I don't think I'll many subscribers, but I can at least refer traffic to my articles, which should increase traffic somehow and also help with Search Engine Optimization (SEO.) You may want to visit my Finance Notebook channel.
Blogging Strategy
Blogging is the core of my business at the moment and hopefully for many years to come. I continue to work hard on Site #2 (Home & Garden Niche).
The content of Site #2 revolves around the new house my wife and I built in Lewes, Delaware. I can easily come out with 1,000 articles for this site, which means I will be able to produce content for a long time if it is successful.
I have completed a total of 134 articles since I started in May 2020. The goal for 2021 is to reach about 250. That is about 3 articles per week.
I added some ads in November and have earned $58.75, but I am not worried about monetization at this point. Next year will be the time to think about this.
I keep a review and income report of Site #2 here.
Finance Notebook (Site #1) Progress
I have completed 15 articles in the 1st quarter and I have a total of 49 articles written so far. Site #2 continues to be the priority for this year.
Finance Notebook is the site where I record overall strategy and money making opportunities. I don't want to fill it up with a bunch of nonsense I am not interested in.
Because of that, I have not added much content yet. I am planning on writing 2 articles per week in 2021. Mostly side hustles that may be of interest to me and hopefully to you.
Below is the Google Analytics Chart for 2021 first quarter. Traffic is actually going down, which I think makes sense for two reasons: One I am not adding enough content, and two, the money-making niche is brutal to newbies like me to try to rank. The key is to continue and with time find my space and voice –I am in no hurry 🙂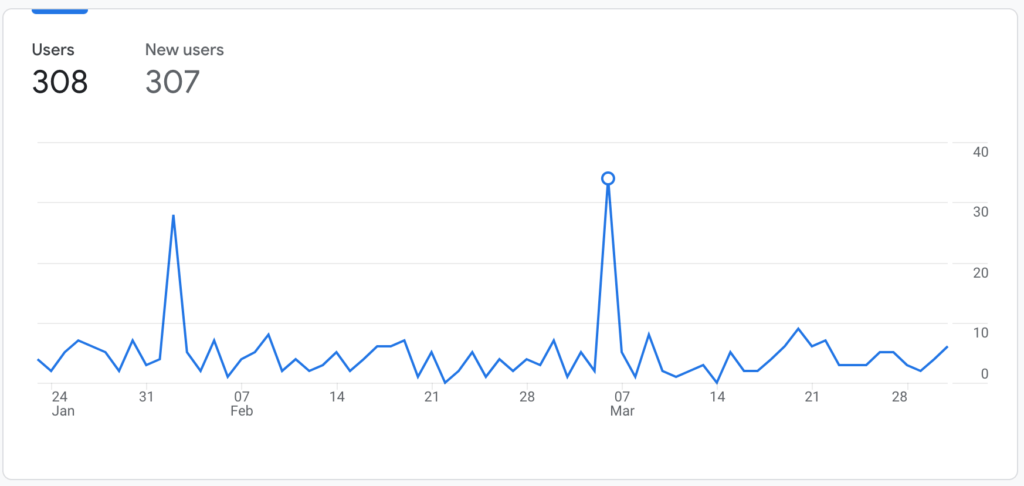 Final Thoughts
The focus for 2021 will continue to be blogging, but always keeping an eye on my income goal for 2021, which is $10,000. That is I have to make $10,000 as an entrepreneur and independent contractor. This is going to be easy with Uber Eats. Thank God! as I don't expect any income from the website until 2022. Patience is a core competency in the content creation world.
I continue to be very excited and working every day towards my goals.
Thank you for reading.
Please leave a comment below and let me know what you think.
---

My #1 recommendation is Wealthy Affiliate. I joined Wealthy Affiliate in September 2019, and I'm thrilled that I made that decision.
As a beginner entrepreneur, it is hard not to get distracted with multiple priorities. The Online Entrepreneur Certification offered by Wealthy Affiliate makes you stay focus by taking you step by step through a total of 50 lessons as you complete your website within your chosen niche.
Let me assure you that Wealthy Affiliate is not a shady online program. I would not be a member of a scam and would not recommend it if I thought it was not legit.
---